ASU Football: Flag Frenzy Swings Momentum to Utah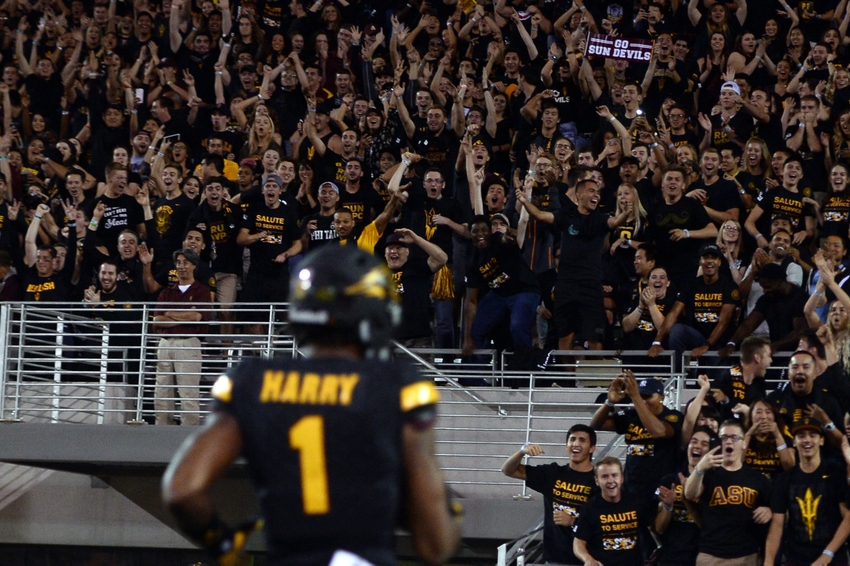 If one thing has remained constant in Todd Graham's time as head coach of the Arizona State football program, it's that his teams don't draw a lot of flags.
Not only did ASU draw eight penalties for 75 yards in a 49-26 loss to Utah, but the team was called for pass interference on two crucial third down plays that flipped momentum against the Sun Devils.
Trailing 28-26 late in the third quarter, ASU field corner Bryson Echols dragged down wide receiver Raelon Singleton and was immediately flagged.
Three plays later, devil backer Koron Crump forced quarterback Troy Williams out of the pocket, prompting the junior to throw the ball near the sideline. With the ball going out of bounds, wide receiver Tim Patrick drew a second pass interference call on cornerback Kareem Orr, giving the Utes a third chance to score on what looked to have been a key stop.
"I don't want to get into that [the flags] but those were bad," head coach Todd Graham said.
One could argue that a stop would've given ASU good field position and a chance to retake the lead after failing to convert on a two-point conversion on its previous touchdown.
The two flags coupled with a converted first-and-35 that resulted in a touchdown to Singleton, ASU was deflated after keeping things close through 45 minutes.
Outside of a dominant first quarter, the Sun Devils struggled to find consistency on both sides of the ball. After one, ASU held a 13-0 lead and outgained Utah 192-27.
After the opening frame, Utah outscored ASU 49-13 and outgained them 470 to 204.
Utah running back Joe Williams continued his streak of dominance following an unexpected retirement and comeback all in September. The senior gashed ASU for 181 yards and a pair of touchdowns on 15 carries.
More from Devils in Detail
"We did a lot of things that were self-inflicted. Down the stretch, self-inflicted wounds cost us," bandit safety Marcus Ball said, "Joe Williams was a tough back but I felt that we did a good job making them one-dimensional."
Defensively, the Utes exposed the weaknesses of the Sun Devils offensive line, recording 11 sacks and 22 tackles for loss, one short of tying the NCAA record.
"I took some critical sacks and interceptions. Poor part on me, just got to learn and grow from it," said quarterback Manny Wilkins.
On the offensive end, Wilkins struggled to create from within the pocket, making him scramble often and forcing offensive coordinator Chip Lindsey to get creative to move the chains.
Despite the struggles against a stout Utah defense, freshman N'Keal Harry arguably had the best game of his short career.
The wide out was one player that Utah could not lock down as he went for 114 yards on eight catches while completing a 46 yard pass on a trick play and turning a broken option handoff into a 31-yard touchdown run.
Graham described his receiver as a "warrior" and commended his progress after making plays in all three facets of the offense.
The loss gives ASU its longest losing streak under Graham with things only getting more difficult to close the season.
Up next the Sun Devils travel to No. 4 Washington before finishing the season in Tucson for the Territorial Cup game with rival Arizona.
To secure bowl eligibility, the Sun Devils have to split their road series with Washington and Arizona or risk missing out on a bowl game for the first time since 2009.
"We have a lot to play for against Washington and in the Territorial Cup," Graham said.
This article originally appeared on