ASU Football: End of Season Roudtable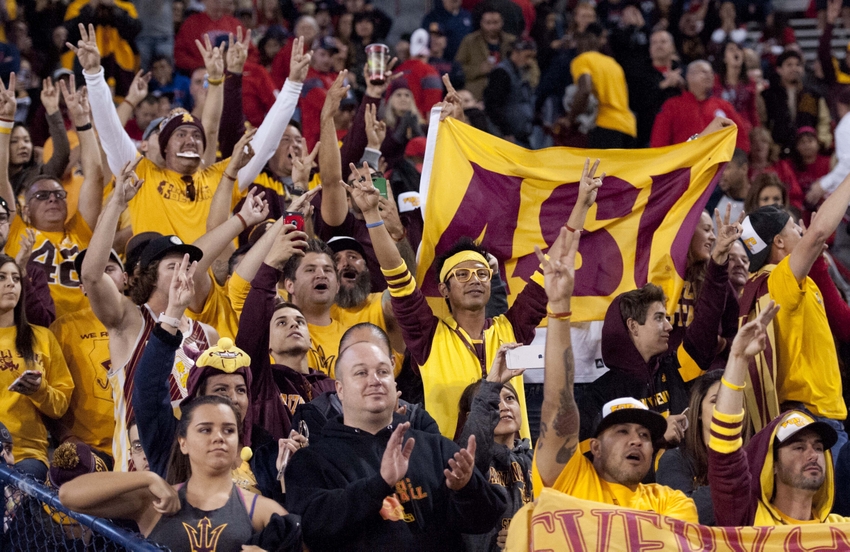 With the ASU football season over, Hunter Robinson, Sam Ficarro and Zach Pekale reflect on the season and look forward to next season.
How would you describe this past season?
Hunter: I would describe this past season as sobering. I believe this past season was finally a wake up call to the fans of ASU football as to the real state of the football program. People took Graham's early success and made that the bar for a successful season. If Graham didn't reach that bar, which was incredibly high, then it was a failure of a season. There is talent on this team, but not enough talent to be a consistent Pac-12 championship contender. Not yet.
Sam: This was a roller coaster season. Coming in, I had higher expectations than some people. I thought ASU would win seven to eight games this season. Once Arizona State was 5-1, I started to think whether or not they could potentially make a run for the Pac-12 South. But then Manny Wilkins got injured, and the season went downhill. The defense went back to their old ways of allowing explosive plays and missing tackles, and the running game went silent. After the way they started, this feels like a disappointing season, but in the bigger picture, this is probably the team people expected.
Zach: This season was a disappointment. I think the 5-1 start provided fans with a false sense of hope after the offense was one of the highest scoring in the nation through four games. The ridiculous number of points ASU was scoring was just giving critics a reason to excuse multiple poor defensive performances. When Manny Wilkins got injured against USC, the defense was exposed because the offense couldn't match match the amount of points being allowed.
More from Devils in Detail
Which player are you most looking forward to seeing next season?
Hunter: It has got to be N'Keal Harry. The freshman lived up to the hype and produced huge receiving numbers for a freshman. With Tim White gone, Harry should be ASU's number one receiver next season. Harry's ability to find open space, along with his speed and size, gives ASU an automatic playmaker for next season. If ASU begins to play more of a downfield passing attack, rather than a side-to-side attack, then Harry could really thrive. Another upside of Harry is the very probable situation of him being matched up against the opposing defense's top cornerback. That matchup will give other receivers the opportunity to prove themselves as viable options for Wilkins to throw it to next season.
Sam: I'm looking forward to Koron Crump. Crump had a breakout season finishing with nine sacks, three forced fumbles, three fumble recoveries and one interception. He was a force around the edge for the Sun Devils, and head coach Todd Graham will have to find more creative ways for him to get even more pressures on the quarterback. Crump will be the biggest threat ASU has had on the defensive line since Will Sutton, and I'm excited to see what he will accomplish next season.
Zach: This is definitely out of left field but I believe that Jay Jay Wilson will be a huge difference maker in 2017. The sophomore had a limited role as Kody Kohl's backup but with Kohl graduating, Wilson is poised to make a big jump as the starting tight end. He recorded four catches and three touchdowns this season, primarily flashing his athleticism in the red zone and as a run blocker with minimal snaps.
If you were Ray Anderson, would you make a change at head coach?
Hunter: Even though this season has been a major let down for the program, I wouldn't make a change at head coach. Graham is better than the other realistic options that ASU would have to replace him. The Sun Devils will need to outline specific guidelines with Graham for next season. Another .500 ,or worse, season is not enough for Graham to keep his job past next season. College football is a win now scenario for every team, and Graham did not put the ASU program in a win now situation for this season. It was a very young offensive team riddled with injuries, but more of the same old, same old won't be good enough next season. ASU needs to have at seven wins next season for Graham to keep his job, and that needs to be made clear to him.
ASU Football: Sun Devils Well Represented in Pac-12 Honors
Sam: I was fine with Todd Graham remaining the head coach even if Arizona State didn't beat Arizona. But because the Sun Devils lost in that fashion versus a 2-9 Arizona team, I feel it's time for a change. Anderson probably won't make the move because he has publicly vouched for him, but I feel the locker room has lost him. ASU didn't see to have any energy or intensity after they lost to Washington State. The first half versus Arizona was an embarrassing display as the players clearly weren't ready for the game, and the blame should go on Graham for not motivating his team. The amount of penalties this season is also another warning sign that the players have started to tune him out. After a steady decline in wins and losses the past three seasons, I think it's time to have a new voice and leader of the football program.
Zach: Many coaches would get fired for posting two six-win seasons after winning 10 games the two seasons prior to that. Then again, most coaches aren't Todd Graham. While Graham is to blame for a lot of the defensive issues with this team, he deserves one more chance. The team looked deflated after they lost to Washington State and were never able to get back on track. That is entirely on Graham as he needs to be able to control his players through good wins and bad losses. If Anderson feels like Graham has lost control next season, it would be a very easy decision to cut ties with him. Regardless of this, Graham needs to win at least eight games to keep his job.
This article originally appeared on