ASU Football: Cardiac Devils Can't Complete Comeback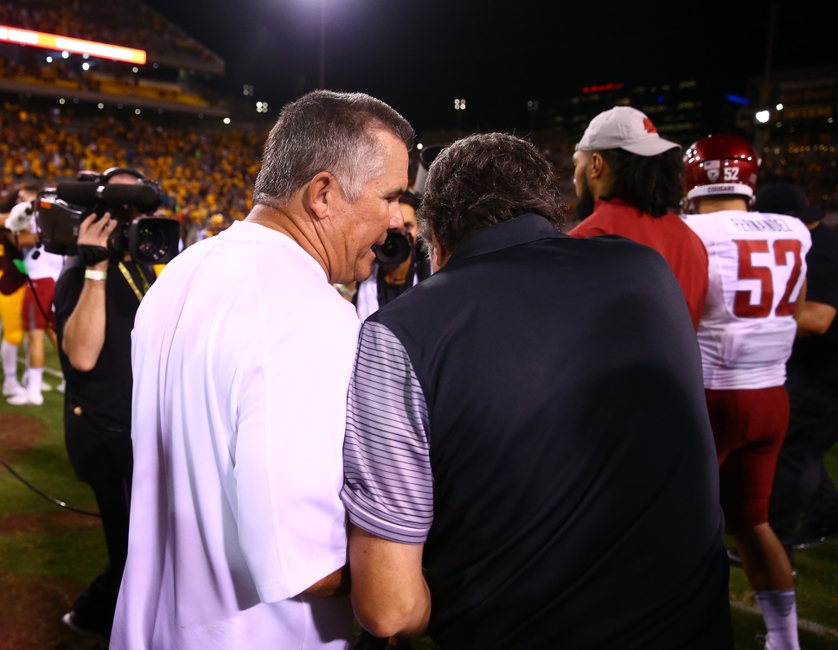 For much of the spring, many fans of Arizona State football wondered who would start at quarterback. After eight weeks, that question is back in circulation for all of the wrong reasons following a 37-32 loss to Washington State.
With 7:44 remaining in the opening quarter, redshirt sophomore Manny Wilkins left the game after suffering an undisclosed injury, the second time in four games that Wilkins has not finished the game.
"Manny got hurt on the last hit he took. It wasn't safe to put him back in the game," head coach Todd Graham said.
Prior to his exit, the Novato, California native completed five of six passes for 39 yards and picked up a rushing touchdown after evading a tackle and hurdling his defender.
With Wilkins unavailable and redshirt freshmen backups Brady White and Bryce Perkins both injured, all eyes turned to true freshman Dillon Sterling-Cole.
In his first extended period of game action, the highly touted prospect struggled in front of the home fans as he completed 7 of 16 passes for 86 yards.
More from Devils in Detail
"Dillon did what he could do," senior Tim White said. "We just tried to motivate him and keep him confident."
With the quarterback situation uncertain, White's production took a dip as he recorded three catches for 48 yards, 40 of which came on a triple-option trick play from emergency quarterback Jack Smith. However, White made his presence known with a stadium-electrifying 70-yard punt return touchdown with 11:15 remaining.
Aside from White's return and a trio of rushing touchdowns, the ASU offense struggled to move the ball, often resorting to its Sparky package beyond short yardage situations, placing a lot of pressure on the defense.
While fatigue can be excused after being on the field for 10 minutes more than the offense, the same issues continued to plague the Sun Devils.
Pressure to the quarterback is never an issue for a Todd Graham coached defense as ASU recorded 7 sacks and 11 tackles for loss and a forced fumble.
The secondary had another sub-par outing as Washington State quarterback Luke Falk gashed ASU for 398 yards and three touchdowns.
While the defensive line did everything it could, ASU's fate was sealed when Falk and redshirt senior wide receiver Gabe Marks connected for a 52-yard touchdown over the top, extending the lead to 37-21, a deficit too deep for ASU to dig itself out of.
"We're not going to hang our heads after a loss," said junior safety Marcus Ball.
The loss drops ASU to 5-3(2-3 Pac-12) and serves as the Sun Devils first home loss of the season and the dagger to their Pac-12 South hopes.
"This one hurts because it felt like we could have won the game. We made some critical mistakes in critical moments," Graham said.
The Sun Devils will look to get back on track and have their quarterback conundrum in order when they travel to Eugene to take on the Oregon Ducks on Oct. 29.
This article originally appeared on