ASU Football: Can ASU Pull Off the Upset?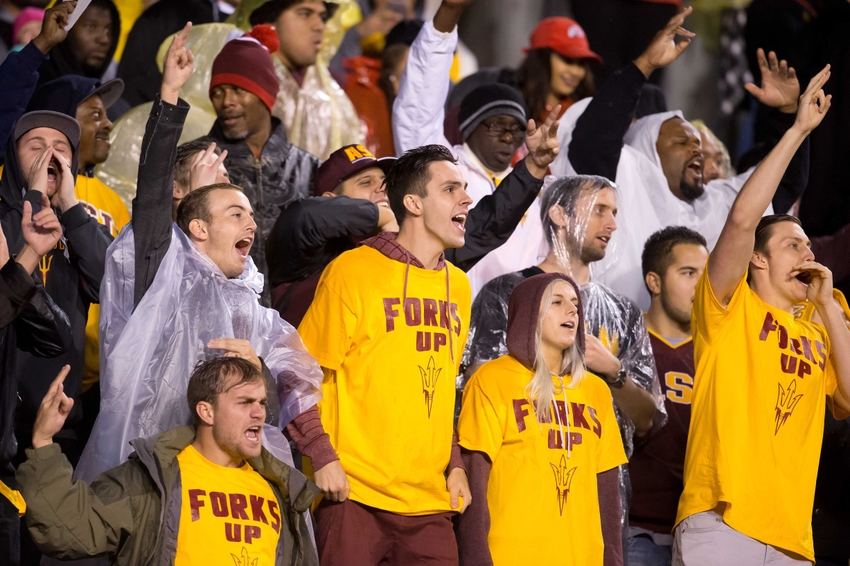 After their bye week, ASU faces possibly their toughest test of the season against the Utah Utes. Can ASU pull off the upset?
A month ago ASU was sitting at 5-1 and they were one game away from being a bowl eligible team. A month later ASU sits at 5-4 and they are still one game away from being a bowl eligible team. With only three games remaining in the conference season, it is do-or-die for the Sun Devils.
The first chance they have to become bowl eligible is against Utah. Utah currently sits atop of the Pac-12 south and is in a tight race with Colorado to represent the south in the Pac-12 championship game. In order to pull off the upset, ASU will need to perform well on both sides of the ball.
The defensive line will need to continue to put pressure on the opposing quarterback. Ever since their game against UCLA, the D-line has done a good job of getting through the opposing team's line and get into the backfield. They will need to get into the Utes backfield in order to disrupt the offense that can get on a roll if they aren't pressured.
The secondary will need to put on possibly their best performance of the season. This bye week gave the secondary a chance to address issues such as poor tackling and losing assignments. If the secondary can show some improvement coming out of the bye week, then ASU could be in good shape on the defensive side of the ball.
More from Devils in Detail
On the offensive side, the backfield needs to become more involved. Ever since their amazing start to the season, the running back core for ASU has been silent. With only a few games remaining the running backs need to prove that they are an important part of the offensive game plan and not just an afterthought.
Regardless of who is playing quarterback, the offense should be fine through the air. Sterling-Cole showed a lot of improvement in the game against Oregon and this bye week only gave him more time to make sure he is ready for his next on the field situation. With Manny Wilkins, ASU will be getting back possibly their biggest offensive weapon. He has the ability to outrun defenders and to throw the ball deep downfield, when healthy. A healthy Wilkins means a whole new dynamic to the ASU offense.
It is now or never for ASU. With the season winding down, ASU's window of bowl eligibility is closing. A win against Utah would be huge for ASU and could right the ship just in time for bowl season.
This article originally appeared on