ASU Football: ASU vs.Washington State Rapid Reaction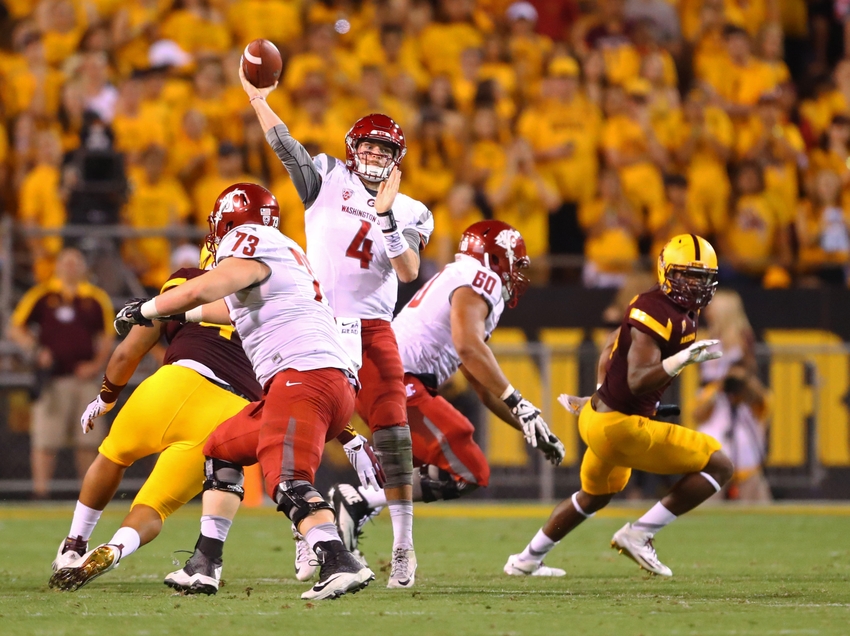 The Sun Devils suffered their first home loss of the season as they fell to the Washington State Cougars 37-32.
While it was a close game, there are some reasons to be concerned. Here are my takeaways.
1. Dillon Sterling-Cole needs to get more first team reps
While Manny Wilkins started the game for the Sun Devils, Dillon Sterling-Cole saw a majority of the snaps for ASU tonight. With no status on Manny Wilkins for next weeks game, Sterling-Cole needs to be receiving a majority of the first team snaps in practice this week to get prepared for Oregon. He showed flashes of potential, but he also showed times where he seemed completely lost on the field. Head coach Todd Graham opted to use the Sparky formation in certain situations over putting in the freshman quarterback. Making sure Sterling-Cole gets a lot of snaps this upcoming week will be crucial if ASU wants to go into Oregon fully prepared.
More from Devils in Detail
2. The secondary needs to practice tackling every single day of the week
The ASU secondary is the worst in the Pac-12. They make average quarterbacks look like great quarterbacks and great quarterbacks look like NFL quarterbacks. There is no excuse for poor tackling as it is just a lack of discipline. Making sure that you have the ball carrier wrapped up and don't let go until you hear a whistle. Getting back to the fundamentals is a necessity for the ASU defense.
3. ASU's defensive line is the most exciting unit to watch
The defensive line pressured Luke Falk all night and forced Falk into uncomfortable situations. Those situations caused incomplete passes or quarterback sacks that gave the offense opportunities to get on the field and score some points. The defensive line has been great for ASU for a majority of the season, and they seem to be a unit that is only going to get better for the Sun Devils. Although losing the game is disappointing, the defensive line should hold their head high as they weren't the reason that ASU didn't come out with the victory.
The Sun Devils will now have to get ready to face an Oregon team that is looking to salvage their season. If ASU can take what they have learned from not only this game, but the game against Colorado as well then they could be set up for success to get their third Pac-12 win of the season.
This article originally appeared on