ASU Football: ASU vs. Utah Rapid Reaction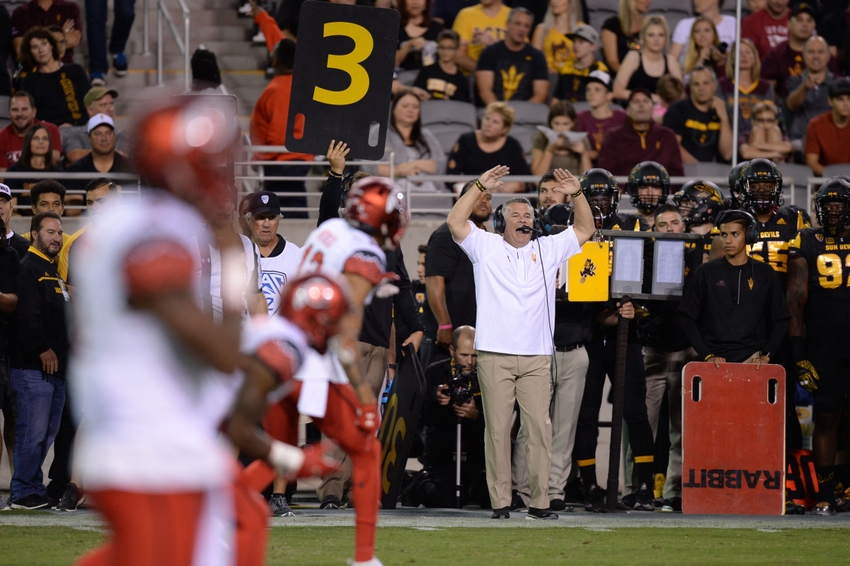 The Sun Devils were unable to pull the upset against No. 15 Utah as they fell to the Utes 49-26.
This game was a tough one to watch. After a promising start, the Sun Devils fell off as the Utah defense took over the game. With the loss the Sun Devils are 5-5 on the season after starting off 5-1. The final score of the game doesn't tell the whole story, the Sun Devils looked great at times. Here are my takeaways from the game.
1. The offense lives and dies by the play of the quarterback
For the Utah Utes tonight, if quarterback Troy Williams had played bad it wouldn't have matters because of their backfield. For the Sun Devils, the play of quarterback Manny Wilkins dictated the game. Wilkins had a decent night, but not the type of night it takes to beat a very good Utah team. He scrambled almost immediately after receiving the snap, and he tried to make too much happen with his feet. While there were some shots taken downfield, most of Wilkins' passes were dump offs, screens or short out routes. These plays aren't the type of plays that the offense thrives in when Wilkins is at the helm. Wilkins needs to have most of his targets downfield so that gives him a wide-open place to run if he needs to scurry for a few yards.
More from Devils in Detail
2. The defense continues to have issues with tackling
This seems to be a takeaway every week, broken tackles kill this team. The defense had multiple opportunities to get off the field but a broken tackle allowed the Utes to pick up the first down and keep driving. If this team wants to make a bowl game, they need to learn how to contain the ball carrier and tackle low instead of high. This needs to be a big emphasis every single day in practice from now until their game against the University of Arizona.
3. ASU may not win another game
After tonight's loss, the road isn't any easier for ASU. They travel to No. 4 Washington, which will be an incredibly difficult game as Washington is the best team in the Pac-12. After that game, the Sun Devils will travel down south to the University of Arizona. This game will be harder than expected as it is a rivalry game and tensions will be high with that game potentially being a must win for ASU to be bowl eligible..
This article originally appeared on