ASU Football: ASU vs. Colorado Rapid Reaction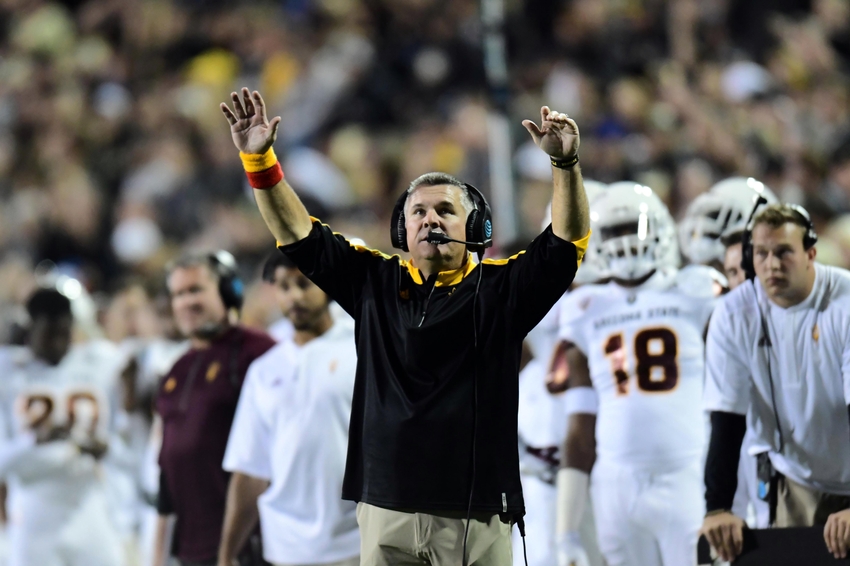 In a battle between two of the top teams in the Pac-12 South, the Colorado Buffaloes rode the momentum of their largest home crowd in five years to a 40-16 victory over the Arizona State Sun  Devils. 
Here are my thoughts on tonight's game.
1. Why did Manny Wilkins stay in with the game in-reach? 
ASU only trailed 23-10 at the half and have established the reputation as a second half team. With that said, it's head scratching that head coach Todd Graham opted to leave Wilkins in when he struggled in all facets of his game rather than replace him with true freshman Dillon Sterling-Cole.
Sterling-Cole lost his redshirt last week against UCLA when he entered the game in an emergency situation following a season-ending injury to Brady White. He had been praised for his athleticism and had a full week of practice with the first-team under his belt.
However, Wilkins remained in the game despite the fact that it was very clear he wasn't at 100 percent following an ankle injury he sustained against USC.
Wilkins couldn't throw and couldn't escape the pocket. He was a shell of the quarterback that started the first five games of the season.
More from Devils in Detail
2. What went wrong with the run defense?
Entering the game, ASU only allowed 89.3 rushing yards per game. Colorado had 315 yards on the ground and Phillip Lindsay single-handedly outgained ASU 239-199.
The defense looked lost as the Buffaloes running backs were getting second and third efforts after contact and the linebacking corps ws nonexistent as Lindsay attacked the middle at will.
The secondary played its usual role but this uncharacteristic performance by ASU's most reliable unit cost them an chance to move into first place tie in the division.
If ASU hopes to get back on track, the defensive line  needs to shape up fast.
3. Zane Gonzalez deserves the Lou Groza Award
If there is any bright spot from an embarrassing loss, it is easily Zane Gonzalez. He connected on three field goals of 50 or more yards, including a new career-long from 59 yards out.
The FBS's all-time leader in made field goals has continued to prove why he is the best in the country.
More than halfway through the season, it seems that at least one end of season award is locked up. Gonzalez is 19/20 on field goals and 25/26 on extra points and is running away with the Lou Groza Award as the nation's top kicker.
It would be very surprising to see any other kicker win the award after the historic season Gonzalez has had.
Now, ASU will have a week to prepare for Washington State as Luke Falk and the Cougars will play at Sun Devil Stadium on Oct. 22
This article originally appeared on