ASU Football: Arizona State vs Cal Preview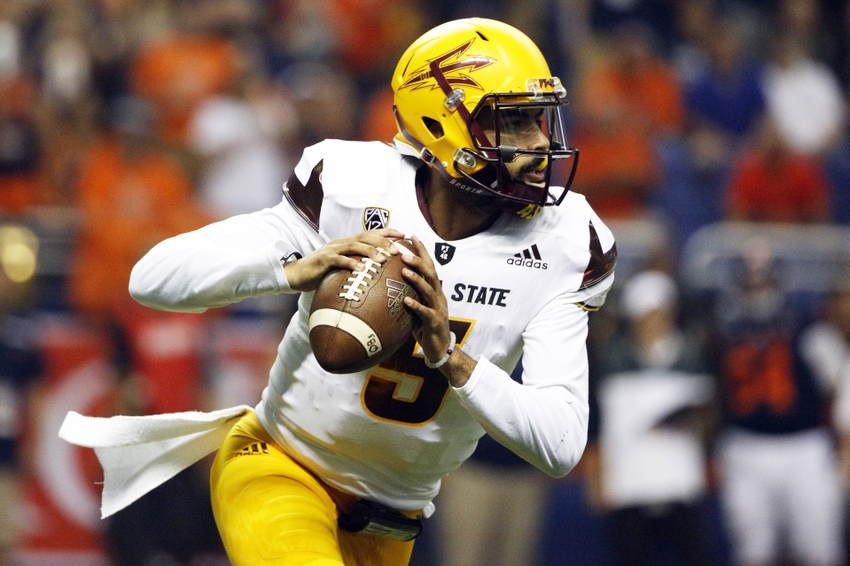 After escaping San Antonio with a 32-28 win last week vs. UTSA, the Sun Devils are happy to be entering conference play with a 3-0 record.
The Cal Golden Bears are the Sun Devils first Pac-12 opponent. It's expected to be a high scoring shootout as two high-flying offenses face off.
ASU started off slow versus the Roadrunners as they trailed 14-3 after the first quarter. A late touchdown catch by N'Keal Harry gave the Sun Devils momentum heading into halftime.
UTSA came out of halftime with two unanswered touchdowns and ASU faced their first adversity of the season, trailing 28-12 on the road.
The Sun Devils offense got to work thanks to a pair of Zane Gonzalez field goals and touchdowns from wide receiver Fred Gammage and running back Kalen Ballage and ASU pulled off one of the biggest road comebacks in school history with a 32-28 win.
Not many people expected last week's game to be that tight, but this game was an important one for ASU to learn from. They learned they can't take anyone for granted and they have got to play a full 60 minute game.
More from Devils in Detail
The Sun Devils opponent this week, the California Golden Bears, are coming off a different type of win as they upset then 11th-ranked Texas 50-43 in a back-and-forth affair last Saturday.
Cal finished with 507 total offensive yards, with transfer quarterback Davis Webb throwing for 396 yards and four touchdowns and running back Vic Enwere rushing for 110 yards and two touchdowns.
After Cal gave up 33 first-half points, the Golden Bears defense hunkered down giving up just 10 points in the second half to set the stage for the offense to grasp control of the game.
This was a signature win for Cal after they suffered an early-season defeat at San Diego State. Cal showed they have a balanced offense and their defense can make a stop when it's needed most.
Whatever defense will make the most stops will win the game. Both defenses have been a little leaky as both allow at least 450 yards a game and each give up at least 32 points per game.
Another key area will be whether Cal can stop Arizona State's run game. If running backs Demario Richard and Ballage get going, that opens up the passing game and it allows ASU to run an up-tempo offense.
On the flip side, the Sun Devils boasts one of the best run defenses in the conference allowing just 73.7 rushing yards a game. Cal will try to run the ball, but they are predominately a passing offense.
The front seven of the Sun Devils will need to get pressure on Webb just like they did versus Patrick Mahomes of Texas Tech, and force him into poor decisions.
If Arizona State can prevent Cal from sustaining long drives, they will be in good position to win this game.
Prediction:
The Sun Devils' balanced offense will prove to be the deciding factor. Richard and Ballage will have strong games, and Manny Wilkins will be back to his normal self throwing the ball and running with his legs. The Sun Devils defense will take away the Cal running game and it will lead to Webb being forced to carry the offense on his shoulders.
Arizona State 44, California 31
This article originally appeared on