ASU Football: Arizona State at Washington Preview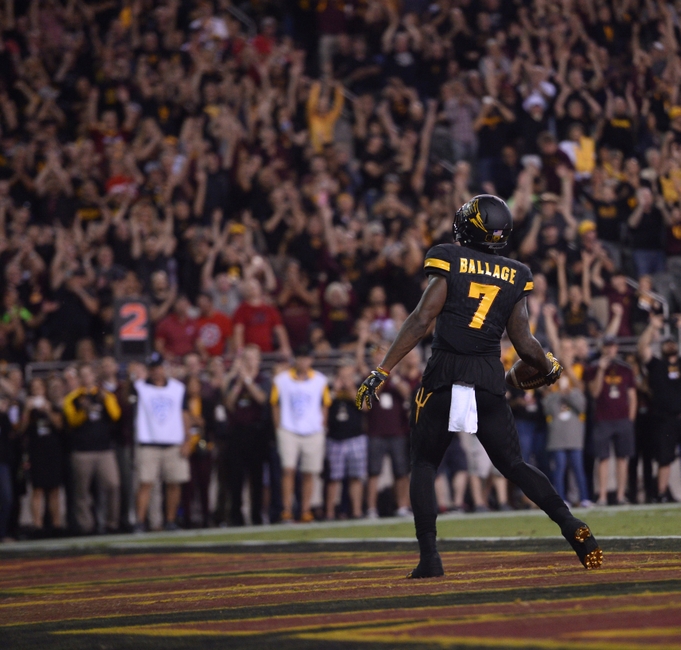 With both teams coming off losses last week, Arizona State and No. 6 Washington will look to bounce back and pick up a much-needed win. Arizona State looking to become bowl eligible while Washington is still in Playoff contention.
The Sun Devils head to Seattle looking to put a halt on their four-game losing streak. Arizona State, on Senior Night, could't match Utah's offense at the end of the game as the Utes outscored ASU 21-0 in the fourth quarter to seal the victory. It was a tight game for the majority of the game, including ASU leading 13-0 after the first quarter. The key stat was Arizona State only got three points off three Utah turnovers. That kept Utah in the game, and they got going in the second quarter scoring two quick touchdowns to take the lead, and they never looked back.
Offensively, Arizona State put up good numbers. The Sun Devils finished with 396 total yards, with quarterback Manny Wilkins leading the way with 309 passing yards and one touchdown. Wide receiver N'Keal Harry had his best game yet, finishing with 8 receptions for 114 yards, a 46-yard pass and a 31-yard touchdown run. The difference was the offensive line losing the line of scrimmage battle. Wilkins was sacked nine times, including Utah defensive end Hunter Dimick getting 5.0 sacks, and the Sun Devils finished with only 41 rushing yards.
Defensively, it didn't get much better for Arizona State. Utah finished with 497 total yards, despite running 20 less plays than the Sun Devils. Quarterback Troy Williams finishing with 296 passing yards and four touchdowns. Running back Joe Williams rushed for 190 yards and two touchdowns. Head coach Todd Graham opted for a more conservative gameplan, only rushing four players on the majority of plays and keeping seven players back. That plan backfired as Troy Williams had all day to throw in the pocket. Utes offensive line did a great job blocking up front and creating big holes for running back Joe Williams.
More from Devils in Detail
The road doesn't get any easier Saturday as Sun Devils face the Washington Huskies. Washington is coming off their first loss of the season, falling to USC 26-13. Quarterback Jake Browning had his worst game of the season, finishing with 259 passing yards, one touchdown and two interceptions. Washington finished with only 17 rushing yards. Wide receiver John Ross was the Huskies' main source of offense, catching 8 passes for 154 yards and one touchdown.
The Huskies defense struggled to keep USC off the field as they had a time of possession of 32:37, five minutes longer than Washington. While the Huskies were able to force two Sam Darnold interceptions, they allowed 400 yards of offense to USC. Washington wasn't able to put much pressure on Darnold as they got only one sack for the whole game despite averaging 2.8 sacks a game.
This will be a tough test for the Sun Devils. ASU will be facing a highly-motivated Washington team coming off a loss to USC and seeing their playoff chances still alive after No. 5 Louisville lost at Houston Thursday. It will also be Senior Day giving Washington even more energy  to perform well as they look to maintain pace with Washington State in the Pac-12 North. If the Sun Devils were to have a chance, they have to blitz Jake Browning and contain him in the pocket. Washington has an explosive offense, and the Sun Devils need to do what they are good at, and that is blitzing. Facing the top scoring offense in the conference, it is crucial to minimize explosive plays and to tackle on initial contact. They can't afford to allow yards after the catch.
The offense needs to have a balanced attack versus the top scoring defense in the conference. Running backs Kalen Ballage and Demario Richard need to establish an effective running game to help open the passing game for Manny Wilkins. Last week, Wilkins said a big part of the nine sacks allowed was him holding the ball too long. Wilkins, still recovering from his injury, needs to have more trust in his run game and escape the pocket if there is nothing open down field. It's also crucial to get the wide receivers involved in the game by going downfield. Doing screens all game won't work against Washington.
Prediction:
Washington 49, Arizona State 31. Expect Graham to have an aggressive gameplan as Sun Devils have nothing to lose Saturday. With that said, the Huskies bounce back on both sides of the ball, especially on offense. Arizona State will have difficulty stopping Browning.
This article originally appeared on