ASU Football: Arizona State at Arizona Preview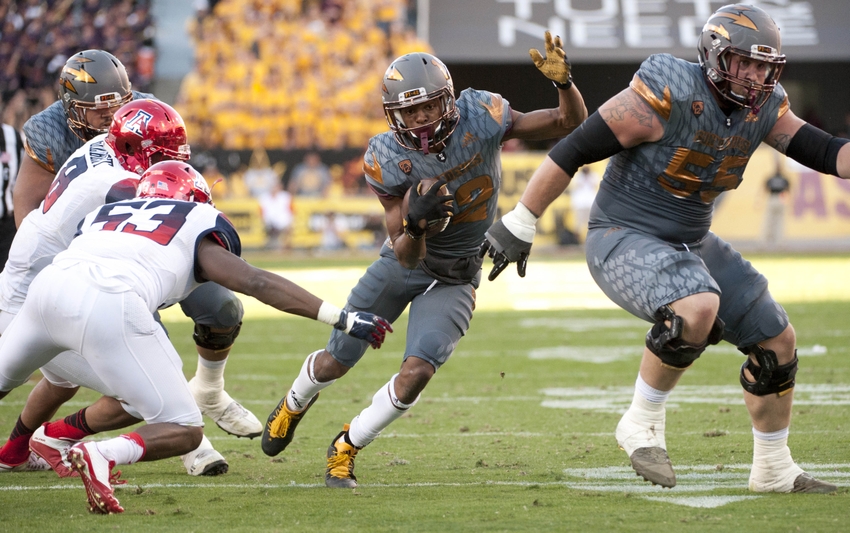 After losing their fifth straight game last week at Washington, the Territorial Cup clash in Tucson will determine Arizona State's bowl eligibility fate.
The Sun Devils are coming off a 44-18 loss versus then-No. 6 Washington last week. The Sun Devils began the game strong getting two early takeaways, but ASU came up empty-handed offensively. Despite a competitive first quarter, Washington exploded for three touchdowns in the second quarter to take a commanding 24-0 halftime lead.
Arizona State didn't get on the board until 2:17 remaining in the third quarter, when kicker Zane Gonzalez converted a 50-yard field goal to make it 30-3. Tight end Jay Jay Wilson went on to catch two touchdowns and one two-point conversion in the fourth quarter, to make the score not look as bad.
It was a struggle for the offense to get anything going versus the Pac-12's best defense. Washington outgained Arizona State 539-245, finishing with a season-low 15 rushing yards. Arizona State had 12 less first downs than Washington, and ASU went 1-for-14 on third down. Statistically speaking, quarterback Manny Wilkins had a good game, finishing 20-for-32 passing, 227 yards, two touchdowns and one interception. N'Keal Harry build off his Utah performance with his second straight 100-yard receiving game, finishing with six receptions and 114 yards.
As expected, the defense continued its struggles. Quarterback Jake Browning had a bounce-back performance, finishing with 338 passing yards, two touchdowns and two interceptions. The running game was the difference as running back Myles Gaskin rushed for 127 yards and one touchdown. Wide receiver Dante Pettis had his fourth 100-yard receiving game of the season, finishing with 105 yards and one touchdown.
More from Devils in Detail
While ASU is limping to the finish line, it's been an even worse year for the team down south. Arizona is 2-9 this season, including losers of eight in a row. The Wildcats are coming off a 42-17 loss at Oregon State last week. Arizona played both quarterbacks as Brandon Dawkins went 10-for-17 for 106 yards, one touchdown and one interception. In relief of Dawkins, Anu Soloman went 6-for-11 for 82 yards. In last year's Territorial Cup, Dawkins got the start and played very well, finishing with 383 total yards, three total touchdowns and one interception. Head coach Rich Rodriguez has not officially named his starter, but it will likely be Dawkins with Soloman questionable.
This will be a high scoring game, as both teams have porous defenses. Time of possession and field position will be vital. Whichever team can control the ball the longest will be in great position to win. The Sun Devils arguably have the best punter-kicker duo in the conference with Gonzalez and punter Matt Haack. Haack struggled last week at Washington, and he'll need to be on his game to try to pin Arizona deep and force them to go down the field and score.
Neither team should have trouble scoring, but the offensive line with dictate ASU's success. Wilkins was sacked six times last week, and they have to do a better job on protecting. Some of it is also on Wilkins for holding the ball too long, so it's important for him to quickly go through his reads and take off running if nothing is open.
I expect head coach Todd Graham to blitz Arizona a lot, and to force Dawkins into making quick decisions. The Sun Devils had the advantage of seeing Dawkins last season when he was a bit of an unknown. Graham will have a better idea of his dual-threat ability, and the Sun Devils will need to do a good job containing him. The defense sealed the game last year on a pick-six and it's important that the Sun Devils get some takeaways and capitalize on them.
Prediction:
Arizona State 41, Arizona 31. This will be a high scoring game, but I think running backs Demario Richard and Kalen Ballage will combine for at least 150 rushing yards, and Wilkins will throw two touchdowns. The defense will be able to get key takeaways, and pressure Dawkins into mistakes. The Sun Devils will be bowl eligible.
This article originally appeared on