Army snaps 14-game losing streak to Navy in wild fashion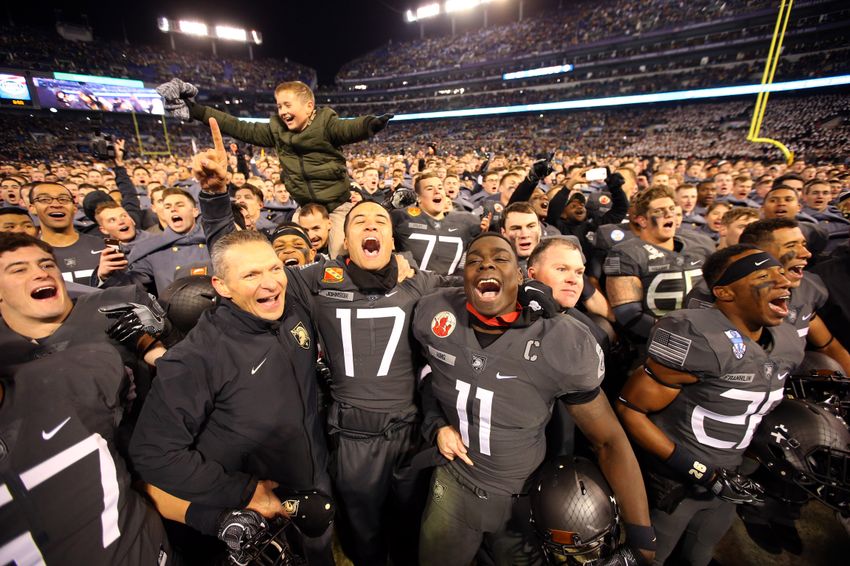 The Army Black Knights capped off a terrific regular season with their first win over the Navy Midshipmen in over a decade.
It wasn't a pretty game to watch, but the Army Black Knights were able to do enough on Saturday to pull off an upset win over the Navy Midshipmen, ending their 14-game losing streak against their military school rival.
Despite four turnovers and just 35 yards of passing, the Black Knights squeezed out a 21-17 victory. It was a low-scoring affair in the first half, but Army fullback Andy Davidson was able to score a pair of one-yard touchdowns to help the Black Knights take a 14-0 lead into the locker room at halftime.
However, the Midshipmen were able to retake the lead in the second half. Quarterback Zach Abey was able to score a touchdown while also driving the team into field goal range to help Navy eventually take the lead on a 41-yard run from the sophomore QB.
Army continued to cough the ball up, losing three fumbles throughout the contest. Despite the poor ball security, the Black Knights were still able to rally and scored on an 80-yard drive late in the fourth quarter. Navy quarterback Ahmad Bradshaw was able to score the eventual game-winning touchdown on a nine-yard run.
That score helped Army pull off the huge upset while finishing with a 7-5 record in the regular season, giving them their most wins in a season since 2010. Regardless of what happens in the Heart of Dallas Bowl against North Texas, Army should be thrilled with how this season has gone.
As for Navy, they will be taking on Louisiana Tech in the Armed Forces Bowl with a 9-4 record after back-to-back losses to Temple and Army.
The game was also legendary CBS commentator Verne Lunquist's final college football game, and he delivered quite a heartfelt send off at the end of the broadcast.
There may have only been one college football game on this Saturday, but Navy and Army were able to provide fans with an electrifying rivalry game.
This article originally appeared on