Arkansas vs Texas State Initial Takeaways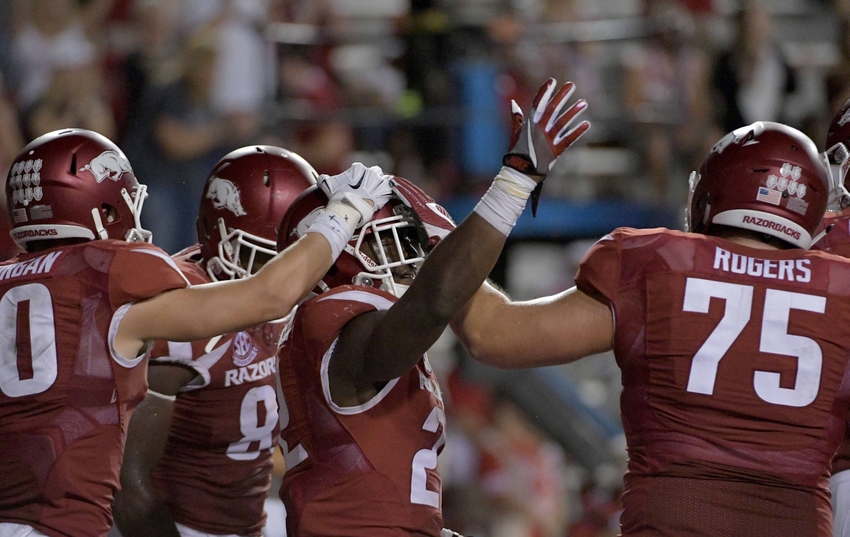 The Hogs vs Texas State was the most boring beat-down I've ever had the joy of watching. It was definitely not the game I thought it was going to be.
So what do you get when you take one of the worst pass defenses in the nation and pit them against the second fastest team in the country? Surprisingly, that bad defense delivers a monster victory of 42-3 Arkansas.
I said before the game that it could be a closer game than what analysts thought. I said that Texas State, with all their speed, would cover the 31 point spread. Now I get to say, I was dead wrong.
Defensive Thoughts
Overall it was as vanilla as it gets. Not a whole lot to 'ooh and awe' about from the Razorback offense but the defense looked like they were starting to come together. Especially the secondary.
One standout player from the secondary tonight was Ryan Pulley. Not only did he have a pick six but he looked really solid. With him coming into his own and Ellis having great ball awareness, the Hogs might actually start causing more much-needed turnovers from the air.
Overall the Razorbacks held the Bobcats to 105 total yards. 83 of those yards came from the passing game with an average of 3.2 yards per pass. This is an important stat for the Hogs heading into A&M this week. If they can keep jamming up receivers and stopping big pass plays, Arkansas may very well stand a chance.
Offensive Thoughts (Trigger warning)
It was cool to have Razorback legend and former quarterback Clint Stoerner in the booth doing the color commentating tonight. It was really cool that 98% of all plays, he made sure to remind us that the offensive line was a work in progress. He was the much-needed voice to calm me, as well as other fans when we were yelling at the T.V. because they looked so shaky.
First-year offensive line coach, Kurt Anderson, was making moves and testing different players out in different spots to see what would fit. That's cool and all but, they looked so out of wack most of the game. It was clear that Austin Allen was beginning to get frustrated as well he should. If they are going to hope to stand a chance against A&Ms pass rush next week, they need to get it fixed.
Nothing In Particular Thoughts
The main topic of our "nothing in particular" segment is Domonique Reed doing kick returns. Before you start the "He's the fastest guy on the team" bit, hear me out. He is fast, however, he is as skinny as Lindsay Lohan when she is hitting rock bottom from a decade-long coke addiction. Because of this, it seems like he is afraid to get hit and by avoiding one defender he just boxes himself in with the others.
Overall, I was pretty happy with the game. Arkansas needed to beat these guys and beat them badly, which is exactly what they did. The Hogs don't have the luxury of, say Tennessee, barely beating these "cupcake" teams and still remaining in the top 25. Arkansas moves on 3-0 to face a 3-0 Texas A&M team in Dallas in a week. Hopefully, the Hog train keeps rolling! Woo Pig!
More from Razorbackers
This article originally appeared on