Arkansas vs Auburn: Everything You Need to Know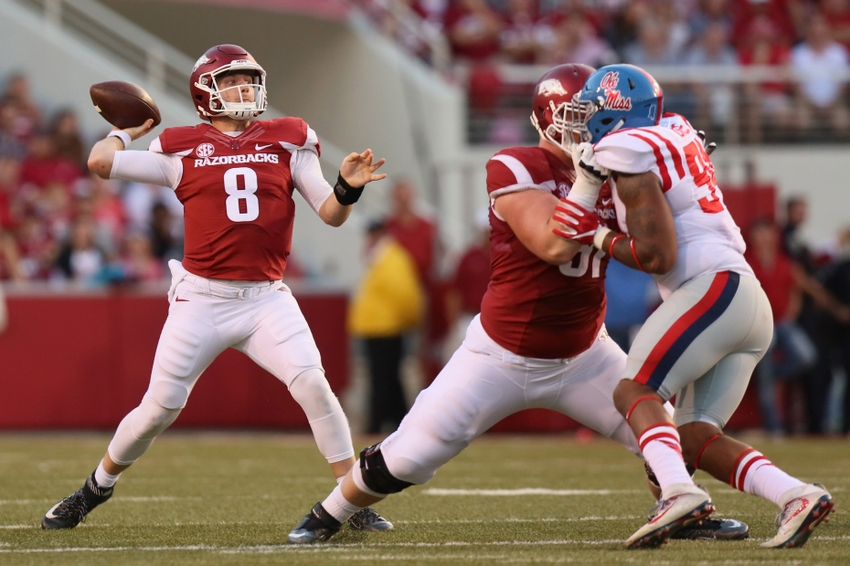 As game day approaches for the Arkansas vs Auburn matchup, let's take a closer look at the key elements of this really underrated rivalry.
For those outside of the fanbase, Auburn has been a bit confusing this year. At the start of the season, all anyone heard was that the team was terrible and the Gus bus was on fire.
Fast forward to the middle of the season and now things are looking different. Auburn has transformed into a power run team with a strong defense. Yes, you read that right. Auburn, under Gustavo Malzahn, has a nasty run game.
The Auburn Offensive Line
The Tiger offense is something a lot of people are scratching their head at. Rather than the high flying pass threat, Gus is known for, this team has turned into a ground and pound offense.
Where it all starts is on the offensive line. Auburn took an injury to their line during their key win over LSU. The starting center, Xavier Dampeer, took an ankle injury in the second half. The Tigers then took the left tackle, Austin Golson, to center and put Darius James in his place.
One might expect the change ups to set the line back but that's not what happened at all. The first four games Auburn didn't have good protection and allowed 12 sacks. After the moves that some thought would hurt them, they have only allowed three in the last two games.
It's not a difference in just the quarterback protection. The run game has been opened up with the good performance in run-blocking. The Tigers are now at 638 yards of rushing and 5.23 yards per carry.
The issue Auburn is now facing is that the injured Dampeer is almost 100% healthy now. Gus hasn't announced who will be starting merely saying "We'll figure it out this week." My guess is that they will keep the lineup they have had post injury. The reason being is that Arkansas has had trouble stopping the run and Auburn is having success with it.
The Auburn Run Game
Thanks to the new and improved 0-line, the Tigers have established a pretty solid run game.There is, however, just one small problem for Auburn heading into the matchup against the Hogs. Their leading rusher, Kerryon Johnson, hurt his ankle in the first quarter of the Mississippi State game and his return is unknown for this game.
On Wednesday afternoon, according to al.com, Gus said he was able to participate the whole time in Tuesday's practice
"He was better than he was on Sunday," Malzahn said on the SEC coaches teleconference. "We'll just have to keep checking to see his progress up until Saturday."
So it looks like Johnson could be back, however, we probably won't know until right before or during the game. Johnson leads his team with 538 total yards and six rushing touchdowns while averaging 5.1 yards a carry. If he doesn't play, the next man up is Kamryn Pettway, a third-year sophomore who came in during the MS State game. In that game, he rushed for 169 yards and 3 touchdowns on 39 carries.
I don't know if Arkansas is going to really catch a break here if Johnson does sit out for the game. Pettway looks like a really solid go-to runner. Then again, he looked solid up against Mississippi State. The Bulldogs gave up 138 yards on 28 carries to UMASS. Thus we honestly don't know what this kid can do.
Auburn QB and Passing Game
In the beginning of the season, the Auburn quarterback situation was a joke amongst media personalities. There was no singular standout and Gus was putting everyone in to rotate through at the position. I think in one game it was something like three different quarterbacks that took snaps.
Since then, the offense has been under the control of one, very familiar QB Sean White. Thinking back to last year, Arkansas fans will remember him as the quarterback that the Hogs beat in the quadruple overtime game in Fayetteville. Although he has grown a lot and is doing really well, it's important to remember something about last year. Had his receivers not dropped 1,000 passes last year, Auburn would have smoked Arkansas.
Sean White is a solid quarterback. He leads the SEC in completion percentage at 69.7 percent. He is ranked 7th overall in the SEC but don't let that fool you into thinking he's mediocre. White has a good deep ball as well as Deadshot level accuracy.
The question here is how good the receiving core is for White to go to. The answer is, as a whole, the guys are solid. Tony Stevens is by far the most go-to receiver with 24 receptions for 408 yards and 3 touchdowns. The next most go to receiver is Ryan Davis who has 19 receptions for 155 yards and 1 touchdown.
The passing game is solid. It's not the Gus signature killer passing game but it works. Arkansas will have to get pressure on White and the secondary will have to play as good or better than they played against Ole Miss.
Auburn Defense
This is where Auburn is getting a lot of attention throughout the SEC. The Auburn defense is something you can't overlook when looking at this game. Especially the pass rush.
Auburn ranks third in the SEC in passing defense. They hold teams to an average of 199.7 yards per game and have given up 1198 yards this season. A big part of that is defensive end Carl Lawson who is tied for second in the league with six sacks. He and Marion Davidson get penetration through the offensive line and get consistent pressure on quarterbacks.
The Tiger rush defense is fairly solid as well. Ranked number six in the SEC, Auburn gives up an average of 147.17 yards per game and have given up 883 yards total this season.
Make no mistake, Hog fans. These guys are going to test Arkansas' offensive line much more than Ole Miss did. The run blocking is going to have to be the best of the year for the Razorbacks if they want to establish a run game against the Tigers.
Why Arkansas Wins
When you look at Auburn, and the hype that is surrounding them right now, you have to remember one thing. They haven't beaten anyone even decent. The hardest games they have played yet are Clemson and Texas A&M, both of which they lost.
As good as their pass rush and defense is, would you say they are as good as Texas A&M? How about saying they are better than Alabama? They definitely aren't and Arkansas put up 371 yards passing on the Aggies and 400 yards passing on the Tide.
How did Arkansas do it? They have the best quarterback under pressure in the country. Austin Allen hasn't had the luxury of a dominant offensive line this season so he has done what only the most elite quarterbacks can do. He adapted to the pressure and thrived. Auburn can bring the pass rush all they want but the simple truth is we have a not so secret weapon taking snaps and he can handle it.
What about that dominant run game from Auburn? They needed 10 more carries to put up 30 more yards than UMASS on Mississippi State. Arkansas needs to respect the run but after watching the Ole Miss game from last week I'm not too worried. As long as Arkansas can continue to get better at controlling the gaps like they did last week, the Tigers aren't going to set any rushing records this Saturday.
Prediction
I feel good about the Razorbacks chances this week. If they can progress from the steps they took last week, Arkansas will win. As long as they can get in there and quiet the crowd early, the road aspect won't be too much of a factor. The fans are already on the edge and if Arkansas gets a good lead in the half, it'll take the life out of the crowd. I have Arkansas rolling on the road 34-27 but I won't be shocked if they win by 14 or more. Woo Pig!
This article originally appeared on