Arkansas Razorbacks Football: Slowly crafting a winner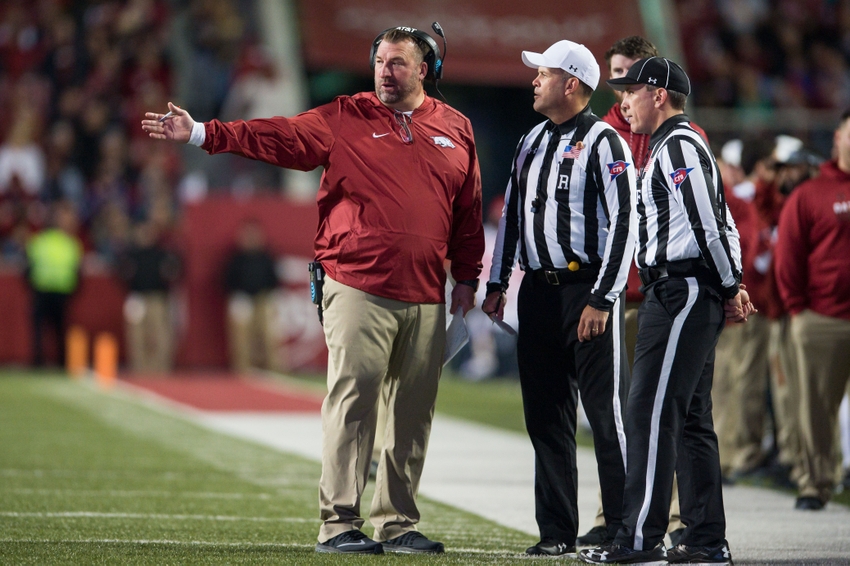 Hopefully, fans will continue to be patient with Arkansas Razorbacks head coach Bret Bielema.
As the Arkansas Razorbacks continue to try and navigate through the difficult terrain that is the SEC schedule, fans are trying to be as patient as possible. Actually, that's not totally true. The reaction of Razorbacks fans to Bielema's tenure has been mixed due to what they're seeing on the field and from their head coach.
Some look at the juggernaut better known as the Alabama Crimson Tide and want what they want now. Some understand the difficulty Bielema faces in having to prepare year in and year out for teams like the Crimson Tide, LSU Tigers and Ole Miss Rebels. The Razorbacks have reached bowl eligibility again in 2016, but questions remain in Fayetteville just like they do with every other fanbase in the SEC. What will it take for the Razorbacks to reach that upper echelon of college football teams?
Coming into 2016, there was a bit of a quarterback controversy, but it was ended quickly when Austin Allen was named the starter. Allen has played just about as well as you can expect. He's beaten teams he should beat, and he's lost to teams he should lose to.
Many see Ricky Town as the future, but as Athlon Sports reported in their 2016 SEC preview, Bielema told reporters "He never really got a grasp of the offense". We'll have to wait and see what happens there. Maybe it's the same with Bielema. Can he beat the Tigers, Rebels and Crimson Tide consistently? Then there's an Auburn Tigers team and a Texas A&M Aggies team that you always have to pay attention to. Four of the five teams we just named represent the Razorbacks' four losses on the season.
We all know the SEC fan is a very impatient fan. Maybe they're not as impatient in Fayetteville, Arkansas, but one thing is certain. This is a proud program that has the love of some proud fans, and they'll want to see results sooner than later.
This article originally appeared on