Arkansas Ranks in the Poll That Matters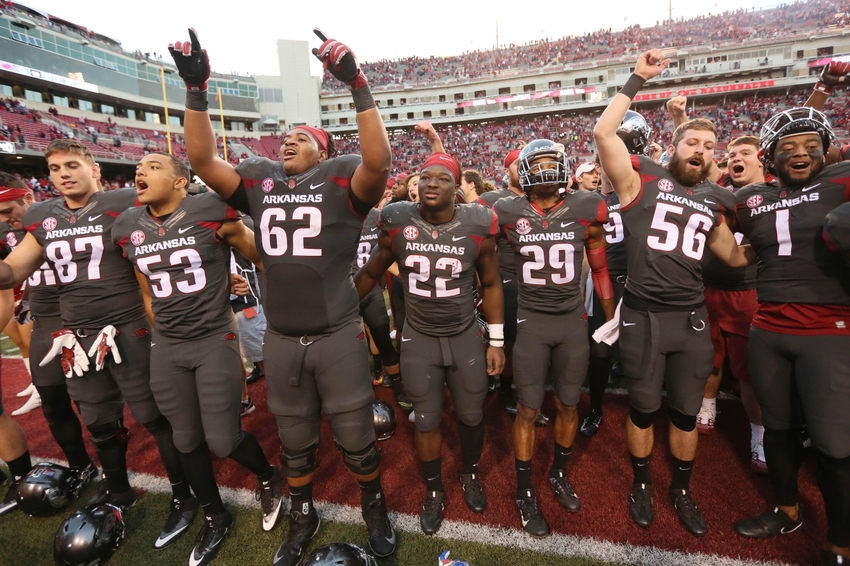 Arkansas comes in at number 25 in the College Football Playoff rankings.
Once the College Football Playoff starts doing their rankings, all the other polls go out the window. Arkansas has made their first appearance in the CFP rankings this week as they have come in 25th.
The Hogs didn't make either the Coaches Poll or the AP polls. Last week the Razorbacks bounced back from a 56-3 loss to Auburn to upset the11th ranked Florida Gators. Although I disagree with some of the movement after last week in the rankings, I do believe the Hogs should have been in.
Arkansas has lost to A&M, who at the time was playing elite caliber football, Alabama, and Auburn. The thing I like about the CFBP is they don't care about anything other than quality wins and quality losses. Can you name another three loss team with any better losses?
It goes without saying you shouldn't be looking for Arkansas to make the climb to the playoffs, but this is a huge step for the Hogs. Arkansas is currently 3-3 against top 15 ranked opponents. Yeah some of them were overrated at the time but look around the country. Other teams lose to lesser competition every week and Arkansas is holding their own against decent competition.
The Hogs look to continue their upswing as they take on the 24th ranked LSU Tigers on Saturday. The 5-3 Tigers are coming off of the losing end of a grueling battle against the Crimson Tide. Kickoff is set for 6:00pm on ESPN and ESPNWatch. Woo Pig!
More from Razorbackers
This article originally appeared on