Arkansas at Mississippi State Wrap-up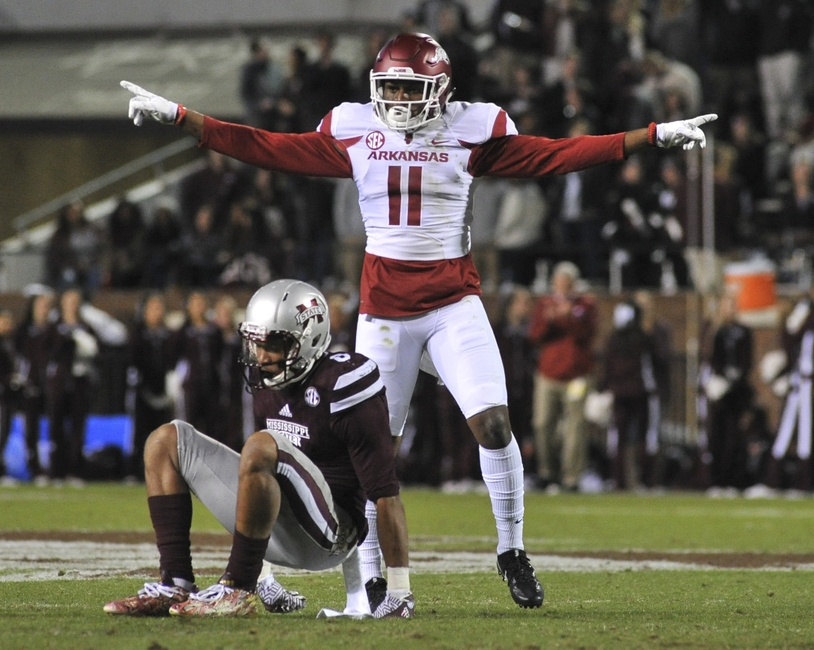 It was about time. Arkansas finally did to another fan base what it seems like opposing teams have been doing to us for years.
The game Saturday night at Starkville had promise, however, it also had many Arkansas fans worried. Even Razorbackers.com's  own Chris Jackson had concerns if the Arkansas defense could handle a dual-threat quarterback. Also, despite their losing record, Mississippi State's play this season has been up and down. They seem to struggle in the games that they should win easily, and even end victorious in some that they should not.
The Razorbacks had looked so bad against LSU, that many fans were worried if Austin Allen's injuries were worse than the coaching staff was letting on. Fortunately, Allen's play in Saturday's game presented just the opposite. Allen did miss a couple of passes that he should have made easily, however, he connected on a majority of his passes completing 18 of his 25 attempts for 303 yards and two touchdowns.
Offense
Along with Allen, the entire offense performed so well that outside of holding for Adam McFain, punter Toby Baker did not have any action. The HOGS offense was not forced to punt throughout the entire contest. They were so prolific that, of the eleven Razorbacks possessions, the only miscue came on a missed field goal attempt. Part of this was due to the offensive line looking like the solid NFL-caliber hosses of old. The perimeter and downfield blocking was outstanding and dominant. Add to it, holes and lanes were being created big enough for even two Razorbacks to run through. Strategically, this afforded Allen extra time in the pocket. Meanwhile, the receiving corps consistently found ways to get open. All of this instilled enough faith and confidence for Coach Bret Bielema to attempt and succeed on two fourth-down conversions.
Defense
Probably the only downside to the game would be that the defense did not look good throughout the duration of the game. In fact, in the majority of the 3rd and 4th quarters we looked very porous. Oddly, it felt so good that Arkansas's offense was able to move the ball at will, that many fans may have kept their focus on that fact. Unfortunately, later in the game, Mississippi State also got to where they could put points upon the board as they chose. One of Jackson's predictions rang true as Bulldogs quarterback Nick Fitzgerald caused trouble for the defense as we were unable to contain him on the ground. Furthermore, he made some deep passes late that kept Mississippi State somewhat in the game. Wishful thinking would be able to blame it on the possibility that the defense just got comfortable with the size of a lead, yet some of the plays simply looked poorly defended. As a whole, I must add that the defense did their job and accomplished the mission.
Special Teams
Special teams play is often underrated as to how crucial it is in victory, especially within the SEC. Our coverage team looked fantastic and made great speed getting down the field and stopping the return attempts. In fact, I can only recall two returns by Mississippi State that netted more than 20 yards, with neither being as much as 30. With no punt attempts by the Razorbacks, the focus was on the place kickers. And, yes, Coach Bielema utilized both Adam McFain and Conner Limpert on kickoffs. Both performed well and afforded the speedsters time to get downfield and prevent any long returns.
Coaching
Honestly, it felt good to see Coach Bielema smiling on the sideline. In my opinion, seeing Arkansas take a few chances again reminds me when Coach first stepped off of the bus and was more risque in a few trick plays. Also, with good play calling, it felt good for us as fans to be able to smile on this game as well. As a fan base, we needed to enjoy an SEC competition where we could sit back, relax, and enjoy a comfortable victory… after the first quarter of course.
Final Score: Arkansas – 58; Mississippi State – 42.
"Are you really not going to talk about RW III?!"
Absolutely. How could I not? Sophomore Rawleigh Williams led the team in rushing tonight. He also had a career night by racking up 205 years on the ground. He also set a personal best (as well as Bret Bielema best at Arkansas) by rushing for four touchdowns. Yes, I said FOUR. Oh, and that's not all. On 4th and goal from close to the 1 yard line, RW III also showed his southpaw prowess by lofting one over a packed Mississippi State defense to an awaiting Austin Cantrell. Impressive no matter who you are. Great job, 22!!!
Last Saturday it felt like LSU was able to score on us any time their Granny asked them. Arkansas players, coaches, and fans have all needed a high-scoring victory this season, and this one really provided some much-needed momentum headed into the postseason. Also, it lends help in landing the Razorbacks in somewhat of a more decent Bowl. To be blunt, it felt good for us to look like the team that could not be stopped. Sorry, Mississippi State, now you know our agony.
In conclusion, I think this sets us up to end the season on a good note against Missouri and firming up a bowl appearance that Arkansas fans can be proud of during the holiday season. Well played, Razorbacks, and Go HOGS!!!
More from Razorbackers
This article originally appeared on