Arizona Football: Wildcats take on the Colorado Buffaloes, play spoiler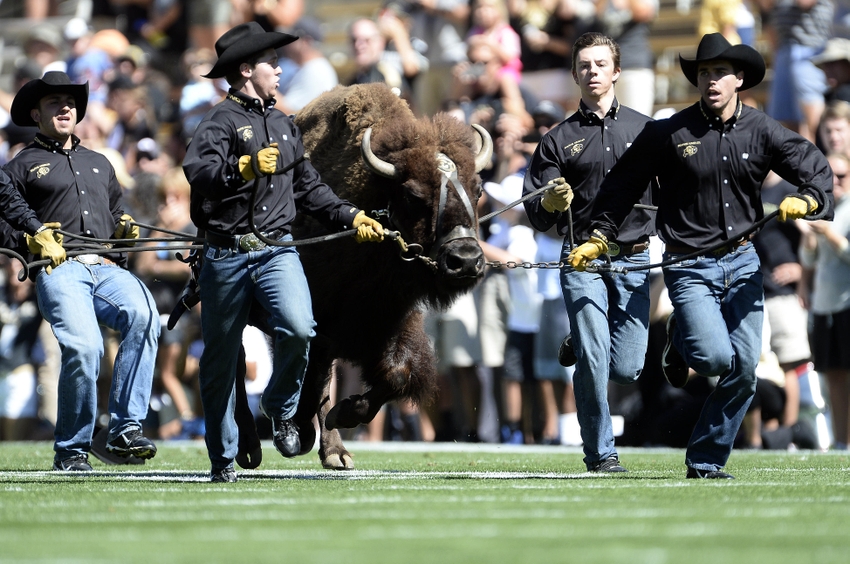 The Arizona Football team has had one of the worst seasons ever, and it only gets harder as the No. 16 ranked Colorado Buffaloes come stampeding into Tucson.
Game Information:  Arizona Football (2-7)  vs. No. 16 Colorado (2-2) ranked 2nd in the Pac-12 South
Location: Tucson, Arizona BE THERE!
When: November 12, 2016
Game Time:  8:00 pm MST 7:00 pm PST
Television: Fox Sports 1 (FS1)
Radio:  Arizona IMG Sports Network (Try TuneIn Radio), Brian Jeffries and Lamont Lovett
Betting line: Colorado -16
Series Lead: Arizona has won five out of the 13 games played between the two teams. Of the five wins, they have won the last four games under Rich Rodriguez
Last Meeting: Arizona 38  Colorado 31 in Colorado
Arizona Notes:
No one wants to win a football game more than Rich Rodriguez, his coaching staff and his team. This has become a soul-searching season full of injuries, blame, and acceptance of responsibility.
Rodriguez, as well as his players, have taken responsibility for the losses, the mistakes and everything else they could take responsibility for, and still, some fans are ornery. It's hard to cheer for a team that's losing, folks feel for everyone involved, and they possibly wrap your happiness in the team's success.
True blue fans stick with their team through the good times and the bad, like they would to a friend or a spouse.
So this weekend, go out to the ball game and show support for your team even if they may make a mistake or two. Sometimes fans wait until something good happens before they stand up to cheer, try cheering before a play. That may not work either, but one coach or player may get inspired.
Athletic Director Greg Byrne announced in his weekly newsletter that there would be a special flyover to celebrate Veterans Day. So there's that, you can support your local military veterans.
Off the 'don't stay home' soapbox, it's a late game, and it shouldn't be too hot.
So can the Wildcats win this game? Will they get back key players who are desperately needed to stop the run, or create holes for their newest running back Samajie Grant? We hope so, and we hope becoming a spoiler is motivation enough to redeem their season and bring some joy to their fans.
The Cats will have to execute and support one another. The team has to believe they can win. It cannot get any worse than it already was last weekend.
Pluses:
Anu Solomon has gotten back into the game, and he has started speaking up and explaining that he was lost a bit, needs to get back into his true form. He also has two healthy back-ups, both of whom revel in exceeding expectations. Solomon has to be a dual-threat quarterback, just sitting in the pocket, or throwing the ball out of bounds on every play will not get a win.
He needs to look for a tight end, or anyone willing or available to catch the ball. As far as running back, most fans predicted would come to light. Rich Rod announced that Nick Wilson is out for the season or the next three conference games anyway.
Samajie Grant has had a couple of games to practice being a running back and has found some success so far including a 50-yard run against Wazzu. If you have kept up with Grant, you know that he wants to win and perform with everything he has in his constitution.
Arizona is not traveling to mile-high Denver, so that is a plus as far as altitude issues.
Your team captains include Sani Fuimaono, which means he is not on the injured list. Michael Barton may also play; he is listed as probable. Having Barton back would be huge since he leads the team with 43 tackles even when missing a few games.
Who knows who will start at quarterback, all three that have played are healthy, we predict Rich Rod will start the game with Anu, and Anu seems to want to get serious again from his comments this week. "
Colorado Notes
The Buffaloes are ranked No.16 in the nation. Colorado is a much better team than last season ranking No. 1 in the Pac-12 South with a 5-1 record, with their only loss coming at the hands of USC, dropping that game by a final of 21-17. Some their wins have mostly come from their strong defense.
If you were to look at the schedule before the season started, you would have assumed that this may be the easiest part of the Cats' schedule. Looking at it now, the easier part of the schedule was in the middle, and Colorado has been the surprise of the South.
Arizona Football coach Jim Michalczik's son Max announces commitment
We spoke to Colorado Coach McKyntire at the Pac-12 Media Days, and he wasn't getting much attention, again eyes were not on the Buffs. Thinking back, we must have looked like the smartest media at the event interviewing him for a good 20 minutes. What we took away was that he knew he was running under the radar, and he was completely ready for Pac-12 competition with an experienced team.
McKyntire did mention to us that there is a sign in the opponents locker room that says something like "The Altitude will affect you, so good luck not feeling sick" or something like that. It seems the UCLA Bruins did not play well against the Buffs in Colorado and there is a rumor that they trashed the visitor locker room in anger or because the offense and the defense started fighting. It depends who you believe.
Could it have been the sign? Either way, the game will be played in Tucson and Coach McKyntire is not looking forward to playing in front of the Wildcats wild crowd. Most predict the crowd will not show up, but if Arizona is to play spoiler here, then let's hope they do show up.
"They are excited about where we are headed and what we got to do," said coach McKytire during the Pac-12 Teleconference call, "The type of team Arizona is they have beaten us the last three meetings, so it's a tough situation for us."
The Buffs are bowl eligible and don't want to get ahead of themselves when it comes to Championship dreams, they would have to beat Washington, and Arizona knows it is possible with a healthy, confident and positive-minded team.
Feeling that loss from last weekend, humiliating as it was, has to provide some motivation for the team to prove they have what it takes. Bringing down the nationally ranked Buffs could put a skip in their collective steps getting their first Pac-12 win and become a possible spoiler with USC chomping at the bit to win the South.
There is not one media outlet predicting Arizona will come out the winner, so it'd be good if the Cats surprise everyone on Saturday.
This article originally appeared on