Arizona Football vs. USC: Coaches Comment, Players Pumped, Game Info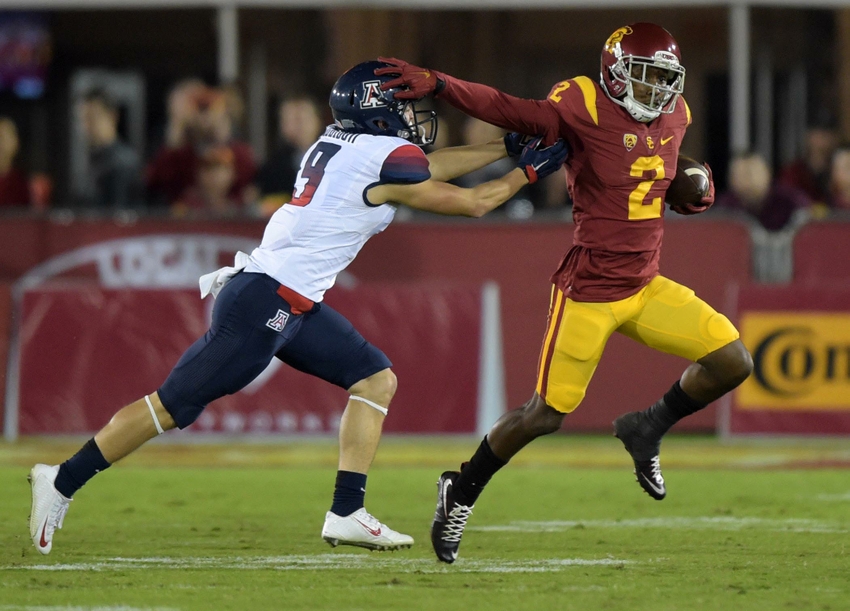 Find out everything you need to know about the Arizona Football vs. USC game on Saturday, October 15th. Coaches talk about their teams and their opponents teams.
USC has had the Arizona Football teams number for the last three years, yet they haven't played well away from home. The Trojans are on a roll, winning their last two games.
Location: Arizona Football Stadium, Tucson, AZ (57,400)
Tickets: You can purchase tickets HERE (only 1,000 left)
When: October 15, 2016
Game Time: 12:30 pm PST/MST
Television: FOX
Radio:  Arizona IMG Sports Network (Try TuneIn Radio), Brian Jeffries and Lamont Lovett
Betting line: USC -8.1
Series Lead: Arizona has lost the last three games under Rich Rodriguez to USC, and the Trojans lead the overall series 30-8
Last Meeting:  Los Angeles, 2015, USC won 38-30. The last nine games have been decided by 8 or fewer points.
Uniforms: Arizona will wear…..
USC Head Coach Helton pregame comments:
On the beginning of their (USC's) season, winning straight two games now:
I think the team, what they've done has gotten better each and every week. Last week beating a good top 25 Colorado team I think the team has been building a lot of confidence. You know we are not a finished product yet, but we've had some turnovers last week that we have to get rid of–we are playing really good defense at this point. Still digging ourselves out of a whole but we are getting closer.
Growing Pains and Sam Darold:
Anytime that you're dealing with young people, you know there's going to be some growing pains. Right now those growing pains are a couple of turnovers by Sam; three out of the four turnovers were Sam's, two fumbles and an interception by Sam. They way he is distributing it he is doing an excellent job, he just has to limit ball security issues.
On Arizona's Injuries (Helton said Cody Ippolito is "One of the good guys in the conference, he's always been a challenge to go against" and was sad to hear about his injury:
The three quarterbacks Arizona has are very very athletic, they are RPO heavy, but run and pass — so you don't have to make different game plans. Running back wise we know Nick Wilson is a great player, we know he is injured. The wide receiving corps with Shun Brown and Trey Griffey
On Khalil Tate and Brandon Dawkins:
Being at Serra HS, we've had some good fortune there in the recruiting aspect. I've known Khalil for several years as well as Brandon Dawkins both from this area, and have grown up watching them. They are both extreme athletes — He [Tate] fits Arizona's system extremely well. That zone read offense that includes RPO's I mean he's absolutely made for.
They're doing a good job with him. He's beyond electric, a very very strong runner. It's like having a running back,  back there, he can fight through tackles; he usually makes the first guy miss, he's a dangerous weapon.
"They're doing a good job with him. He's beyond electric, a very very strong runner." USC Coach Helton on Khalil Tate
On California players committing to Arizona and not offered by USC:
There're 123 Pac-12 players signed here [USC], and you can only sign 25 per school. So you look at that, and you know that those you don't sign you are going to compete against. And you know Rich Rod is one of the best out there. Not only are they well coached good players, they play with a chip on their shoulders.
On having the Rams play in the Coliseum, how does that affect the team:
I think it's always nice to come home. One of the things that's great about USC there's been 496 draft picks, and that's most in the history of college football by any school. We're very fortunate to develop our kids here and then go off on to the NFL to several teams.
And now having the LA Rams back, they have the good fortune to be able to come back home and be able to play in the Coliseum again. I think that's a very unique opportunity and a special one for them. I'm really really glad for them.
Arizona Head Coach Rodriguez pregame comments:
On keeping his team upbeat:
As I talked to the team today about it, every week's an opportunity to feel good about ourselves, play well, play a talented team in our league. And there's still a lot of things we want to accomplish. It's not like you lose a few games and you're not going to make the playoffs and the season's over.
We love to compete, and nobody is going to feel sorry for themselves we're just gonna try to get better and get a win!
On Injuries:
It's been a challenge. The biggest challenge coaching-wise is to make sure we have a plan ready and then a backup plan ready because you can only do as much as your guys can execute. And when you are inexperienced, you gotta pare your plan down, but you can't be so simple that it's easy to defend. So that's the balance that we work through every week.
On the Next Man up mentality and freshmen opportunities:
That's the one positive about it that there are some guys now that a few weeks ago were on a scout team and probably planned on being redshirted and not playing. And all of the sudden then they get an opportunity. As I told the team, it's going to be a long season, and more opportunities come along as well.
On this game being a single-possession game historically:
I think a lot of our players know their players and probably have known that over the past [years] and get fired up. A lot of our guys, probably 99 percent of them if not 100 percent were recruited by USC.
"That's the thing I've told the team is that every game, even though we've lost a few in a row, every game we've made some improvements." Rich Rodriguez on weekly improvements
So they play and try to prove themselves a little bit too. But I think more than anything else its been closely contested interconference, same division race and they are pretty good football players.
On Positives last week, like going from 17% to 50% on third down conversions:
We have gotten better in spots. That's the thing I've told the team is that every game, even though we've lost a few in a row, every game we've  made some improvements.
Third down conversion was better because first down was better; we had a lot of third and shorts and converted and third and mediums and converted some of them.
And defensively we got a little bit of pressure. We didn't get any turnovers; that's a thing we gotta improve on. But our guys are being active, and they are moving around a little bit and trying to create some confusion, so that's a positive as well.
On Khalil Tate and Adoree Jackson being former Serra HS teammate possibly being a positive:
I don't know. Playing against Adoree, nobody probably really wants to because he is such a great, dynamic player. But they know each other, and Khalil again is a 17-year-old freshman, and he's been pretty composed.
"I think we have a lot of guys that are Southern California guys that this is obviously a big game for them." Coach Rich Rodriguez on players recruited from California
I'm sure he knows that there's going to be some mistakes made and we know that as well. But you know he's a competitive guy, and we'll try to get him ready this week in practice.
On Khalil possibly being pumped up for the USC game:
Yeah, I think we have a lot of guys that are Southern California guys that this is obviously a big game for them.
On Key Matchups Rich Rod's seen on tape against USC:
It's going to start up front. They are always very good up front; the O-Line, D-Line, big physical guys and we're not as big. So we've got to play with great leverage, we still need to start there.
And then they'll challenge you on the perimeter defensively with their corners; play press coverage and get in your face and try to take away everything and we've got some veteran receivers but we're going to get challenged. We have to try to win some of those matchups.
In the last game, the punter from Utah was unbelievable. I mean he was putting the ball on the one-yard line, the one-yard line, and the four-yard line and it was just great placement. There's not much you can do about that.
Summary:
USC has a great special teams unit including Adoree Jackson (Serra HS), people are trying to kick way from him, and we hope the Cats can do that too. USC's defense is playing well too, but USC has not yet won on the road this season. They will be facing a full stadium in the middle of the day, and fans are hungry for a win not to mention the team.
Arizona is battered and bruised, but the team seems to always find the next man up. This week it seems Matt Morin is stepping up to be the third or fourth string quarterback, taking some snaps according to Zack Rosenblatt.
If Jace Whittaker can continue his highly rated play at cornerback, that will help the Cats. Whittaker was rated the No. 1 corner in the nation last week according to ProFootballFocus and reported by Ryan Kelapire, "With four passes defended and only 11 yards surrendered on nine targets, it was a career day for Whittaker."
Prediction:
Arizona 27 USC 24 BearDown Arizona!
This article originally appeared on