Arizona Football vs. Hawaii: Big Plays, Who Shined, What needs improvement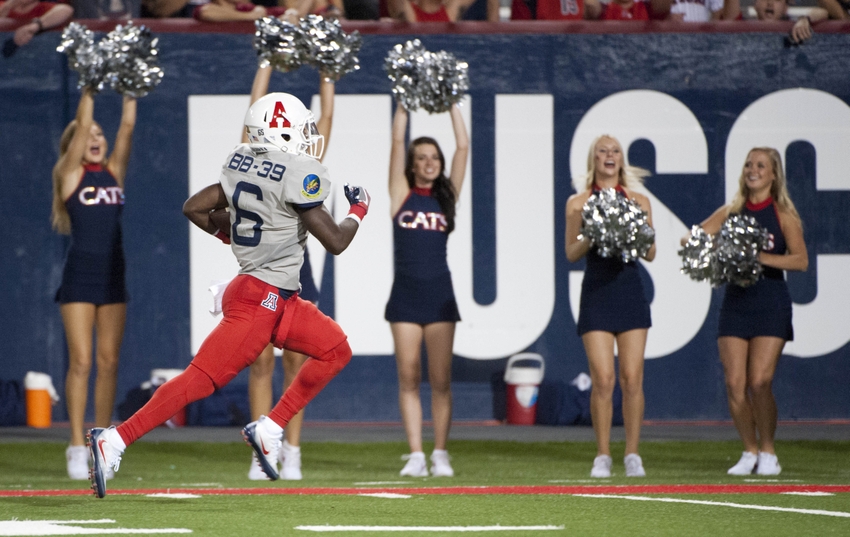 Two wins in a row for Arizona Football, the team,'s on a roll. Time to reflect on the game against Hawaii before we get ready for the Washington Huskies to come to town.
Who Shined?
Arizona quarterback Brandon Dawkins has waited for this moment for a while, to start games for the Wildcats. His time has come, and he is rising to the occasion. He has thrown absolutely NO interceptions in the last two games. He has led his team to two consecutive wins. He has racked up 673 yards of total offense (458 Passing 215 Rushing) and seven touchdowns (five rushing, two passing).
Included in the seven touchdowns were three rushing touchdowns against Hawaii (24, 14 and 6 yards), and they were all beauties.
#

Player

TotTk

Solo

11
Barton, M.
8
5
14
Magloire Jr, P.
8
6
31
Cooper, T.
8
8
21
Hayes, I.
5
5
All-in-all 23 Wildcats on defense put a stat on the board, and the top four were Barton, Magloire and Cooper (tied at eight), and Hayes who made five tackles. 
J.J. Taylor was a Centennial High School star, and now Wildcats fans can enjoy a type of running back you seldom see; a spinning, whirling and twirling running back. Taylor seems to be a specialist in the huge plays. He has rushed 19 times for 165 yards and one huge 61-yard touchdown.
Time for nicknames…Spin cycle? Mighty T? You tell us! Tornado?
We have a lot to look forward too with J.J. Coach Rod advised the media to not put so much pressure on the freshman, but it's hard not to get excited, there is much more to come from the 5-foot-6 running back.
Rich Rod's intensity
Ahead 34-7 in the first half with about 20 seconds left in the first half, Rich Rod came totally unglued and unleashed on both his quarterback and his assistant coach. Teaching moment we are assuming. He called a timeout when he had none left, and then it was time for the locker room adjustments.
You gotta love how intense our coach is, no matter what the score, he strives for excellence at all times, never satisfied. USC fans are jealous; they would love a coach who gets more out his players than others predict.
I love his advice to his team at the end of this video:
Josh Pollack, the Wildcats redshirt sophomore kicker, has made four out of five field goals so far this season, the longest being 46-yards. The only field goal he missed was a 52-yarder which should have been a 36-yard field goal except for the loss of yards on the previous play.
Pollack has made 10-10 point after attempts, so that's 100 percent. He is averaging 55-yard punts to top it off. Coach Rod is happy with his performance. He was nominated for Pac-12 player of the week along with Dawkins.
Biggest Plays: 
What needs improvement:
Converting on third down (yes that was on the list from last week), Wildcats only converted four out of eleven attempts
Penalties, a few fewer penalties will help (committed 11 for 105 yards)
More depth on the Running Back depth chart (Wildcats are without Nick Wilson, and Orlando Bradford was dismissed) The word is Tyrell Johnson is moving to the running back team from the wide receiver crew
Missed assignments on Defense in the second half, better tackling
Special teams could do a little better according to Coach Rod
Up next? The No. 9 ranked, projected Pac-12 champion Washington Huskies. The Wildcats and Huskies have split the last eight meetings between them, and every other game Arizona has won. Guess what? Washington beat Arizona in Seattle last season, so just like the Rams can upset the Seahawks in the NFL, it's the Wildcats turn to upset the Huskies. BearDown Arizona!
This article originally appeared on