Arizona Football runs over Rival Arizona to Victory, Territorial Cup in Tucson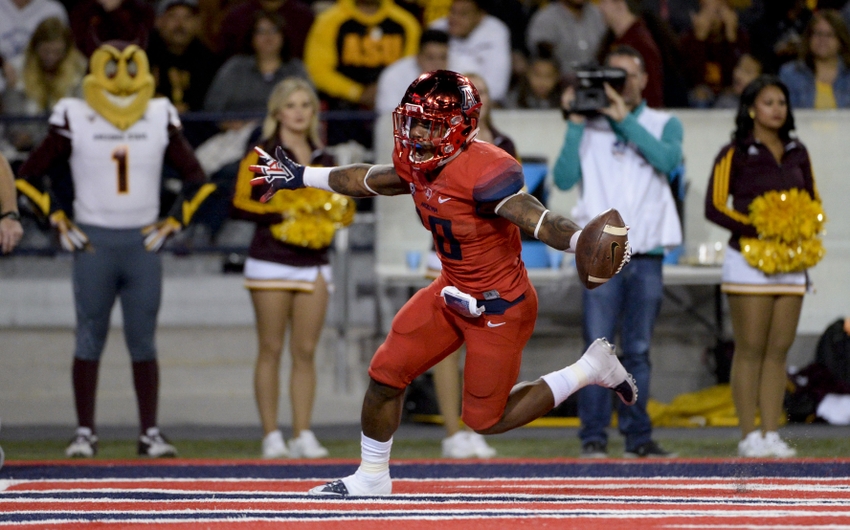 In the 90th meeting between bitter in-state rivals, Arizona and ASU, this year's Duel in the Desert had quite the implications as Arizona Football ran over the Sun Devils en route to a 56-35 victory.
It has been a tough season to watch if you are an Arizona fan, and with the Wildcats being outscored 160-48 in their previous three games, fans were not hopeful with a potent ASU offense coming to town.
Things haven't been great for either team this year, both struggling with injuries and a myriad of other issues, but if there is one thing you can never be sure of in this rivalry game, is a clear favorite.
At 2-9 entering Friday's 90th meeting between the two schools, not too many were expecting Arizona to win this one. Bragging rights on the line, the Wildcats could potentially play spoiler as well, hoping to ruin ASU's bowl chances.
Arizona had the right energy and focus from the start, playing with nothing to lose. After all, it was Senior night. Coach Rich Rodriguez and his team decided to play for win this one for the seniors moving on and for the memory of their late fallen comrade Zach Hemmila, Hemila is the would be senior center who tragically passed away just weeks before the season.
The Wildcats got some big-time help offensively and defensively from its key contributors, albeit coming via the running game perhaps surprisingly. With high turnover at the running back position this season, senior Samajie Grant stepped up a big way, running for three touchdowns and 176 yards in his final game at Arizona.
In addition to Grant, redshirt sophomore quarterback Brandon Dawkins and redshirt junior running back, Zach Green also had huge days running for 184 yards and 126 yards respectively. The both also accounted for four rushing touchdowns between the two of them.
Despite ASU having a rather horrid passing defense, Arizona did it on the ground, finishing the day with a school record 511 yards rushing. Wow! The Wildcats offensive line came through with flying colors. One had to wonder where they had been all season.
Dawkins, who isn't known for being a great passing quarterback, completed just three passes all game on eight attempts. But who needed a passing game when the Cats rushing game was on fire? That Said, Brandon connected with senior Nate Phillips for a 64-yard touchdown. Boom!
College football is a funny game sometimes, and Arizona surely helped its fans, players and coaches in getting over a rather forgetful 3-9 football season.
The 56-35 victory moves Arizona ahead 49-40-1 all-time against their bitter rivals, and once again the Territorial Cup returns to its rightful place, Tucson!
Now the Wildcats focus on the long off-season, their coaches hit the recruiting trail this morning. For the coaches, they will continue to recruit the kids that already have committed, plus ones they hope to add to an already strong 2017 class. It is especially refreshing to have a little momentum with the win, despite the rough season.
Even though the Wildcats aren't going bowling this year, last night was every bit like our Super Bowl. This one certainly felt good, especially for the seniors!
Despite the tough season, we still love our Wildcats, win or lose. Last night was a bitter sweet moment, as 2016 comes to a close, it was great to at least go out on top! Bear Down, Arizona!
This article originally appeared on