Arizona Football Rivalry Week: Territorial Cup Tweets, sentiment, and thanking our Seniors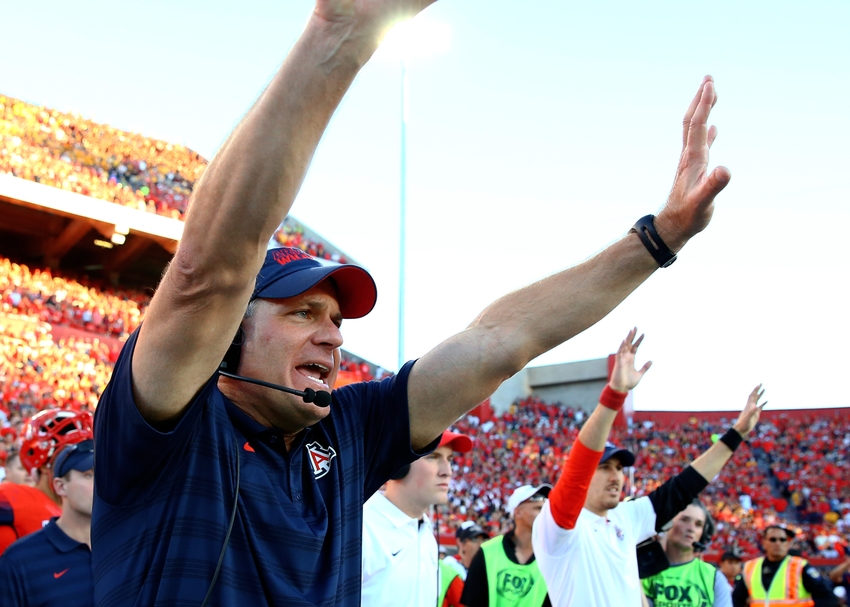 Arizona Football Rivalry Week, it's come down to the last game of the season, there will be no bowl game, this is the Wildcats bowl game. It's also time to say thank you to our Seniors.
We know you are very busy this holiday weekend, what with Thanksgiving and all, plus an Arizona basketball game on the same day. So we thought we would share some pertinent Tweets about the upcoming Arizona Football Vs. Arizona State Territorial Cup game for your information, remembrance, and enjoyment.
First, we bring you the coaches comments from this week on this huge rivalry game. Then Tweets from the Seniors who will be honored during the game. The seniors had it hard this season, so let's try to wish them all the best in life, shall we?
Next, we take you through a few of the ASWHO tweets poking fun at our Wildcats, and for the finally, UofA Tweets giving the Sun Devils a dose of their own medicine. PLEASE, please, if you have more meme's Tweet them out and tag @ZonaZealots so we can add them here and share with your brethren.
Game Time: November 25, 2016 at 6:30 PM PST/ 7:30 PM MST
Location: Arizona Stadium, Tucson, AZ (57,400)
Television: ESPN
Radio:  Arizona IMG Sports Network (Try TuneIn Radio), Brian Jeffries and Lamont Lovett
Betting line: Arizona +3
All-time series: Arizona leads, 48–40–1
Largest victory: Arizona: 67–0 (1946)
Last Meeting:   Arizona State 52, Arizona 37
Coach Rich Rodriguez's comments this week:
Coach Todd Graham's comments this week:
Former Arizona Wildcats showed up to practice for Rivalry Week:
This will be Arizona's seniors last game ever as a Wildcat, with that we give you their sentiments:
Here is the list of Arizona Wildcats senior football players who will be honored along with their fallen Cat Zach Hemmila (#FOREVER65) whose father, we heard, will be in attendance on Friday night. Zach's mother can't bring herself to watch the tunnel and not have her son run out according to Arizona Daily Star's Zach Rosenblatt. We send our prayers to the family this holiday season.
We hope we didn't miss anyone, took this straight from the roster on ArizonaWidcats.com. THANK YOU SENIORS!!! Thanks for all the memories, thanks for all of your hard work! We will always be your fans. We appreciate you, and please stay in touch!
Hey they tweeted this out, who are we not to share with you:
We need your opinion on this Thanksgiving 'treat' that the ASU athletic department gave to their fans and students, we don't get it:
Arizona Fans shared these memes with Zona Zealots:
We would be remiss not to show you what ASU fans are tweeting, these will make you want this football to win at all costs, we guarantee it!
When it's all said and done, Arizona will either be 0-9 in the Pac-12 or 1-8, but that one win could bring solace to the fans and the seniors. The coaches can recruit on a tad upbeat as well, which they will do starting the next day, Rich Rod will be on his way to Phoenix to cheer on his son and future Arizona freshman Rhett Rodriguez in the Arizona Division 4A Championship.
So are two wins too much to ask for? We hope not! BearDown Arizona! BearDown Seniors, you are Wildcats for Life, thank you!
This article originally appeared on