Arizona Football: Rich Rodriguez Press Conference turns emotional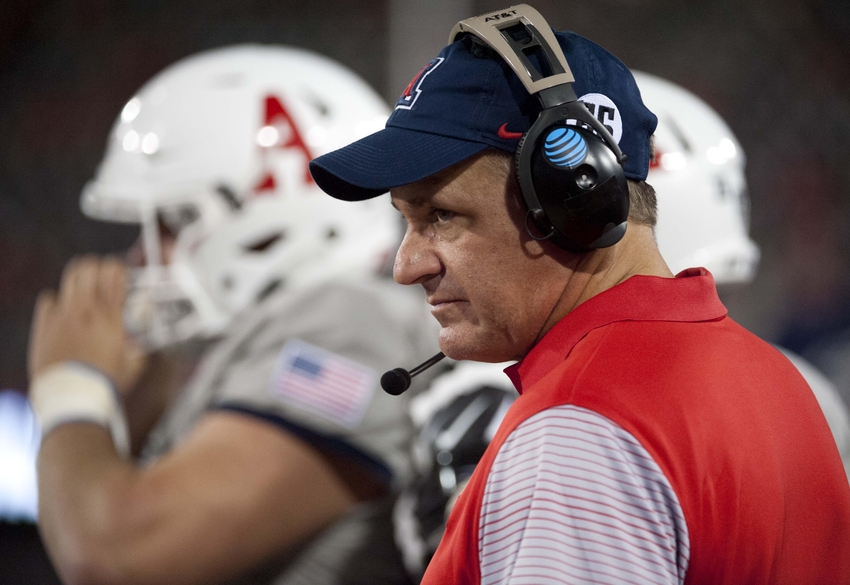 Days from the Territorial Cup, Arizona Football head coach Rich Rodriguez's Press Conference today turns emotional, as unhappy fans may benefit listening to his answers.
Arizona Football head coach Rich Rodriguez was asked in today's Territorial Cup press conference about his son, Rhett Rodriguez, and his quarterback skills. He didn't necessarily answer the question, and I don't know if I would have either, but he was very emotional, and it took him a little over a minute to gather himself and his thoughts.
This side of Rodriguez is humanizing. Sometimes folks treat coaches as wealthy men who get paid too much and thus are almost not human or are unlike the rest of us. Can you imagine Rich Rod telling all the people how horrible they are at their job and that they should be fired?
It took everything in his being for Rodriguez not to break down emotionally. After the last two games, some of his frustration came out in partially incoherent sentences, especially when he spoke about his kicker getting a concussion from getting hit in the head with a football.
For those who know Rodriguez, it was hard to watch without almost getting emotional yourself. You know it's been a very hard season to get through with misfortunes, and silly mistakes, so his children and family are a bright light in a bleak time.
Amid the rough season, current players have been encouraging of Rodriguez, and encourage others to support him as well.
Arizona senior DL Sani Fuimaono on Rich Rodriguez: "If there's any advice I would give to our fans and community: Don't give up on him."

— Michael Lev (@MichaelJLev) November 21, 2016
We know some folks believe Rich doesn't care, but we think he does, and a lot more than he gets credit for. The players tell us, the parents tell us, and he hasn't thrown his players under the bus. That is until this week. He's pretty loud and clear that Anu has not lived up to his potential this season as evident by taking sacks.
Despite the tough year, Athletic Director Greg Byrne has said Rodriguez will return next year as head coach, and Rodriguez has been encouraged by the positive talks he's had with the school. Also, he feels his incoming class ranked No. 16 in the nation will help the program in a positive way.
RichRod on job security at Arizona: "Everything has been positive from my talks with (AD) Greg (Byrne) or anybody associated w/ the school."

— Michael Lev (@MichaelJLev) November 21, 2016
Here is the press conference in full, and the question we are referring to regarding Rhett is asked at 10:38. Rodriguez also addresses the question a lot of people are asking, "Has Greg Byrne talked to you about your job security and did you know about Marcel Yate's issues?
In case you missed it, here is his son Rhett Rod on his senior day at Catalina Foothills High School along with an interview with the incoming freshman quarterback.
Also ICYMI: Here's Rhett's Catalina Foothills teammate and Rich Rod's assistant coach Jim Michalczik's son Max's interview (note: Rodriguez talked about his assistant coach in his presser):
Why is he so proud? One reason is that Rhett led his 6th ranked team to multiple upsets and are now slated to play in the Championship game. Catalina Foothills HS will take on the No. 1 Saguaro on Saturday morning in the State Championship game at Phoenix Stadium. Catalina Foothills football page has more information:
The Historic Season Continues!!! After a Total Dismantling of #2 Ranked Higley at a "Neutral Site" 3 Blocks Away from Higley HS, Your Falcons Advance to the AIA Division 4A State CHAMPIONSHIP GAME for the First Time in School History.  They now take on Scottsdale Saguaro at University of Phoenix Stadium in Glendale.  The game will be on SATURDAY, 26 Nov — kickoff at 10:00 am.
In conclusion, winning the Territorial Cup would take the cake for Rich Rod, his team, and his fans. His son upsetting the No. 1 team in his senior year as the quarterback in the championship game? The icing on the cake. BearDown Rich, Rhett and both of their teams, let's get two wins this weekend!
This article originally appeared on