Arizona Football Recruiting: Where can we find more 300+ Pound Linemen?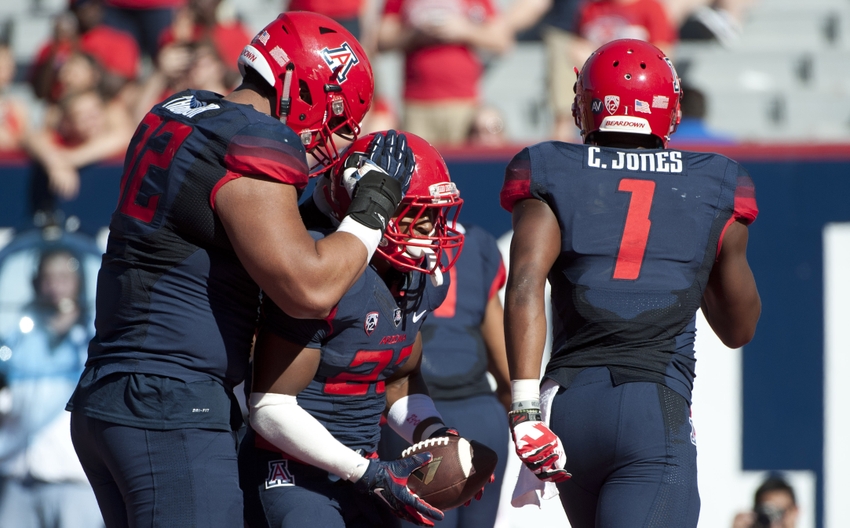 Why is the Arizona Football team struggling this year? Fans say that they think Arizona Football Coaching staff didn't recruit enough huge guys. "Where are the 300-pound linemen?"
Arizona Football has some holes to fill on the O-Line and the D-Line as well as on offense, figuratively and literally. We hear the fans citing bad recruiting as the problem and head coach Rich Rodriguez agrees. He knows the fans are frustrated, he and the staff will continue to do what they can, and he knows his team will be better going forward next season.
We know there is a few redshirt freshman on the roster with ideal size and talent, especially top-rated recruit from Hawaii, offensive lineman Michael Eletise, and local defensive product from Tucson, defensive lineman Justin Holt. Both fit the bill and are chomping at the bit to play.
They will have to wait a year, but let's hope they get stronger for next season. Our quarterbacks could use a bit more protection; Khalil Tate literally had two seconds to get rid of the ball before getting sacked at the end of the game against Colorado.
He didn't have the answer for the fans, but we did hear that coach Rodriguez started addressing the holes in the 2017 recruiting class and that they could get immediate playing time next season.
Where are the 300-pounders coach? Is it hard to recruit these players? Do we have more coming in? We had to ask Rodriguez to find out what he thought.
"Normally that's probably the toughest position to get. We've got some committed, but we are actually recruiting a few more big guys because we got to get bigger," said Rodriguez, "Where we stand right now, we got to find a couple more big guys or guys that at least can potentially grow into 300-pound guys."
Another issue on the team this season could be the bond between the Arizona quarterbacks and their O-Line who are supposed protect them? Is it difficult to get the chemistry going when you play three quarterbacks? We asked Coach Rod and this is what he had to say:
"We don't worry too much about that, the way we roll quarterbacks in and out of practice, and we are not too concerned with the chemistry or anything like that," said Rodriguez, "Because they are expected to do their job whoever the quarterback is."
On the rise of Colorado and Utah in the Conference, Rich Rod explained how he thought they did it and it mimic's mostly his train of thought for his program moving forward.
"Certainly they have built it with their staff, they've done a great job, they've recruited to what they wanted and have been patient while they're building it [their programs], " Rodriguez said, "Utah has been pretty good every year but even Colorado you can see them making progress a couple years ago, those guys stuck with it and kept working kept believing, and you are seeing results of a veteran team right now."
Telling….he is telling his own team's fans in a way to be patient and believe in them, it worked for Washington State, it worked for Colorado, and it worked for Utah. Now UCLA, Oregon, and Arizona will need to follow suit.
Most of the Pac-12 coaches have positive things to say about the other teams, and only Wazzu Coach Mike Leach says a few things that may cross the line, but ever since he got fined, he has just said, "I am not allowed to talk about other teams." That said, his team is killing it this year, and he attributes that to "The best facilities in the Pac-12."
It is apparent that Coaches will highlight their strong points to attract recruits to their program. USC Coach Helton tends to mention the number of Trojans who have been drafted into the NFL. UCLA Coach Mora talks about the beautiful UCLA campus and Bruins who have been drafted into the NFL.
Rich Rod usually talks about how honest the coaches are with the players, the facilities, the campus, the fans and that there is a good chance you can play at Arizona since their roster is not incredibly deep. That will change over time, but it makes sense nowadays because most commits tell us they "Want to help the team, bring success to the school for the coaches."
Don't underestimate the coaches relationships with the players. The commits ask ZZ all the time if they think Coach Rod will leave, they don't want him to go. Players do love our coaches, they commit to the program mostly because they respect the coaches honesty, we hear it over and over again.
If you think you are frustrated, listen to Rich Rod explain how this is the most frustrating year of his career, courtesy of Arizona Athletics:
Must Read: Lessons from Legends: Ricky Hunley – letter to his younger self – Part 3
Sometimes you want something so badly you push too hard and don't let the game come to you, you make mistakes. Let it be, and let's move on! On to recruiting, on to beating the Beavers at their home and on to taking back the Territorial Cup.
This article originally appeared on