Arizona Football loses to OSU, on to the Last one: The Territorial Cup ASU Game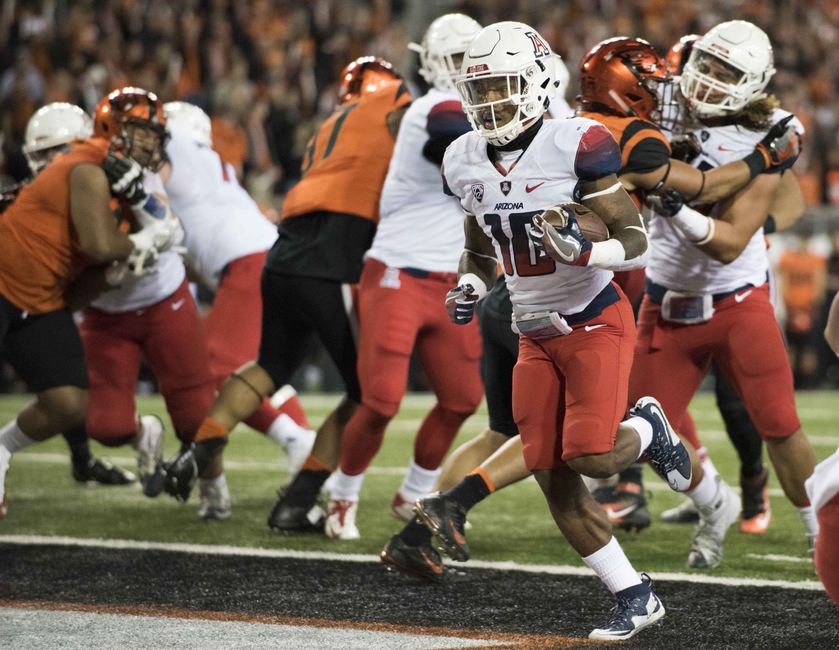 Arizona Football and their fans were desperate for a win, just one win against a Pac-12 team, but it wasn't meant to be.
We could explain how the Arizona Football game went, or we can just post the highlights and some notes. Either way, the result is the same, not much left to say actually. Our Cats lost their starting quarterback AGAIN, the defensive line could not tackle the Beavers running backs, and the offensive line could not make holes for the running backs.
This season has been a huge test of trying to keep a positive mind in a horrible situation for all involved. There are not many things you can say except bless those players and coaches who keep trying. You may think they aren't but then talk to their bodies after the game. Remember this is not baseball; it is a full contact sport.
First Half
Notes:
Fans wanted to see more tight end plays.
Anu went out with an injured foot after being sacked for six yards.
Brandon Dawkins took over for Solomon and showed his old self to the Beavers fans and Arizona fans at home, rushing seven times for 38 yards (longest 16 yards), breaking tackles, made four out of six passes for 41 yards,
Shun Brown seemed like the best go to receiver
Arizona was only called for one penalty for 10 yards
Highlights
Nate Phillips caught a pass which extends his record to catching a pass in 44 consecutive games (fourth highest in the NCAA)
Samajie Grants 16-yard run
Anu's pass to Shun Brown for 43 yards
Brandon Dawkins pass to Nate Phillips for a touchdown, Nate's first of the season, will go down as one of the top ten receivers in Arizona History
Tristan Cooper's sack for a loss of 7 yards
Brandon Dawkins running six yards for a first down on third down
Field Goal Josh Pollack at the end of the half
Second Half
Notes:
Anu Solomon was out for the rest of the game, and so was Justin Belknap. That was probably Anu's last game of the season, and it is up to Brandon and Khalil to carry the team next weekend.
Tellus Jones made a late hit on the receiver before the ball got to him, this was only the second penalty of the game for the Wildcats. Sent the Beavers receiver to the locker room sitting up on a cart
OSU scored first in the second half, a 35-yard pass putting up the Beavers up 28-10
The Arizona O-Line could not give Dawkins time to pass, can't really blame him for not making the play on third down. With 11 minutes left in the third quarter, the Beavers got the ball back.
OSU's Ryan Nall, found holes the size of a house to run through, runs untouched into the end zone. Credit goes to his O-Line.
Dawkins was intercepted in the end zone, a bomb, just couldn't get a break in the third quarter.
Arizona's offensive line was nowhere to be found, no holes to run through
Something happened in the fourth quarter, a spark, maybe a little late, but a nice spark
"Instead of practicing we need to just lift weights, we are too small and too week, it's embarrassing" Rich Rodriguez

— ZonaZealots Go Cats! (@ZonaZealots) November 20, 2016
Highlights:
Brandon Dawkins and the defensive secondary did not give up
Brandon Dawkins pass to Cam Denson for 38 yards
On the very next play, Arizona scored a rushing touchdown, Samajie Grant's third of the season: Oregon State 35 Arizona 17
Matt Morin ran for 27 yards (WHERE WAS HE THROUGHOUT THE GAME!) Put this man in at Running Back for the ASU game, please!
Look to the future; Khalil Tate came into the game showed he can run the ball and escape tackles
Game was played in less than three hours
The Beavers had a rhythm for most of the game except a few series, and the OSU offensive line had their way for Arizona's defensive line allowing their running backs to break through. That along with a few bomb passes from Marcus McMaryion.
"We make every quarterback look like a Heisman trophy winner" Rich Rodriguez Well, humor helps

— ZonaZealots Go Cats! (@ZonaZealots) November 20, 2016
Oregon State got their second win in the Pac-12, Arizona now 0-8, may be the worst ever season. his is the first time since 2003 that Arizona has had an eight-game losing streak. None the less there is only one game left, and it's against ASU if there was ever a time to step up and give it your all it would be in that game.
Oregon State is out of the way
(OSU 42 UA 17)

Now the Cats can focus on what's important: Stopping 5-6 ASU from getting to a bowl game.

— Ari Alexander (@AriA1exander) November 20, 2016
Well, we can only hope the beat ASU. Washington did tonight if that is any consolation (queue video attached to post for your enjoyment). BearDown Arizona!
This article originally appeared on