AP Top 25 Poll: UNC moves up in latest poll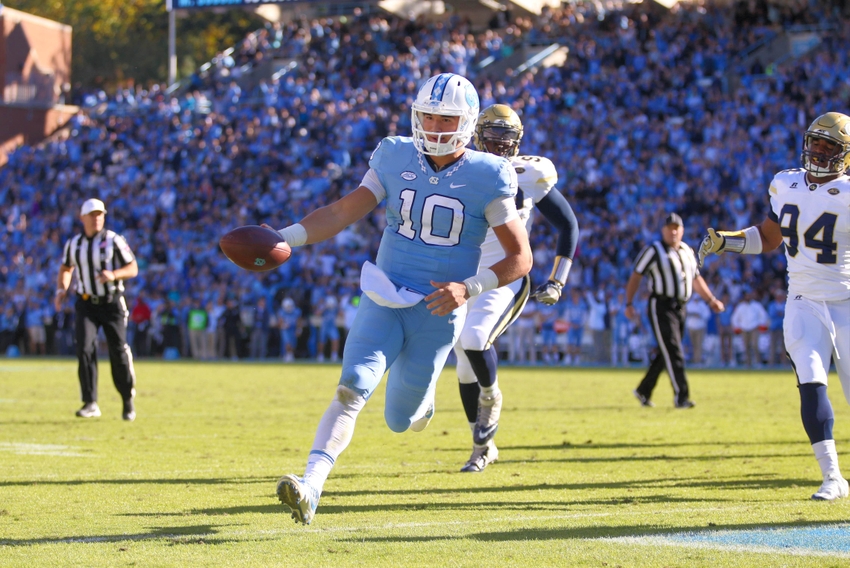 UNC climbs the rankings in the AP Top 25 poll for the third-straight week
It's officially Week 11 in the college football season after Saturday provided us with some upsets inside the Top 10.
With those upsets, that meant some teams moved up. Including the North Carolina Tar Heels.
The Tar Heels are fresh off a big win over Georgia Tech on Saturday, extending their winning streak to three games and improving their record to 7-2.
After the win, UNC moved up three spots from No. 18 to No. 15 in the Associated Press Top 25.
It's the Tar Heels highest ranking of the season after they returned to the polls just a few weeks ago. In addition, UNC has also moved up to No. 13 in the USA Today Coaches Poll.
The release of the new Top 25 has 5 Atlantic Coast Conference teams including the No. 15 Tar Heels.
Clemson is the highest ranked team in the conference at No. 3 following by No. 5 Louisville, No. 18 Virginia Tech and No. 20 Florida State. All five of those teams won on Saturday.
Alabama retained the top spot in the poll, followed by No. 2 Michigan and No. 4 Washington.
Florida, LSU, Texas A&M all dropped at least three spots in the poll.
While the AP Top 25 isn't the poll that determines bowl projections, it's still a measuring stick to see where your team can stand.
The Tar Heels are ahead of the Hokies by three spots, despite being in a tie atop the Coastal and losing the tiebreaker. A trip to the ACC title game is unlikely for the Tar Heels as the Hokies have two very favorable games left against Virginia and Georgia Tech.
However, an at large bid to a big bowl game isn't.
The College Football Playoff Rankings will be released on Tuesday.
More from Keeping It Heel
This article originally appeared on