AP Poll Week 11: SEC Still Feeling the Love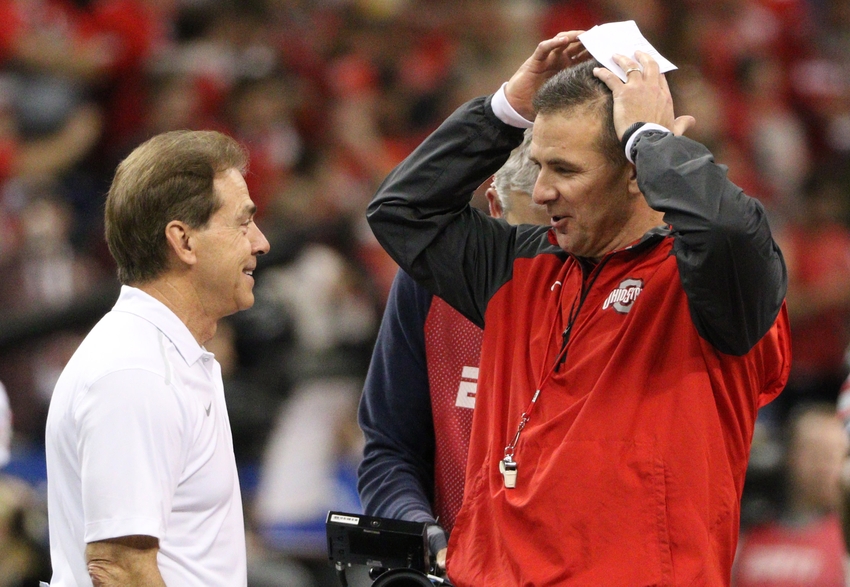 The SEC still has three Top 10 teams in week 11 AP Poll.
It was a difficult weekend for the SEC with one Top 10 team losing to go along with other disappointing performances by ranked teams. It didn't matter to the AP voters as three teams from the conference are still ranked in the Top Ten.
Texas A&M lost to Mississippi State who was 3-5 entering the game with one of their losses coming at the hands of South Alabama.. The Aggies only slipped three spots to No. 10.
Auburn moved up three spots to No. 8 this week. That 23-16 squeaker over Vanderbilt must have really impressed the AP voters.
Alabama and LSU played to a 0-0 tie through three quarters. The Crimson Tides 10 points were impressive and they garnered 60 of the 61 first place votes.
The Tigers only slipped four spots to 19. Just think how high they would be ranked if they had scored.
Florida was blown out by unranked Missouri at home 40-14 but is still ranked at No. 22 giving the SEC five ranked teams.
The Big Ten and the ACC each have five ranked reams as well. The Big Ten has three teams in the Top 10 and the ACC two. 
The Pac 12 and the big 12 are represented by four teams apiece in the Top 25. The MAC and the Mountain West Conference each have one team apiece.
Here are the the results of this weeks AP Poll:
Alabama (60)

Michigan (1)

Clemson Tigers

Washington Huskies

Louisville Cardinals

Ohio State

Wisconsin Badgers

Auburn

Oklahoma

Texas A&M

West Virginia Mountaineers

Penn State

Utah Utes

Western Michigan

North Carolina Tar Heels

Colorado Buffaloes




More from Scarlet and Game

Oklahoma State Cowboys

Virginia Tech Hokies

LSU Tigers

Florida State Seminoles

Nebraska

Florida Gators

Washington State Cougars

Boise State Broncos

Baylor
Others receiving votes: Southern Cal 76, Arkansas 74, San Diego St. 38, Troy 28, Houston 25, Tennessee 9, Tulsa 3, South Florida 3, Minnesota 2, Navy 2, Wyoming 2.
I know the CFP Ranking is the most important thing to keep your eye on the rest of the season. But make no mistake about it, the committee members pay attention to polls and power rankings. Because they do, I will continue to do so as well.
This article originally appeared on