AP Poll Problems: Clemson Football Stays No. 5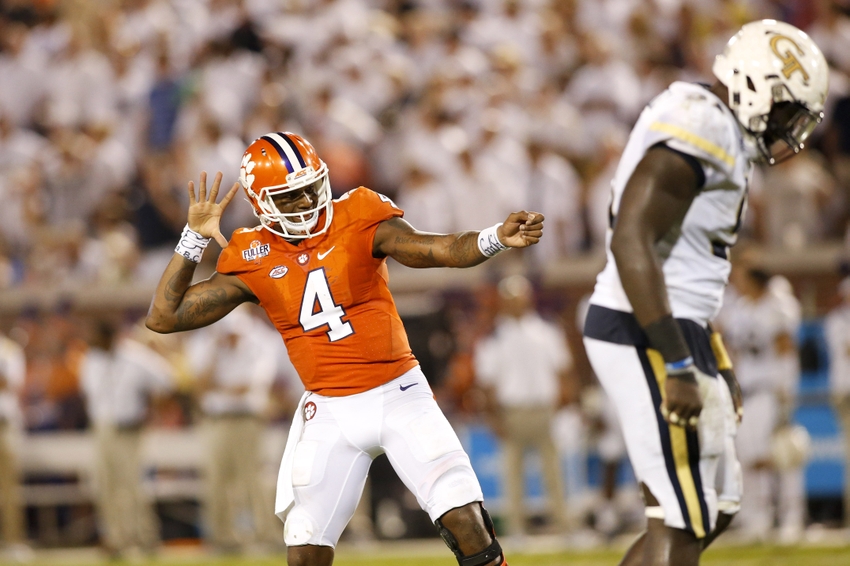 After defeating Georgia Tech on Thursday, Clemson football remained No. 5 in the AP Poll as they get ready for Louisville on Saturday.
Clemson football is still ranked No. 5 in the nation after a win over Georgia Tech on Thursday night.
Here is your new top-25 AP Poll after week four:
Alabama
Ohio State
Louisville
Michigan
Clemson
Houston
Stanford
Wisconsin
Texas A&M
Washington
Tennessee
Florida State
Baylor
Miami
Nebraska
Ole Miss
Michigan State
Utah
San Diego State
Arkansas
TCU
Texas
Florida
Boise State
Georgia
Poll Problems:
How is Georgia still ranked?
The Bulldogs just got blown out by Ole Miss. They've been a joke all year and a fraud and yet they're somehow still ranked.
I mean, what does it take? You can barely beat Nicholls and Missouri and then get beat 45-14 and still be ranked? Give me a break.
More from Rubbing the Rock
How is North Carolina not ranked?
The only reason North Carolina lost to Georgia to open the season is because they got away from the run game and the officials helped UGA in every way possible.
You can't tell me that North Carolina- after beating Pitt- shouldn't be ranked ahead of Boise State, Texas, TCU, Arkansas, San Diego State, or Utah.
My biggest problem is the joke of having so many SEC teams in the top-25 rankings. Georgia stays in the rankings because they're from the SEC.
Arkansas, who is no good and almost lost to Louisiana Tech and beat an overrated TCU team, is still ranked inside the top-20 despite losing 45-24 to Texas A&M this past week. Florida may be a top-25 team, but why do they get the benefit of the doubt for losing to Tennessee when others will not?
Ole Miss is ranked No. 16 despite already having two losses. I know that they were to top-15 teams, but you can't tell me that they should be ahead of teams that are currently undefeated or have one loss.
At the end of the day, this is always going to be the case with the AP Poll. AP voters are going to vote for teams that they like better than what it actually should be. I do like that Clemson is No. 5, however, and the Tigers will have a chance to move inside the top three- probably No. 2- with a win over Louisville on Saturday.
This article originally appeared on