Another Milestone for Urban Meyer in 'The Game'?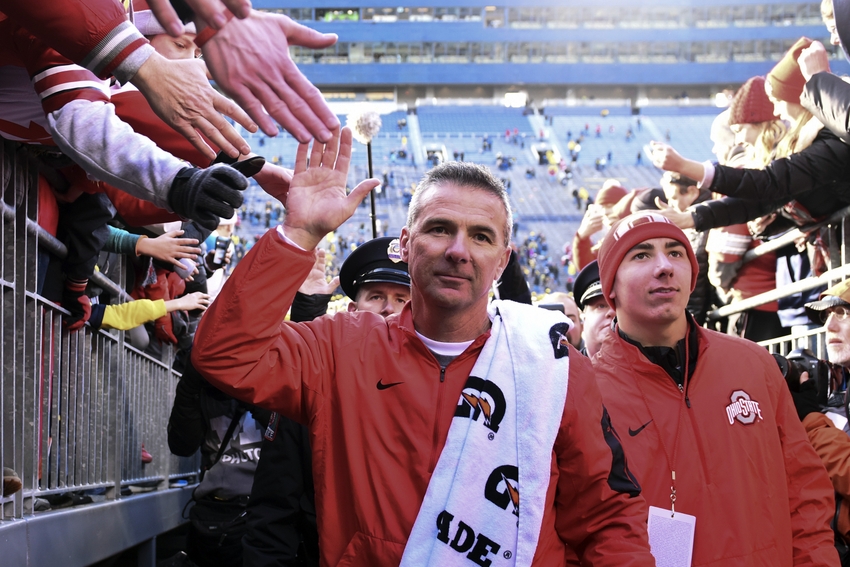 Urban Meyer will do what no other Ohio State head coach has been able to?
It seems as though Urban Meyer reaches some kind of milestone every single week. In his time at Ohio State, he has set the record for the most wins in his first 15 seasons of coaching, had multiple 20 game winning streaks and won his third national title. However, a win over Michigan on Saturday and he will have accomplished a feat that no other Buckeye head coach ever has.
It would be the first time in the history of the rivalry an Ohio State head coach was victorious in his first five games versus Michigan. A Buckeye fan from birth, Urban Meyer would have to rate that accomplishment among his greatest ever.
Coach Meyer is only the second Buckeye head coach to win his first four games against the Wolverines. In 1934 Francis Schmidt told his players that Michigan players put their pants on the same way they did, one leg at a time. Ohio State proceeded to win four straight games in the rivalry, beginning the tradition of awarding gold pants for a victory over the team up north.
Since coach Schmidt gave his famous speech, Jim Tressel is the only other coach to win four or more games in a row on either side of the rivalry. Coach Tressel's six game winning streak (the 2010 win was vacated) began in his third season. Michigan has had four game winning streaks but with different coaches during the span.
When Ohio State takes the field against Michigan on Saturday, Urban Meyer will have his one chance at this historic milestone. The Buckeye fan turned coach will have an opportunity to accomplish a feat no other coach has been able to since 'The Game' was first played in 1897. Win his first five games against TTUN as the Ohio State head coach.
More from Scarlet and Game
This article originally appeared on