Analyzing the Penn State Depth Chart for the Indiana Game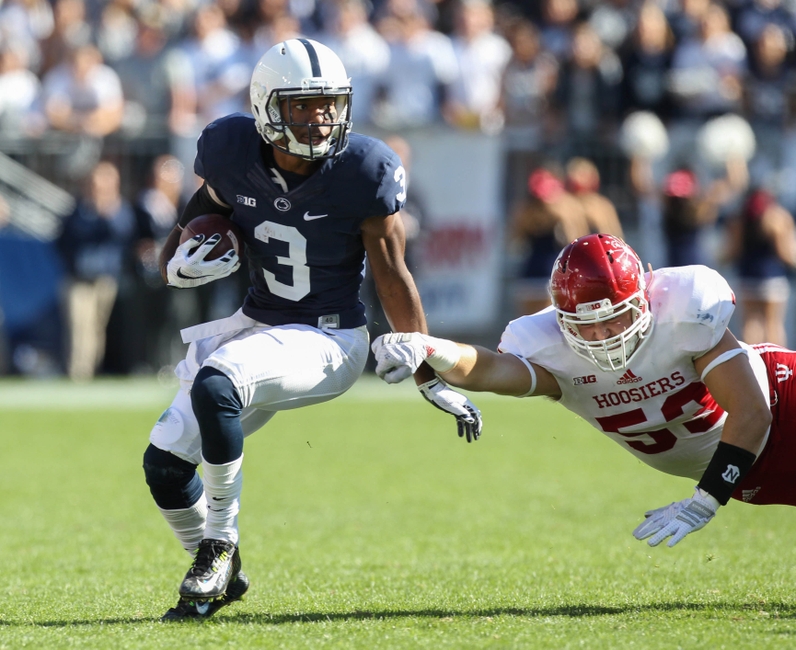 Penn State released the depth chart for the upcoming road trip to Bloomington.
Coming off a big win versus Iowa, Penn State will be on the road for the next two weekends, starting with this Saturday's game at Indiana.
The Lions are now in the driver's seat to finish with 10 wins and secure a very nice bowl game.  Let's take a look at this week's depth chart.
With the return of DeAndre Thompkins, there has been some shuffling at the receiver positions.  Saeed Blacknall is now listed as the starting Z-receiver, with Thompkins listed as both the backup there and to DaeSean Hamilton at the H-receiver.
More from Victory Bell Rings
There are no changes to the offensive line, despite the injury to Brendan Mahon.  Chasz Wright filled in nicely against Iowa, so we'll have to keep an eye on Mahon's health moving forward.
Along the defensive line, Garrett Sickels regained his starting position at defensive end with Shareef Miller listed as his backup.  Torrence Brown is now listed as the backup to Evan Schwan on the other side of the line.
At field cornerback, Amani Oruwariye is back and listed as the backup to Grant Haley.
For special teams, Irvin Charles is listed as one of the kick returners with Miles Sanders.  John Reid is the the third punt returner behind Gregg Garrity and DeAndre Thompkins.
OFFENSE
Quarterback
9 Trace McSorley (6-0, 205, Jr./So.)
2 Tommy Stevens (6-4, 218, So./Fr.)
7 Jake Zembiec (6-3, 205, Fr./Fr.)
Running Back
26 Saquon Barkley (5-11, 223, So./So.)
6   Andre Robinson (5-9, 216, So./Fr.)
8   Mark Allen (5-6, 181, Jr../So.)
24 Miles Sanders (5-11, 205, Fr./Fr.)
Wide Receiver (X)
12 Chris Godwin (6-1, 205, Jr./Jr..)
84 Juwan Johnson (6-4, 213, So./Fr.)
31 Gordon Bentley (6-0, 198, Sr../Jr.)
Wide Receiver (H)
12 DaeSean Hamilton (6-1, 205, Sr./Jr.)
3  DeAndre Thompkins (5-11, 185, Jr./So.)
19 Gregg Garrity (5-10, 170, Sr./Sr.)
Wide Receiver (Z)
13 Saeed Blacknall (6-3, 212, Jr./Jr.)
3  DeAndre Thompkins (5-11, 185, Jr./So.)
11 Irvin Charles (6-4, 219, So./Fr.)
Tight End/H-Back
88 Mike Gesicki (6-6, 252, Jr./Jr.)
89 Tom Pancoast (6-3, 235, Sr./Jr.)
18 Jonathan Holland (6-4, 245, So./Fr.)
Left Tackle
73 Paris Palmer (6-7, 300, Sr./Sr.)
71 Will Fries (6-6, 295, Fr./Fr.)
70 Brendan Mahon (6-4, 320, Sr./Jr.)
Left Guard
52 Ryan Bates (6-4, 305, So./Fr.)
57 Steven Gonzalez (6-4, 334, So./Fr.)
62 Michal Menet (6-4, 296, Fr./Fr.)
Center
72 Brian Gaia (6-3, 295, Gr./Sr.)
55 Wendy Laurent (6-2, 297, Gr./Sr.)
64 Zach Simpson (6-3, 292, So./Fr.)
Right Guard
66 Connor McGovern (6-5, 310, Fr./Fr.)
53 Derek Dowrey (6-3, 323, Gr./Sr.)
55 Wendy Laurent (6-2, 297, Gr./Sr.)
Right Tackle
70 Brendan Mahon (6-4, 320, Sr./Jr.)
77 Chasz Wright (6-7, 343, Jr./So.)
71 Will Fries (6-6, 295, Fr./Fr.)
DEFENSE
Defensive End
94 Evan Schwan (6-6, 263, Gr./Sr.)
19 Torrence Brown (6-3, 257, Jr./So.)
46 Colin Castagna (6-4, 253, So./So.)
Defensive Tackle
52 Curtis Cothran (6-5, 280, Sr./Jr.)
30 Kevin Givens (6-1, 275, So./Fr.)
93 Antoine White (6-2, 290, Jr./So.)
Defensive Tackle
41 Parker Cothren (6-4, 295, Sr./Jr.)
54 Robert Windsor (6-4, 305, So./Fr.)
56 Tyrell Chavis (6-3, 298, Jr./Jr.)
Defensive End
90 Garrett Sickels (6-4, 260, Sr./Jr.)
48 Shareef Miller (6-5, 255, So./Fr.)
97 Ryan Buchholz (6-6, 270, So./Fr.)
Will Linebacker
11 Brandon Bell (6-1, 233, Sr./Sr.)
31 Cam Brown (6-5, 215, Fr./Fr.)
20 Johnathan Thomas (5-11, 220, Jr./So.)
Middle Linebacker 
40 Jason Cabinda (6-1, 232, Jr./Jr.)
47 Brandon Smith (6-0, 220, Sr./Jr.)
33 Jake Cooper (6-1, 230, So./So.)
Sam Linebacker
43 Manny Bowen (6-1, 220, So./So.)
7 Koa Farmer (6-1, 222, Jr./So.)
25 Von Walker (5-11, 213, Sr./Sr.)
Boundary Cornerback
29 John Reid (5-10, 191, So./So.)
1 Christian Campbell (6-1, 194, Jr./Jr.)
17 Garrett Taylor (6-0, 193, So./Fr.)
Free Safety
2 Marcus Allen (6-2, 202, Jr./Jr.)
28 Troy Apke (6-1, 206, Jr./Jr.)
9 Jarvis Miller (6-2, 205, So./Fr.)
Strong Safety
6 Malik Golden (6-0, 205, Gr./Sr.)
4 Nick Scott (5-11, 200, Jr./So.)
23 Ayron Monroe (5-11, 204, So./Fr.)
Field Cornerback
15 Grant Haley (5-9, 185, Jr./Jr.)
21 Amani Oruwariye (6-1, 201, Jr./So.)
12 Jordan Smith (5-10, 185, Sr./Sr.)
SPECIAL TEAMS
Punter
93 Blake Gillikin (6-2, 182, Fr./Fr.)
92 Daniel Pasquariello (6-1, 197, Jr./Jr.)
37 Chris Gulla (6-1, 196, Sr./Jr.)
Kicker
95 Tyler Davis (5-11, 18o, Sr./Jr.)
99 Joey Julius (5-10, 258, Jr./So.)
90 Alex Barbir (5-9, 195, Fr./Fr.)
Kick Offs
99 Joey Julius (5-10, 258, Jr./So.)
95 Tyler Davis (5-11, 18o, Sr./Jr.)
90 Alex Barbir (5-9, 195, Fr./Fr.)
Holder
37 Chris Gulla (6-1, 196, Sr./Jr.)
16 Billy Fessler (5-11, 188, Jr./So.)
93 Blake Gillikin (6-2, 182, Fr./Fr.)
Long Snapper
44 Tyler Yazujian (5-11, 235, 5th/Sr.)
41 Zach Ladonis (6-2, 236, Sr./Jr.)
96 Kyle Vasey (6-2, 242, Jr./Sr.)
Kickoff Returners
24 Miles Sanders (5-11, 205, Fr./Fr.)
11 Irvin Charles (6-4, 219, So./Fr.)
4 Nick Scott (5-11, 200, Jr./So.)
26 Saquon Barkley (5-11, 223, So./So.)
Punt Returners
19 Gregg Garrity (5-10, 170, Sr./Sr.)
3 DeAndre Thompkins (5-11, 185, Jr./So.)
29 John Reid (5-10, 191, So./So.)
8 Mark Allen (5-6, 181, Jr./So.)
This article originally appeared on