An LS-Eulogy for the Les Miles Era at LSU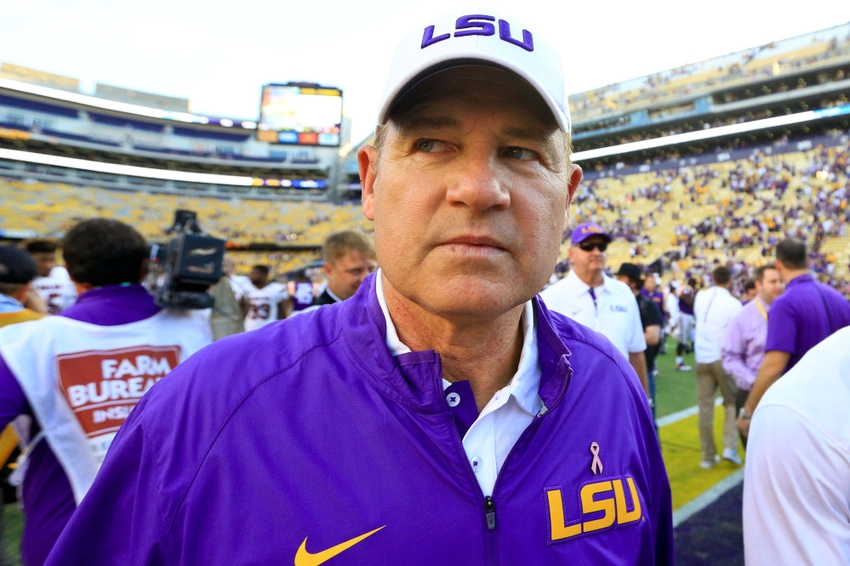 One Alabama fan laments the fall of Les Miles's fall from grace. He looks back fondly at what made the Alabama-LSU rivalry so great in the Miles Era.
ICYMI: Official Statement: Les Miles Fired From LSU
The End Of An Era
Friends, it is with great sadness that I report the imminent demise of the Louisiana State Tigers' football program. After several seasons of merely modest success, they chose to dismiss their head football coach, Leslie Edwin Miles.
While, as a fan of the rival Alabama Crimson Tide, I am no great fan of Les Miles, I must confess that I will miss his presence in the Western Division of the Southeastern Conference. I will miss making fun of his democratic approach to player discipline, his petty complaints over scheduling at SEC Media Days, his stream of consciousness press conferences, and above all, his chewing of the cud.
Miles was not the original founder the era of success at LSU that I here mourn. For a time, however, he proved up to the task of maintaining the program that his predecessor, Nicholas Lou Saban, Jr., resurrected. I shall surely miss the competitiveness of the Tigers under Miles.
Why, as an Alabama fan will I miss this? Why do I mourn the demise of a rival?
Because I truly love to hate LSU. But I do not hate LSU unconditionally, like many Alabama fans hate Auburn or Tennessee. LSU is a non-traditional rival to Alabama; my hate for them is founded primarily upon the fact that in recent years, of all Alabama's opponents, it was the Tigers who most frequently expected to beat the Crimson Tide.
LSU and The Crimson Tide
Under Les Miles, LSU was in many ways, Alabama's doppelganger. They played hard-nosed, smashmouth, "real" SEC football, just like the Tide. Each and every year since 2010, it seemed that some sportswriter, somewhere, would invoke the term "Game of the Century" to describe the matchup. Perhaps I remember these matchups fondly because Alabama has had the better of them, but these were still close games:
The 2011 regular season matchup was a barnburner in overtime. I would have enjoyed it more had the officials correctly called dual possession on Marquis Maze's pass to Michael Williams. However, it was still quite a game.
The 2011 National Championship remains my favorite to this day. Though it was a 21-0 "mauling," LSU's defense played tough. Of the Saban-era championships, this is the only one that Alabama won over a foe I consider to have been of its own class.
2012 came down to a final desperate drive, with a screen pass to T.J. Yeldon stealing away victory in the final minute of the game.
2013 could easily have been 38-17 the other way but for a game-defining fumble forced by Tana Patrick. Of all the Alabama-LSU games I attended, this remains my favorite.
2014 required an incredible 4th quarter drive planned by Lane Kiffin and executed by Blake Sims in order to simply reach overtime. Once there, Alabama called a trick pass to the "Greene Mountain-Boy," Brandon Greene, and made an impressive defensive stand in order to once again pull victory from the jaws of defeat.
And while last year was, by every account, an utter drubbing, I considered it to have been but a brief setback in this rivalry. It appears that I will be proved wrong.
The Demise Of A Coach
Truthfully, Les Miles probably deserved to be fired. Though known as the "Mad Hatter," his offensive scheme has been devoid of any meaningful innovation for the past decade. Kirk Herbstreit recently traced LSU's struggles back to their loss to Alabama in the 2011 National Championship. Perhaps that was where this all began. I don't claim to know. But I do know that in standing by Cam Cameron last year, Miles staked his future at LSU on his offensive coordinator's abilities. In retrospect, this decision sealed his fate.
In the Nick Saban era, I have witnessed the departures of SEC coaches and Alabama foes Houston Nutt, Ed Orgeron, Tommy Tuberville, Sylvester Croom, Phillip Fulmer, Urban Meyer, Bobby Petrino, Houston Nutt, John L. Smith, Gene Chizik, Derek Dooley, Will Muschamp, and Mark Richt.
Now every other SEC West team save Texas A&M (which fired Mike Sherman just before joining the SEC) has made a coaching change during Nick Saban's time at Alabama. Tennessee has made three of its own. Alabama has bested Urban Meyer's Florida, Bobby Petrino's Arkansas, Mark Richt's Georgia, and now Les Miles at LSU.
I suppose it is true that nothing can grow in the shadow of a mighty oak.
Les Miles's LSU was the greatest of all Alabama's Saban-era adversaries. Unlike the others, LSU always brought out the best in the Crimson Tide. They were worthy opponents. They were a team against whom Alabama could measure itself, year after year. Now LSU too has passed from the earth.
Though I may yet live to see Houston Nutt get fired once again, I fear that I shall never see LSU regain the culture of success it loses today. I fear I shall never see them rise to again be Alabama's peer, that I shall never again hate them for the threat they present. Goodnight, Sweet Prince.
This article originally appeared on