All for Tennessee Official Week Three College Football Predictions for SEC and Top 25 Games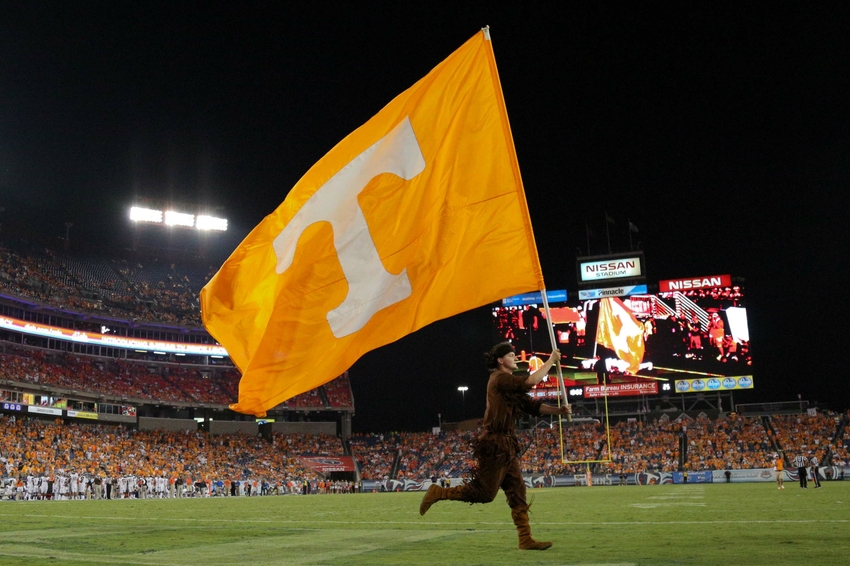 Here are the official All for Tennessee college football predictions for Southeastern Conference and Top 25 games in Week Three of the 2016 season.
---
Well we've had an interesting first two weeks to influence our college football predictions.
After all, the Clemson Tigers look way worse than expected. The Alabama Crimson Tide look better than expected despite being a No. 1 ranked team and still making Nick Saban mad. And the Vols are 2-0 and coming off of a dominant 45-24 victory over a Power Five team…but they're still five spots below their preseason ranking.
So as we bring you our Week Three college football predictions, things are clearly starting to get interesting.
This week, there are only 10 SEC games, as match-ups within the conference are beginning to take shape. There are four games between two SEC teams this week.
And after this week, the majority of games featuring SEC teams will be between two teams from the SEC.
Meanwhile, there are four other non-conference games that we say are important to the landscape of college football.
That leaves 14 games for us to bet on this week.
There are a few others flirting with being interesting, but as we have said before, we only focus on games featuring SEC teams, two Top 25 teams, or a game that just has to be covered.
After this week, the games are going to keep getting more and more interesting. Conference play is just around the corner.
Until then, let's enjoy the final week of interesting non-conference match-ups.
Here are the official All for Tennessee college football predictions for Week Three of 2016.
No. 2 Florida State Seminoles at No. 10 Louisville Cardinals
Saturday at Noon, Papa John's Cardinal Stadium, Louisville, Ky.
Favorite: Florida State -2
Talk about a legendary ACC match-up! The Florida State Seminoles may be the most talented team in college football overall. Yes, that includes the Alabama Crimson Tide.
And they already have a quality win over the Ole Miss Rebels, after being down by three scores, to back it up. They have a solid offense with Deondre Francois and Dalvin Cook, and Ricky Aguayo is as good as his brother at kicker.
Meanwhile, the Louisville Cardinals have hit their stride in Bobby Petrino's third year. Lamar Jackson has 13 total touchdowns, seven passing and six rushing. And they have scored 132 points through two games.
Jackson should be the front-runner for the Heisman Trophy at this point, and he's only going to get better.
So you have a match-up of raw offensive talent well-prepared for the NFL against solid talent overall with a genius coach. Who is going to come out on top?
What Will Happen?
This is going to be a tougher offensive game than people are predicting. The Seminoles have a great defense, and Petrino understands the importance of efficiency and ball control in games like these.
As a result, he will keep the game close to the very end. Lamar Jackson will make a couple of nice plays, but in the end, Florida State has too many weapons.
In the All for Tennessee college football predictions, the Seminoles escape with a very close victory.
Florida State: 24 Louisville: 23
No. 25 Miami Hurricanes at Appalachian State Mountaineers
Saturday at Noon, Kidd Brewer Stadium, Boone, N.C.
Favorite: Miami -3.5
Tennessee Vols fans know just how difficult the Appalachian State Mountaineers are as a Group of Five team after what happened two weeks ago. So many of them could see this team getting a huge upset win against a team trying to restore success under a first-year head coach in Mark Richt.
However, speaking of Richt, Vols fans know all too well how dangerous he is also. After all, Richt beat Tennessee his first year with the Georgia Bulldogs in 2001. And that was when the Vols were at their height.
So it's really hard to know what to make of this game.
Appalachian State still has that loaded front seven on defense, and Miami has only been average in the passing game with Brad Kaaya. The real story has been the running game with Mark Walton and Joseph Yearby, but can they do that against this front seven?
The Mountaineers, meanwhile, are loaded with playmakers on offense. But they are still facing a far superior defensive line. And they have no offensive line. So what do we make of this game in our college football predictions?
What Will Happen?
Appalachian State will force a Brad Kaaya turnover early and capitalize off of it. Miami will play catch-up the rest of the game.
Still trying to adjust to Mark Richt's system, the Hurricanes will struggle with consistency all game against this elite front seven. Kaaya will have two turnovers overall and get sacked five times.
Meanwhile, Taylor Lamb will make just enough plays to secure this team a huge upset win, making the Vols look really good.
Appalachian State: 31 Miami: 17
Vanderbilt Commodores at Georgia Tech Yellow Jackets
Saturday at 12:30 p.m., Bobby Dodd Stadium, Atlanta, Ga.
Favorite: Georgia Tech -6.5
Every time the Georgia Tech Yellow Jackets hint that they might be falling off the map under Paul Johnson, they recover the next year.
The same thing is happening this year so far, with the team now at 2-0.
However, they have been lucky, escaping with a 17-14 win over the Boston College Eagles and then blowing out the Mercer Bears.
Now they face a much more dangerous team in the Vanderbilt Commodores, who have the perfect defense to stop the option under Derek Mason.
Justin Thomas has not been as impressive so far this year, and the running game has struggled more than usual under Johnson. That's not a good sign.
Still, they are at home, and Vanderbilt does have a loss. Meanwhile, the Commodores have no offense, while Georgia Tech capitalizes off of offensive mistakes. That gives this game the potential to be very..ugly.
What Will Happen?
Derek Mason is a smart enough coach to know that he should just keep his offense from making any mistakes this game. That means playing as conservative as possible.
Meanwhile, his elite defense will give the Georgia Tech offense hell all game. As a result, the Commodores will win an ugly affair in Atlanta after they force one turnover and then play not to lose the rest of the game.
The game plan will work, and the Commodores will escape. We are giving them the benefit of the doubt in our college football predictions.
Vanderbilt: 10 Georgia Tech: 7
No. 1 Alabama Crimson Tide at No. 19 Ole Miss Rebels
Saturday at 3:30 p.m., Vaught-Hemingway Stadium, Oxford, Miss.
Favorite: Alabama -10.5
This is the early match-up everybody has been waiting for, and it's at the top of our excitement list in our college football predictions.
In each of the past two years, Nick Saban's Alabama Crimson Tide won the SEC Championship game with a loss to the Ole Miss Rebels as the only blemish on their record. This year, they are going into this game looking for revenge.
The Tide appear to have found their offense early this year with Jalen Hurts becoming a star at quarterback against the USC Trojans. People still expect the same things they always expect from a Saban defense.
And nobody could expect Alabama to look ahead of Ole Miss for a third straight year, nor could they expect Saban to make the dumb decision of the year like he did in 2015 by starting Cooper Bateman over Jake Coker.
However, the Rebels are still talented. They went toe to toe with the Florida State Seminoles until the end on a neutral field. And Florida State is as talented as Alabama, whom they are playing at home. Meanwhile, they have the quarterback advantage with Chad Kelly.
So this game is not as sure of a bet as people think.
What Will Happen?
Conventional wisdom says that the Tide will blow out the Rebels. After all, they have gotten caught napping for two years in a row. They can't blow it for a third year, can they?
Well, they can.
Sure, they may not get caught napping. But Ole Miss matches up perfectly with them, and despite their lack of depth, they have a very talented first team. As a result, Chad Kelly will throw for four touchdowns to make this a game.
And Hurts will struggle at the same time.
However, Alabama will escape with a victory. We can't risk our college football predictions on Saban losing to a team three years in a row. His defense will make just enough plays, and the Rebels will once again run out of gas in the second half. They just aren't deep enough.
So Alabama wins wth a second-half surge, just like Florida State.
Alabama: 34 Ole Miss: 31
East Carolina Pirates at South Carolina Gamecocks
Saturday at 4 p.m., Williams-Brice Stadium, Columbia, S.C.
Favorite: South Carolina -3.5
This is a tough match-up for the South Carolina Gamecocks in Will Muschamp's first year as head coach. After all, this is clearly inconsistent due to its atrocious offense in two games but its comeback win over the Vanderbilt Commodores.
It's the same old story for Muschamp and Co., which makes this a tough game for our college football predictions.
Now, there's a quarterback controversy after Perry Orth was pulled against the Mississippi State Bulldogs. Brandon McIlwain provided a spark, even if he was still inconsistent.
Can he keep that spark with the Muschamp defense against East Carolina? The Pirates, after all, do have some talent.
And their new coach is a David Cutcliffe disciple, Scottie Montgomery. However, Randy Sanders has proven that being an offensive coach under Cutcliffe doesn't always translate into success.
Also, the Pirates were extremely unfair to Ruffin McNeill, having fired him after just one losing season as head coach. As a result, this game features two unproven teams under new head coaches.
What Will Happen?
Philip Nelson is in for a rude awakening against Will Muschamp's defense. He does not have the best offense in the world, but the South Carolina Gamecocks will torch the East Carolina offense all day.
As a result, we have South Carolina getting a very comfortable lead early in our college football predictions. Meanwhile, McIlwain will be just the spark they need. Whether or not it lasts is up for debate.
But it will last through this game, as South Carolina will win easily.
South Carolina: 27 East Carolina: 6
New Mexico State Aggies at Kentucky Wildcats
Saturday at 4 p.m., Commonwealth Stadium, Lexington, Ky.
Favorite: Kentucky -19.5
The wheels have come off of the Mark Stoops train at Kentucky. After missing a bowl by one game two years in a row, his program has collapsed this year. He's recruited, well, but it hasn't translated onto the field.
And as a result, this team is now 0-2 with one embarrassing loss and an embarrassing blowout. Drew Barker has been a disaster at quarterback, the offensive line is a mess, and the defense, as usual, is atrocious.
Fortunately, they could be facing a worse team in the New Mexico State Aggies.
Doug Martin is trying to get this program off the ground in his third year as head coach, and it hasn't happened yet. Still, unlike Kentucky, this team has a win, and it came last week against their arch-rival New Mexico Lobos.
So they have a bit of momentum going into this game while Kentucky has none, and they have also had some decent quarterback play from Tyler Rogers.
That could bode well against a mediocre Kentucky defense.
What Will Happen?
New Mexico State will march into Lexington with all the momentum and the perfect recipe to exploit every weakness on Mark Stoops's Kentucky Wildcats.
Drew Barker will throw two interceptions, Tyler Rogers will throw for two touchdowns. However, it won't be enough.
The Aggies will match them blow for blow throughout the game, but the Wildcats pull away with a close win in the fourth in a shootout. We are going to give them a bit of love in our college football predictions for this game.
Kentucky: 31 New Mexico State: 27
Mississippi State Bulldogs at No. 20 LSU Tigers
Saturday at 7 p.m., Tiger Stadium (LA), Baton Rouge, La.
Line: LSU -14.5
Les Miles's LSU Tigers may have finally given up on Brandon Harris, however, he is still likely to play along with Danny Etling this Saturday as Cam Cameron tries to figure out what to do.
But they need to figure that out fast. Remember, this is still a team that can get into the College Football Playoff. An early season loss at the Wisconsin Badgers won't derail that by itself.
And they don't want to waste another year on so much talent, led by Leonard Fournette. So an SEC home showdown against Dan Mullen's rebuilding Mississippi State Bulldogs is the perfect chance to get back on track.
Mississippi State is trying to move past the Dak Prescott phase, and it didn't work too well in the opener against the South Alabama Jaguars. However, the Bulldogs rebounded with a solid win against the South Carolina Gamecocks, which included an amazing overall day from Nick Fitzgerald.
Could this be Fitzgerald's coming out party? After all, he didn't play the first game. And two years ago, Dak Prescott had a coming out party in Baton Rouge as well.
What Will Happen
This game is going to be a lot tougher than most people who do college football predictions are saying, as Fitzgerald is clearly the answer for the Bulldogs. They aren't the same team they were two weeks ago.
Fitzgerald will total 250 yards from behind center and score two touchdowns. However, it won't be enough.
Etling will solidify himself as the starter for the Tigers simply due to his efficiency, and Fournette will have a solid game as well. Nobody will have a monster performance, but the Tigers will do just enough to stay the course.
And they'll emerge with an ugly victory as a result.
LSU: 19 Mississippi State: 17
No. 17 Texas A&M Aggies at Auburn Tigers
Saturday at 7 p.m., Jordan-Hare Stadium, Auburn, Ala.
Line: Auburn -3.5
All of a sudden, this might be the most intriguing SEC match-up of the weekend and one of the hardest for our college football predictions.
Kevin Sumlin's Texas A&M Aggies are doing what they always do: starting strong. But this time, there's more reason to be confident, as Trevor Knight is a clone of Johnny Manziel in that system, and the defense is much better under John Chavis with Myles Garrett there to wreak havoc.
Meanwhile, Gus Malzahn's Auburn Tigers have generated a splash despite being 1-1 and unranked. A close 19-13 loss to the Clemson Tigers before a 51-14 blowout win over the Arkansas State Red Wolves has fans believing in this team, and the combination of Sean White at quarterback with Kerryon Johnson and Kamryn Pettway at running back is exciting to see.
Meanwhile, Auburn is hosting this game, so fans have lots of reasons to believe in them. After all, an opening loss to Clemson is not going to do anything to derail your season if you take care of business the rest of the year.
However, Texas A&M is more dangerous than ever. So who gets out of here with the win?
What Will Happen?
Auburn is getting a lot of praise for keeping it close with Clemson. But the problem is that the Troy Trojans did the same thing a week later. Meanwhile, Dabo Swinney's horrible coaching is the only thing that kept Malzahn's unit in the game.
Against the Texas A&M Aggies, they'll be facing a team that starts a lot hotter every year and a coach who is great in in-game management.
With Auburn's defense still a bit suspect and Texas A&M's defense thriving under John Chavis, the Aggies will force three Tigers turnovers.
At the same time, Knight will throw for another 300 yards, and the Aggies will squeak out another close victory. But it will take everything they have.
Texas A&M: 30 Auburn: 27
North Texas Mean Green at No. 23 Florida Gators
Saturday at 7:30 p.m., The Swamp at Ben Hill Griffin Stadium, Gainesville, Fla.
Line: Florida -36.5
The Florida Gators and Jim McElwain gave everybody a major scare after struggling to put away the Massachusetts Minutemen in an ugly 24-7 opening-game victory.
But they rebounded with a dominating 45-7 performance in their SEC opener against the Kentucky Wildcats. Now they have one final tune-up game before their real season starts against the Tennessee Vols next Saturday.
Luke Del Rio is beginning to thrive in McElwain's offense, and the combination of Alex Anzalone at linebacker and Jalen Tabor in the secondary is making for a deadly playmaking defense.
In the North Texas Mean Green, the Gators are facing a 1-1 team that, quite honestly, is awful. It has yet to beat an FBS team, and it can't find a quarterback in Alec Morris or Mason Fine.
Seth Littrell is in his first year there as a head coach and is doing everything he can to try to restore the program. It's going to take lots of work.
What Will Happen?
This game is going to be a bloodbath. Florida is going to make sure it does not make the same mistake it did two weeks ago against the Minutemen.
Del Rio will come out firing and start looking like a quarterback who ran one of Steve Spurrier's offenses, and McElwain will pad every stat possible with his weapons in the first half of this game.
In our college football predictions, the Gators will force five turnovers as well and escape with a hideously big victory.
Florida: 59 North Texas: 3
Texas State Bobcats at No. 24 Arkansas Razorbacks
Saturday at 7:30 p.m., Razorback Stadium, Fayetteville, Ark.
Line: Arkansas -31
The Arkansas Razorbacks and Bret Bielema have won everybody back over after an impressive overtime road win over the TCU Horned Frogs to force themselves into the Top 25.
With Austin Allen at quarterback, they have demonstrated an ability to operate quick drives in a hurry up offense if needed while still maintaining their power running-based game. Raleigh Williams III has emerged into a new superstar in the process at running back.
However, they are facing a speed test in their next showing against a Texas State Bobcats team that has a new brand of football in Everett Withers. Despite going 3-9 last year, the cupboard is full for the Bobcats at their level, and they opened the season right with a shocking three-overtime victory over the Ohio Bobcats.
So this is a dangerous team led by Tyler Jones at quarterback facing a dominant SEC physical team.
What Will Happen?
Jones is good enough to exploit some weaknesses in the Arkansas pass defense. As a result, the Razorbacks will struggle with the Bobcats for a quarter, maybe a half.
But that won't last too long.
Arkansas will control the game and the clock with Williams, and they will impose their will on the Bobcats to escape with an easy victory playing smash mouth football.
We have them winning by a comfortable margin in our Week Three college football predictions. But they won't cover the spread.
Arkansas: 38 Texas State: 14
No. 16 Georgia Bulldogs at Missouri Tigers
Saturday at 7:30 p.m., Memorial Stadium/Faurot Field, Columbia, Mo.
Line: Georgia -6.5
Week Two of the college football season is making this game intriguing. The Missouri Tigers started off looking ugly on offense in Barry Odom's first game against the West Virginia Mountaineers, just like they looked last year down the stretch under Gary Pinkel.
However, they rebounded in Week Two to put up 61 points against the Eastern Michigan Eagles. Drew Lock has asserted himself as a very good quarterback, as he has six touchdowns and 730 yards on the year to go with no interceptions.
Now, the Tigers are hosting a Georgia Bulldogs team that looked great in the opener against the North Carolina Tar Heels before struggling to put away an FCS school in Nicholls State.
Like Missouri, Georgia also has a first-year head coach in Kirby Smart, but they're looking to go a lot further than the Tigers this year. Still, this game being in Missouri makes it a lot closer if you go by last week.
The Dawgs still have a quarterback controversy between Greyson Lambert and Jacob Eason. But they also have Nick Chubb back to his old self at running back, and they have a good defense.
What Will Happen?
This is a tough one for our college football predictions because both teams are consistently inconsistent and unpredictable in SEC play.
However, despite the quarterback controversy in Athens, the Dawgs are still the more talented team overall. Jim Chaney will be smart enough to feed Chubb as much as possible to control the clock and the game against the Tigers.
And in the meantime, Missouri's lack of depth and inexperience will get exposed. Lock will have some nice plays, but he'll finally make some mistakes.
The Dawgs escape on the road.
Georgia: 27 Missouri: 14
No. 12 Michigan State Spartans at No. 18 Notre Dame Fighting Irish
Saturday at 7:30 p.m., Notre Dame Stadium, Notre Dame, Ind.
Line: Notre Dame -8
Now this is an early season match-up we're all looking forward to seeing. Mark Dantonio appears to be in a rebuilding phase with the Michigan State Spartans after the departure of Conor Cook, and it showed as they struggled against Furman in the opener.
Tyler O'Connor was efficient, but he was nothing special in Dantonio's ball-control offense. The same holds true for L.J. Scott at running back. Still, they won the way Michigan State wins.
The Spartans were off last week, and now they travel to Indiana for a brutal match-up against a hungry opponent
The Notre Dame Fighting Irish had high expectations this year but choked away a heartbreaker in their opener to the Texas Longhorns on the road in overtime. This won't derail their season if they rebound, but they have to keep winning big games.
This is a start for Brian Kelly's team. The Irish rebounded with a nice win against Nevada, and DeShone Kizer is clearly a great playmaker at quarterback.
This is a great early-season match-up that further serves as proof Notre Dame belongs in the Big Ten. And it's awesome for our college football predictions.
What Will Happen?
Michigan State will do what it usually does and knock Notre Dame's high-powered offense off of it game.
The Fighting Irish will be frustrated all game with consistency issues and turnovers. However, we are still going with them in our Week Three college football predictions.
Brian Kelly is a smart enough coach to make just the right amount of plays, and at home in front of their crowd, they are hungry to get the season back on the right track. As a result, Notre Dame will get three touchdowns from Kizer and force Tyler O'Connor into making too many mistakes.
And that will be enough for them to pull out a victory.
Notre Dame: 27 Michigan State: 21
No. 3 Ohio State Buckeyes at No. 14 Oklahoma Sooners
Saturday at 7:30 p.m., Gaylord Family Oklahoma Memorial Stadium, Norman, Okla.
Line: Ohio State -1.5
This is a huge game for the weekend. The Oklahoma Sooners and Bob Stoops pulled their usual stunt by choking away a high preseason ranking coming off a year where they exceeded expectations.
Now, at 1-1, they are looking to get their season back on track against the Ohio State Buckeyes. Here's the thing: Oklahoma has a brutal schedule. Two of their three non-conference games are against Top 10 teams, then they have the Big 12.
Winning here would put them right back in position for the College Football Playoff hunt.
Baker Mayfield has still been highly efficient, even if the defense has struggled a bit at times. The Sooners are hosting an Ohio State team that is the perfect match for them, as a result.
Ohio State and Urban Meyer thrive in situations like this, and J.T. Barrett is the perfect quarterback to handle the pressure. However, he has a brand new offense that has to learn Meyer's system.
Although Stoops just lost to that system two weeks ago, the Buckeyes are far less experienced running it. Meanwhile, the defense had an overhaul too.
Ohio State is loaded with talent, even more than the Sooners, but can they win big games like this with their minimal experience?
What Will Happen
Ohio State will out-gain the Oklahoma Sooners all night. They'll make a ton of plays, and J.T. Barrett will make this an extremely exciting game throwing and running the ball.
However, they will shoot themselves in the foot too many times on offense thanks to inexperience. The Buckeyes will have at least 12, yes 12, penalties in the game. They will also have two key turnovers.
And their defense will have at least two breakdowns in coverage, while Mayfield adds some nice plays on his own and remains largely efficient.
That will all be enough for the Sooners to beat a more talented team in Oklahoma. We are putting Oklahoma back on the map in our college football predictions.
Oklahoma: 30 Ohio State: 28
Ohio Bobcats at No. 15 Tennessee Volunteers
Saturday at Noon, Neyland Stadium, Knoxville, Tenn.
Line: Tennessee -27.5
Here's the game we've all been waiting for. And Vols fans, for the record, you should all still be a little bit concerned because here we go again.
Tennessee is about to face its third straight team that is loaded with experience in the front seven while it still tries to develop its offensive line. At the same time, the Vols are facing an offense led by option genius Frank Solich, the former Nebraska Cornhuskers coach, who gave the Vols trouble in the late 1990s.
Now, he runs a lot of misdirection, which makes the Bobcats the third straight team the Vols are facing who do that.
And they struggled against the first two teams who did it, although Bob Shoop did adjust.
However, in this game, linebacker Darrin Kirkland Jr. is out for the Vols, which will cause major issues. Meanwhile, Greg Windham is a deadly weapon at quarterback for Ohio, and he can keep plays alive and control the clock.
Don't be surprised if this is another game close to the game the Vols played against the Appalachian State Mountaineers. After all, Ohio is deceivingly good despite a season-opening loss to the Texas State Bobcats, which they should have won easily.
And Tennessee is banged up in all the right spots. Also, the Vols are looking ahead to the Florida Gators hoping this will just be a final tune-up game.
What Will Happen?
In our main event of college football predictions this week, the Vols are going to frustrate fans again. Last week, they did cover the spread thanks to a series of Virginia Tech Hokies turnovers.
That's the only way they can cover a ridiculous 27.5 spread this week.
Tennessee will struggle to put away the Bobcats, as Windham will be able to control the clock by moving the ball against the Vols without Kirkland.
They will go into halftime nursing a touchdown lead.
But Bob Shoop will adjust, which he's great at doing, and Butch Jones and Mike DeBord will make sure that Jalen Hurd remains the workhorse. He'll end the game with a touchdown, Joshua Dobbs will have three touchdowns to Jason Croom, Alvin Kamara, and Josh Malone, and Evan Berry will have a kickoff return for a touchdown.
The Vols will take control later in the game, with three of those touchdowns coming in the second half. But they'll get out of there with a win. We have Tennessee moving to 3-0 in our Week Three college football predictions.
Tennessee: 35 Ohio: 17
This article originally appeared on