All for Tennessee Official Week One College Football Predictions for SEC and Top 25 Games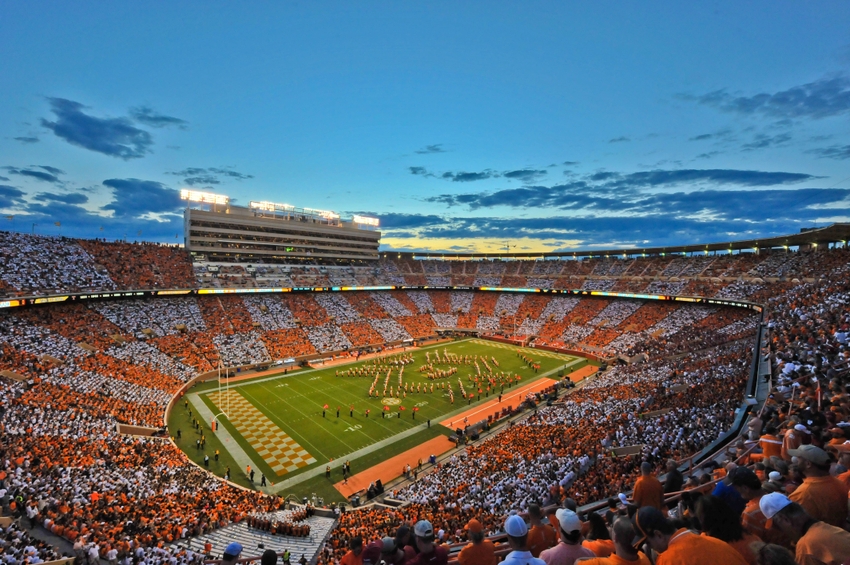 Here are the official All for Tennessee college football predictions for SEC and Top 25 games in Week One of the FBS season.
---
College football fans everywhere are beyond ecstatic. The season is underway! The predictions are back!
For SEC fans, this may be one of the most exciting opening weekends ever. Five SEC teams play Top 25 teams out of conference, and then the LSU Tigers play the Wisconsin Badgers while the Missouri Tigers play the West Virginia Mountaineers.
That makes seven solid SEC opponents. There are three other SEC teams who play Group of Five teams that went to bowl games, including the Vols.
Then, there's a heck of an SEC East match-up in Week One as well.
On top of that, there are very exciting non-conference games to watch. As we get set to provide the official All for Tennessee college football predictions, this year we plan to include all the SEC games each week, all other games featuring two Top 25 teams, and any other game we deem worthy of coverage.
This week, that makes for 16 games on the slate to cover. And all of them could potentially be thrillers.
We'll close each week with the Tennessee game.
The beautiful thing about the opening week of the season is that every team is undefeated…unless you're Hawaii of course.
So how will the season stack up after this week? Will any College Football Playoff contenders be eliminated immediately?
Let's take a look at that here.
These are the official All for Tennessee college football week one predictions for SEC and Top 25 games.
South Carolina Gamecocks at Vanderbilt Commodores
Thursday at 8 p.m., Vanderbilt Stadium, Nashville Tennessee
Favorite: Vanderbilt -4.5; Over/Under: 42
This is an epic Thursday night SEC match-up that figures to feature to defensive-oriented teams desperate to reach a bowl game.
South Carolina has a new head coach in Will Muschamp who, for all his faults, is a defensive genius. Vanderbilt is in its third year with Derek Mason at the helm, who is a defensive genius in his own right.
Mason's team improved dramatically last year, just missing a bowl by two games. This year his 3-4 defense has been fully implemented, and they have eight starters back. The offense should be much better with seven starters back and Kyle Shurmur settled in as the Commodores' quarterback.
The Gamecocks, meanwhile, had a coaching change midway through the year in 2015 and quite honestly should have finished the season 8-4 instead of 3-9. There's still talent on the team, and Muschamp should have the defense in good shape with seven starters back. This team is much more dangerous than expected.
What Will Happen?
This game will feature two defensive genius in a battle of wits. It will be low scoring, with both offenses having three turnovers.
However, Mason's system at Vanderbilt is three years in, while Muschamp's system is brand new. Meanwhile, Vanderbilt is more sure on offense. Shurmur will throw for two touchdown passes, and Vanderbilt's defense will hold on against a terrible South Carolina offense.
The Commodores start the season off on the right foot with a close, defensive win over the Gamecocks.
Vanderbilt: 17 South Carolina: 13
Kansas State Wildcats at Stanford Cardinal
Friday at 9 p.m., Stanford Stadium, Stanford California
Line: Stanford -15; Over/Under: 48.5
This game features one team trying to build off of a Power Five conference championship and another going for another rebounding project.
The Stanford Cardinal had their rebounding project last year under David Shaw, going 12-2 and 8-1 in the Pac-12 en route to the Pac-12 Championship. An early season fluke loss to the Northwestern Wildcats kept them out of the College Football Playoff.
This year, they have unfinished business with that loss. The return of Christian McCaffrey keeps the foundation of their offense in place. Meanwhile, in their 3-4 scheme, six of their back eight have returned on defense. However, they have a very tough opener for the second straight year.
The Kansas State Wildcats are flying under the radar this year with Bill Snyder. Last year's team was identical to the 2010 team: a brand new defense and a new quarterback (Collin Klein in 2010, Joe Hubener in 2015). Hubener's start was identical to Klein's as well. Snyder has him back with more experience, and he has nine starters back on a defense that should be much better after ranking No. 105 overall last year.
That much improved defense has a great match-up in the opener in facing a new Stanford quarterback, Ryan Burns. Because of that, don't count this team out.
What Will Happen
Kansas State is set for a rebound year, which Snyder is great at. He knows how to adapt to the changing college football landscape. They will get it started by surprising everybody with their play against the Stanford Cardinal. The defense will force two Ryan Burns turnovers.
Meanwhile, Joe Hubener will have a touchdown pass and a touchdown run. However, it just won't be enough. Stanford is going to hold on at home to begin their 'unfinished business' run in ugly fashion. They'll win this game on a late field goal, concerning many fans who just aren't aware that the Wildcats are set to bounce back.
Kansas State loses, but they cover the spread easily. Expect an exciting blue-collar college football game.
Stanford: 20 Kansas State: 17
South Alabama Jaguars at Mississippi State Bulldogs
Saturday at Noon, Davis Wade Stadium, Starkville, Miss.
Favorite: Mississippi State -28; Over/Under: 54
For the third straight year, the Mississippi State Bulldogs are predicted to finish last or next to last in the SEC West. However, unlike the previous two years, they have no Dak Prescott for this season.
The Bulldogs enter a new era, and who leads that era is still up for debate. Dan Mullen plans to use Damian Williams and Nick Fitzgerald both in this game against the South Alabama Jaguars. The good news is that outside of quarterback, Mississippi State does have some talent back. They return seven starters on offense and six on defense, and Mullen is a brilliant coach.
The South Alabama Jaguars, meanwhile, are still trying to get their program off the ground in FBS, but they did get to 5-7 last year and have seven starters back on defense along with six back on offense. Quarterback Cody Clements is gone, but that could be good news given his 13 touchdowns and 15 interceptions last year.
With South Alabama's veteran defense, Mississippi State could be tested in trying to find a new quarterback. Let's take a look at how the game will unfold.
What Will Happen
Even with the quarterback drama, Mississippi State has too much talent elsewhere to struggle at all with South Alabama. This will be a typical college football blowout.
Fitzgerald and Williams will both put up touchdowns, but Brandon Holloway will be the story of the game. He'll rush for 200 yards and carry the Bulldogs to a dominating victory.
Mississippi State wins this game easily, but they still won't have their full-time starting quarterback determined. That won't happen for a few more weeks.
Mississippi State: 45 South Alabama: 10
Missouri Tigers at West Virginia Mountaineers
Saturday at Noon, Milan Puskar Stadium, Morgantown, W. Va.
Line: West Virginia -10; Over/Under: 50.5
This is an epic match-up between two unranked teams. The Missouri Tigers and West Virginia Mountaineers are two programs both in the same spot: trying to re-establish themselves as consistent threats on the major stage. For real college football fans, this is exciting.
Missouri is trying to bounce back from a wild 2015 season. They missed a bowl by one game, Gary Pinkel resigned, and they had the drama of the protesters on campus. This year, with defensive genius Barry Odom now as head coach, the Tigers have seven starters back on defense and should be elite there again. However, the already-atrocious offense lost all five offensive linemen. But quarterback Drew Lock is back, as are some valuable skill players.
However, the story of this game will be Missouri's elite defense, as they get set to face West Virginia's veteran offense. The Mountaineers return all 11 starters on offense. But at the same time, Dana Holgorsen plans to dress 10 true freshmen. That's due to seven starters being back on offense.
In short, this game will feature an elite offense against an elite defense at the same time and a mediocre offense against a mediocre defense at the same time. Makes for a normal game.
What Will Happen
Despite the loss of offensive linemen, Missouri has the right mix of skill players and Drew Lock at quarterback to torch the West Virginia defense, which has no experience at linebacker. The defense is talented and experienced enough under Odom to hold the offense in check.
This will be a close game, but Missouri will pull of a shocking upset on the road thanks to West Virginia being unable to stop them. Lock will throw for two touchdowns while Ish Witter runs for two more.
Expect an exciting college football game between two unranked Power Five teams.
Missouri: 31 West Virginia: 24
No. 3 Oklahoma Sooners at No. 15 Houston Cougars
Saturday at Noon, NRG Stadium, Houston, Texas
Line: Oklahoma -11.5; Over/Under: 68
This might be the most intriguing Top 25 match-up of the college football weekend. The Oklahoma Sooners and Bob Stoops are back after Baker Mayfield led a program rebound last year in Lincoln Riley's new offense.
Mayfield is back along with all-star running back Samaje Perine and five other starters from last year on offense. The defense also returns seven starters. As the Sooners get set to try to return to the College Football Playoff, they have as tough of a task as you could ask for in an opener against a Group of Five team with elite talent.
The Houston Cougars were the splash team of the year after going 13-1 under Tom Herman in 2015, and he's back for his second year with his prized bull in quarterback Greg Ward, who is one of seven returning offensive starters. Herman's spread figures to put up lots of points against an Oklahoma defense that has struggled against flashy offenses in the past.
Can the Sooners counter with their own offense?
One trademark of Bob Stoops's teams in recent years is that they seem to always come from out of nowhere to win the Big 12 one year, and the next year with high expectations, they fall apart. This is the year they have high expectations.
What Will Happen
Greg Ward will put up points for Herman and turn this game into a shootout in Houston. Oklahoma's rush defense will struggle significantly throughout the game. The Sooners will give up close to 200 yards on the ground.
However, with an inexperienced defense, Oklahoma's offense will counter them at every turn. This game will be a southwestern-style college football shootout, as Mayfield and and Perine will torch the Houston secondary all day. Oklahoma pulls away late in the third, and Houston never comes back. I wouldn't bet on the spread for this game, but certainly take the over.
Oklahoma: 52 Houston: 41
No. 16 UCLA Bruins at Texas A&M Aggies
Saturday at 3:30 p.m., Kyle Field, College Station, Texas
Line: Texas A&M -3; Over/Under: 53
We get to see the SEC on CBS for college football opening weekend this year! And this game is going to be a dandy.
The Texas A&M Aggies start the year unranked as Kevin Sumlin enters his fifth season as head coach. After running out virtually every quarterback and having turmoil on his staff, Sumlin may have struck gold with Trevor Knight. The Oklahoma transfer has the same playing style as Johnny Manziel, which we've already seen is the perfect fit for Sumlin in the SEC.
Meanwhile, the Aggies do have seven starters back on defense, led by all-star end Myles Garrett, and John Chavis is in his second year as defensive coordinator. So the unit should be much better overall, while the offense should return to form with six other starters back to help Knight.
Coming to visit them, Jim Mora's UCLA Bruins have a potential superstar returning at quarterback in Josh Rosen to run the west cost offense. Also, the defense has 10 starters back. As a result, this group has extremely high expectations as well. However, the offense has a lot of talent to replace despite the return of Rosen.
This will be a complete game of full-on elite college football talent. It also could be the best game to watch on opening weekend between two potentially elite teams.
What Will Happen
John Chavis will send the house against Josh Rosen and UCLA's offense with his zone blitzes, as he typically does. That will open up the doors for Jim Mora and Rosen to make lots of smart plays and quick calls that go for big gains.
However, they will have some issues as well with so many inexperienced skill players, and it will create a coupe of turnovers. Meanwhile, the Aggies will have a coming-out party with Trevor Knight. He'll make a huge splash early against the Bruins before cooling off in the second half. By that point, however, it will be too late.
This will be like the Johnny Football Alabama game in 2012.
Texas A&M: 38 UCLA: 31
No. 5 LSU Tigers at Wisconsin Badgers (In Green Bay)
Saturday at 3:30 p.m., Lambeau Field, Green Bay, Wis.
Line: LSU -10; Over/Under: 44.5
Two years ago, these teams met near the southern border of the country in what was basically a home game for the LSU Tigers. That game, they came back from three scores down to hold onto a victory.
This time, Wisconsin gets the game near their area in Aaron Rodgers territory, and they are back to re-establishing their identity with homegrown hero Paul Chryst entering his second year as head coach.
Offensively, the story for both of these teams is the same: great running game, no passing game. LSU and Les Miles have all-world Heisman candidate Leonard Fournette along with eight other starters back. Of course, that includes awful quarterback Brandon Harris, who has to improve if the Tigers are to do anything this year.
The Badgers, meanwhile, just have a tradition of mediocre quarterback play and an elite running game behind a massive offensive line with the exception of when Russell Wilson was there for a year.
Both teams have almost everybody back on defense as well, so you can expect an old-school college football game: blue-collar with the rushing attack, least mistake-prone quarterback, and defense deciding the winner.
What Will Happen
Despite their systems, LSU is just a better team all-around then Wisconsin. They are loaded with athletes and have the elite defensive line to attack Wisconsin's massive offensive line all day.
The Badgers are better than expected and will restore their identity under Chryst this year, but they will lose a boring game here. Fournette will go for 200 yards on the ground, and that will be all the Tigers need to get this win.
LSU: 27 Wisconsin: 13
Louisiana Tech Bulldogs at Arkansas Razorbacks
Saturday at 4 p.m., Razorback Stadium, Fayetteville, Ark.
Line: Arkansas – 26; Over/Under 52
The Arkansas Razorbacks started last year in the Top 25 in Bret Bielema's third year after a strong finish to the 2014 season and then everybody back. It was the year they would get things going.
However, similar to the Vols, the Razorbacks had one of many college football fan bases that get excited prematurely. They clearly had work to do. Still, after a 1-3 start, they got on track against the Vols and finished the year 8-5. Now, they have pretty much their entire defense back, and Bret Bielema's offense is a system that can be replaced on a yearly basis.
So the Hogs figure to be very solid again this year. However, they don't have a great opening test.
The Louisiana Tech Bulldogs have been a solid team in past years, as Skip Holtz has taken them to two straight nine-win seasons. This year, though, they lose seven starters on both sides of the ball and are having to go through a rebuilding process.
That's not a good sign for them as they travel to face an SEC team in their first game.
What Will Happen
If it weren't for the LSU-Wisconsin and Texas A&M-UCLA games happening at the same time, you'd want to go to sleep with this game. Arkansas will dominate the Bulldogs with breakout games from Kody Walker and Raleigh Williams III.
Both will go over 100 yards rushing, and they'll get 300 yards on the ground overall en route to a dominating performance. It will be the most boring college football game of the weekend.
Arkansas: 38 Louisiana Tech: 3
No. 18 Georgia Bulldogs vs No. 22 North Carolina Tar Heels
Saturday at 5:30 p.m., Georgia Dome, Atlanta, Ga.
Line: Georgia -2.5; Over/Under: 57.5
The Georgia Bulldogs enter a new era with Kirby Smart as head coach. And Smart is walking into a pretty talented team at that.
Georgia returns eight starters on offense, including quarterback Greyson Lambert, who is in a fight to keep his starting job. They also get all-world running back Nick Chubb back, which means they really have nine starters back. On defense, they already ran a 3-4, and Smart is going to keep that in place. He's got the entire secondary back and a class of elite recruits to work with as well.
However, under a new coach, the Dawgs have a tough first outing. In a game that's technically at a neutral site, despite being only an hour away from Athens, Smart's Dawgs will take on the North Carolina Tar Heels.
Larry Fedora's team shocked the world in his fourth year there last year, losing the first game before going 11-1 and reaching the ACC Championship. This year, his offense returns eight starters, while his defense has seven back. However, he's starting a new quarterback in Mitch Trubisky, who has to replace dual-threat Marquise Williams.
Georgia's not the best team to replace your quarterback against, particularly when you have just an okay defense and you're going up against a complex 3-4 scheme.
What Will Happen
If Marquise Williams were still here, North Carolina would be the easy favorite to win the game. Kirby Smart has an awful track record in his first go-round against mobile quarterbacks.
As it is, Williams is not there, and while the Dawgs have a first-year head coach, they have an elite defense with SEC talent going up an inexperienced quarterback. Their 3-4 rush will cause problems for Carolina all day.
Meanwhile, the quarterback play for the Dawgs will be mediocre, but Nick Chubb will have a field day in his return. With him back, the interior Georgia interior line back, and five of North Carolina's front seven from last year gone, the Dawgs will rack up 250 yards on the ground for an ugly college football victory in what might as well be a home game.
Georgia: 27 North Carolina: 17
Southern Mississippi Golden Eagles at Kentucky Wildcats
Saturday at 7:30 p.m., Commonwealth Stadium, Lexington, Ky.
Line: Kentucky -6.5; Over/Under: 64
This is clearly not the college football rebuilding project Mark Stoops envisioned. After a solid recruiting class and two years with a very good quarterback in Patrick Towles, his team choked down the stretch twice to finish the season 5-7.
This year, he's got a new quarterback in Drew Barker. The good news is that Barker might be better than Towles. And he's got eight other starters back on offense to work with. Therefore, the offense could actually be much better.
However, the defense only returns five starters and could get worse. And they have a tough test in the opener.
Todd Monken turned the Southern Miss Golden Eagles back into a winning Group of Five program, taking them to a 9-5 record his third season last year. Now, he's left, and Jay Hopson has come from Alcorn State to task himself with continuing the program's success. He's got a potential breakout star in returning quarterback Nick Mullens, one of seven returning starters on offense.
Meanwhile, he's got six starters back on defense, enough to keep the winning tradition going in Hattiesburg, Miss.
Going up against a Kentucky team that has to rebuild its defense and has a new quarterback could be a big plus for the Golden Eagles, and they have a great chance to pull off an upset.
What Will Happen
Southern Miss's offense is going to give Kentucky's defense hell all game. They will make everybody question the Wildcats for the rest of the year.
However, Kentucky's offense is actually going to be better than it was last year, and Stoops's Wildcats will pull away in a shootout by the end of the third quarter. The smart move here is to take the Wildcats in the spread and take the over.
This will be your typical college football shootout between two mediocre teams.
Kentucky: 55 Southern Miss: 38
Massachusetts Minutemen at No. 25 Florida Gators
Saturday at 7:30 p.m., Ben Hill Griffin Stadium (The Swamp), Gainesville, Fla.
Line: Florida -36.5; Over/Under: 51
Florida Gators fans have to be pretty upset. They won the SEC East last year in Jim McElwain's first season as head coach. They return seven starters on offense and eight on defense.
Yet they're somehow barely in the College Football Preseason Top 25.
All of this is due to a new quarterback. But Luke Del Rio can at least do what Treon Harris was able to do, so there should be nothing to worry about. This is a Florida team entering the year with lots to prove. The only issue is their depth.
Unfortunately, they won't be tested much in the opener.
The Gators host a UMASS team that has gone 3-9 in each of its first two years in FBS play under Mark Whipple and now has to replace the majority of its starters on offense and defense. Meanwhile, there is a new quarterback as well.
Simply put, this team is in trouble. They are not good, have little experience, and are set to face a very angry team with lots of talent in the opener.
What Will Happen
Florida's depth will be a problem down the stretch of the season, but it won't be a problem in the opener. Their first level of talent is on par with any team in the country, and they have a lot to prove at home.
As a result, this won't be a contest from the start. Luke Del Rio will tease everybody with four first-half touchdowns, and the Gators will pour on an offensive clinic in the first half. They'll carry it to the second half, but the second team will fail to extend the lead. Meanwhile, they'll allow UMASS to score some late-game points. Still, the dominance will be apparent.
It will be a typical college football blowout in The Swamp.
Florida: 59 UMASS: 14
No. 20 USC Trojans vs No. 1 Alabama Crimson Tide
Saturday at 8 p.m., AT&T Stadium, Arlington, Texas
Line: Alabama -11.5; Over/Under: 53.5
In traditional fashion, the SEC provides us with an extremely exciting opener at AT&T Stadium in Texas. This is far and away the top college football game of the week, and it will be exciting to watch from start to finish.
The USC Trojans are settled in with their new head coach in Clay Helton and former Vols quarterback Tee Martin. Meanwhile, they have every starter back on offense except their quarterback, but they only have six starters back on defense, including just two members of their front seven.
Offensive Coordinator Lane Kiffin of the Alabama Crimson Tide is set to get revenge on the team that fired him. He's got a new quarterback in Cooper Bateman and has to replace his Heisman Trophy winner in Derrick Henry. Meanwhile, Nick Saban has to break in a new defensive coordinator and replace three members on his front seven.
The Tide's prospects of repeating a national championship are dimmer this year simply because the defense is not as loaded. However, they have most of the elite secondary back, as do the Trojans.
As a result, with both teams breaking in new quarterbacks, expect this to be a game won on the ground. The Trojans have stars there in Justin Davis and Ronald Jones, and the Tide are going to do a by-committee set which appears to be led by Bo Scarborough.
Both teams are loaded with talent. So who wins?
What Will Happen
USC has the experience and the talent to match up with the Tide in the opener. As a result, this is going to be a very close game from start to finish.
In addition to the entire offensive line and running game back to torch the inexperienced front seven of Alabama with a new defensive coordinator, the Trojans have just the right playmaker in JuJu Smith-Schuster to make some plays against Alabama's elite secondary.
However, the Tide can counter that with Calvin Ridley against USC's elite secondary.
Meanwhile, Alabama does have one deadly weapon in the front seven in Jonathan Allen, and their secondary is more elite than USC's with Eddie Jackson.
This game will be a shootout on the ground, but the passing game will come through for both teams in the end. Browne will have a late touchdown pass to Smith-Schuster to give the Trojans a lead, but Bateman will counter with a big play to Ridley to take it right back.
Jackson seals it then with a late interception. The Tide escape, but take the over in this game and take USC against the spread.
Alabama: 34 USC: 30
No. 2 Clemson Tigers at Auburn Tigers
Saturday at 9 p.m., Jordan-Hare Stadium, Auburn, Ala.
Line: Clemson -7.5; Over/Under: 62
Despite being the offensive genius behind Cam Newton's success in carrying the Tigers to a college football national championship in 2010 before returning them to the game in his first year as a head coach in 2013 combined with his recruiting success, Auburn fans are growing frustrated with Gus Malzahn.
After all, in the brutal SEC West, he's fallen off the past couple of years.
This year, he gets an extremely tough test in the opener, which will make it that much harder for him to win back the fan support. The Tigers face the national champion runner-up Clemson Tigers. Dabo Swinney's team is not intimidated in big games against SEC teams either. Just as Alabama last year or Georgia two years before that.
Led by leading Heisman Trophy candidate Deshaun Watson at quarterback, Swinney's Tigers return eight starters on offense. And he's recruited extremely well, meaning the depth is finally there.
However, he's only got four starters back on defense and lost all of his key weapons there. That could be an issue for him against an offensive genius like Malzahn.
And speaking of Malzahn and his Tigers, his offense should be much better this year. Despite Sean White being named the starter, he and Jeremy Johnson should both be much better. Meanwhile, there are five other starters back on offense, including three offensive linemen.
With three members on the defensive line back along with three defensive backs, that unit should be much better as well when you look at Malzahn's recruiting. With the game being in Auburn, the Tigers certainly have a chance.
What Will Happen
Buckle up! This is going to be the most exciting college football shootout game to watch over the weekend. Clemson and Auburn will put up Pac-12 numbers. This is due to the personnel on defense against Malzahn's mind and the personnel on Clemson's offense, well, period.
Deshaun Watson will have a field day and start his Heisman campaign with a splash, but the Tigers will have trouble putting away Auburn, who won't go away playing at home.
This will go to the fourth quarter, and Clemson will score two late touchdowns to pull away. While you should avoid betting on the spread for this game, certainly take the over in points.
Clemson: 56 Auburn: 45
No. 10 Notre Dame Fighting Irish at Texas Longhorns
Sunday at 7:30 p.m., Royal Texas Memorial Stadium, Austin, Texas
Line: Notre Dame -3.5; Over/Under: 60
It seems like the oddsmakers no something. Notre Dame may be unranked, but they are facing a Texas Longhorns team on the road that should be much better this year under Charlie Strong after their 5-7 outing in 2015.
This is a clash of two historical college football Titans.
The Irish are entering their seventh year with Brian Kelly at the helm, but unfortunately they replace a ton of talent. With only five starters back on offense and only four on defense, Kelly had a rough job already. On top of that, the series of arrests a couple of weeks ago has set the program back even further. Kelly has recruited well, but so little experience with such a distraction on top of that makes things difficult in Austin.
Meanwhile, the Longhorns have had two late-game recruiting successes under Charlie Strong, filling their roster respectably. Although the starting quarterback position is under wraps, it doesn't matter because anything will be better than last year.
Meanwhile, Strong has seven other starters back on offense, and he has nine guys back on defense. On top of that, he has re-stacked the roster with his recruits to bring in depth, so as a defensive genius, he should have the program in great shape.
That makes this an interesting game.
What Will Happen
Right now, Notre Dame is ahead of Texas in restoring itself to prominence. Brian Kelly has begun the revolving door of elite recruits needed only to reload his program.
Strong is about two classes away from that.
However, he has an experience unit this year, and the Irish's revolving door was hurt with the distractions of the arrests. Due to those issues, the Longhorns will take advantage of some ugly Irish play in front of their Texas audience Sunday night on primetime.
And that will make for an ugly, albeit pretty for fans in Austin, Longhorns victory. It'll be the prettiest, ugliest victory ever with seven Irish turnovers causing it.
The spread will be difficult to bet on, but certainly take the under. This is the most sure under you can take.
Texas: 20 Notre Dame: 19
No. 11 Ole Miss Rebels vs No. 4 Florida State Seminoles (Orlando, Fla.)
Monday at 8 p.m., Florida Citrus Bowl, Orlando, Fla.
Line: Florida State -4; Over/Under: 57
This may technically be a neutral-site game, but the Ole Miss Rebels might as well be on the road playing a college football game against the Florida State Seminoles in Orlando.
Both teams enter this year with a ton of hype and expectations. The Rebels return Chad Kelly for his senior season at quarterback in Hugh Freeze's fifth year, and the elite 2013 recruiting class he brought in is now a class of veteran seniors. Ole Miss never has lots of depth, but they always have enough to compete with anybody in the opener.
Kelly is among six starters back on offense, all key players. However, the Rebels only have five back on defense, even if their entire secondary is almost back.
Florida State, meanwhile, has consistently recruited well under Jimbo Fisher, so their team now just reloads the way Nick Saban's teams do. They return everybody on offense, but quarterback Sean Maguire is injured, meaning redshirt freshman Deondre Francois will start. Still, he has a ton of help to work with.
And on the other side, the Seminoles have eight guys back on defense. So outside of the quarterback play, they're loaded.
One other factor in this game is the NCAA investigation of the Rebels. How much will it distract the team this season with a potential bombshell looming from that?
We'll find out Monday.
What Will Happen
When it's early in the season, Ole Miss has the talent to hang with anybody because they recruit well enough to put together a loaded first team.
However, they'll have less experience going up against Florida State, which is just loaded with talent all across the board this year. The reason this game remains close is due to quarterback play.
Chad Kelly will play great enough to keep the Rebels in the game for a long time, but the Seminoles will overcome it with the talent everywhere else. Florida State wins the game off of a late field goal. However, the spread and the over/under are way too uncertain for this game. Still, this will rival Alabama-USC for the most exciting college football game of the weekend.
Florida State: 31 Ole Miss: 28
Appalachian State Mountaineers at No. 9 Tennessee Volunteers
Thursday at 7:30 p.m., Neyland Stadium, Knoxville, Tenn.
Line: Tennessee -20.5; Over/Under: 61
And we are finally here for our first Tennessee football prediction of the year. The Vols open the college football season with a very tough test against the Appalachian State Mountaineers, who went 11-2 last year and are expected to win the Sun Belt Conference this year.
Tennessee has its highest expectations in over a decade, with the Vols in the Top 10 for the first time since 2006 and the preseason Top 10 for the first time since 2005. With 20 starters back and an arsenal of weapons from Joshua Dobbs to Jalen Hurd to Alvin Kamara to Evan Berry combined with playmakers on defense from Cameron Sutton to Derek Barnett to Jalen Reeves-Maybin, it makes sense.
They get their first real test in front of the bright lights at Neyland Stadium Thursday with a new defensive coordinator in Bob Shoop.
Butch Jones knows he has to have his Vols prepared for the Mountaineers. Scott Satterfield returns elite quarterback Taylor Lamb and a three-headed monster at running back led by Marcus Cox. He also has nine starters back on a defense that was already one of the best in the country.
With the elite combination of skill players on offense and experience on defense, the Vols will have their hands full.
What Will Happen
Tennessee will have a game similar to the first half against Bowling Green last year. Due to Appalachian State's experience on defense combined with their elite front seven by Group of Five standards will make it difficult for Mike DeBord to utilize Hurd and Kamara as much as he wants.
This will be your typical college football scare.
Meanwhile, despite how loaded the Vols are on defense, they'll give up some plays to the Mountaineers. As a result, this game will be scary for a while, as the Vols take a touchdown lead into halftime.
However, in the second half, Joshua Dobbs will exploit the one weakness of the Mountaineers: the secondary. His passing game will help the Vols pull away, and they'll come out with an ugly but solid victory over a team much better than people are giving them credit for.
Tennessee: 38 Appalachian State: 21
This article originally appeared on