All for Tennessee Official Week Five College Football Predictions for SEC and Top 25 Games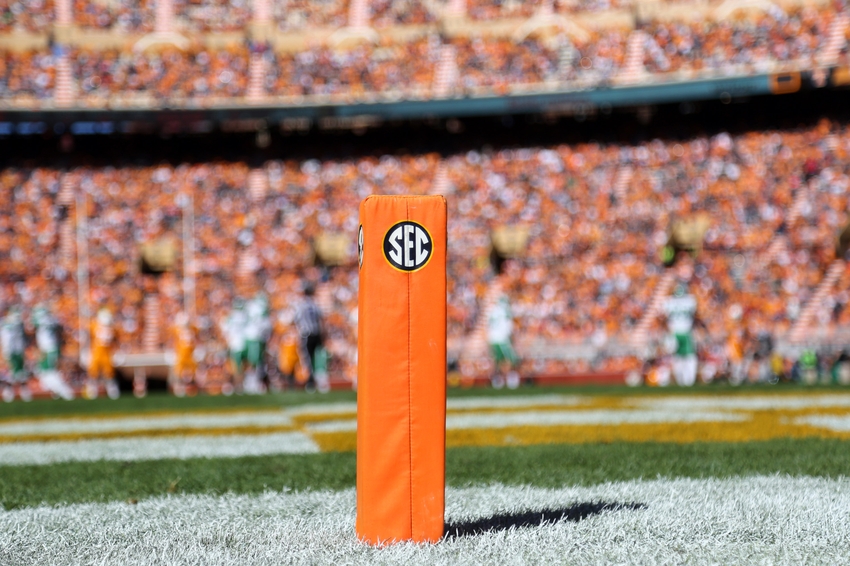 Here are the official All for Tennessee college football predictions for Week Five of Southeastern Conference and Top 25 games.
We are already a third of the way through the season. Doesn't it go by fast? As we get set for our fifth week of college football predictions, things are starting to narrow.
Heading into the first round of October games, Tennessee Vols fans are happy about being 4-0 and finally beating the Florida Gators. Alabama Crimson Tide fans are happy about being 4-0 and finally beating the Ole Miss Rebels.
And the Texas A&M Aggies have to be happy about continuing their streak over the Arkansas Razorbacks to still be 4-0 heading into October. Those are just the undefeated SEC teams.
There is still a collection of other undefeated teams, but that will fizzle out over the next two weeks. Heck, at least three that are ranked in the Top 25 are guaranteed to go down this week.
Meanwhile, this is another solid week of SEC games with five inter-conference match-ups, even if only one features two Top 25 teams.
Outside of the SEC, there are three other games featuring Top 25 teams…and they all feature undefeated teams. One game is in the ACC, the other is in the Big Ten, and the other is in the Pac-12.
So that makes for a heck of a weekend once again in college football with 11 games for us to predict. As always, our Tennessee pick comes at the end.
Last week, we were a mediocre 6-4 in these games, so we're looking to do better this week. However, we did call Wisconsin and Vanderbilt winning, even if we dropped the ball on Georgia-Ole Miss and Tennessee-Florida.
Here are our official week five college football predictions for SEC and Top 25 games.
No. 7 Stanford Cardinal at No. 10 Washington Huskies
Friday at 9 p.m., Husky Stadium, Seattle, Wash.
Line: Washington -3
Talk about a heck of a Friday night Big Ten match-up! There are four undefeated teams left in the Pac-12, and these are the only two left in the Pac-12 North. So the winner takes complete control of that division going forward.
David Shaw's team is back to doing what it does best: defense and running. Quarterback play hasn't been great, but it looks like as long as you have Christian McCaffrey, your offense is fine. Meanwhile, the defense has yet to allow more than 13 points in a game, and they've played some tough teams.
Washington, on the other hand, has turned into a high-powered offense under Chris Petersen, as Jake Browning is another one of his quarterbacks to develop into an amazing superstar with 14 touchdowns and two interceptions. The defense is solid there as well, but it's not as loaded as the Cardinal's defense.
With these two teams, this game will come down to ball control, efficiency, and who can dictate the tempo.
What Will Happen?
Stanford has a long history of making elite quarterbacks play its game of football. That will happen again here.
David Shaw's unit will slow the game down, and Jake Browning will not be able to get into the rhythm he has been getting into over the past two weeks. We don't bet against the Cardinal in physical Pac-12 games in our college football predictions.
McCaffrey gets a big run, and the defense does what it needs to do. Stanford wins a close road game.
Stanford: 23 Washington: 20
No. 23 Florida Gators at Vanderbilt Commodores
Saturday at Noon, Vanderbilt Stadium, Nashville, Tenn.
Line: Florida -10
Could this be a trap game?
The Vanderbilt Commodores are terrible, but they are riding a huge wave of momentum after an overtime victory over the Western Kentucky Hilltoppers. The Florida Gators, on the other hand, are still probably shocked from their second-half collapse to lose to the Tennessee Vols for the first time in over a decade.
And that could cause them to come out flat in this game, making this very difficult for us to call in our college football predictions.
Make no mistake. Derek Mason's Commodores are awful. They still have no offense. However, the defense is solid against pro-style offenses, and in his 3-4 system, they are good enough to steal ugly games.
The Gators do run a pro-style offense, and backup quarterback Austin Appleby is likely to still remain in the lineup at quarterback this week. However, they are dinged up a lot of other places and don't have a lot of depth. So what happens?
What Will Happen?
Jim McElwain's team was served a slice of humble pie after talking all last week. To many of them, the season just collapsed. As a result, they will come out flat in this game.
However, Florida still has defensive weapons in Quincy Wilson, Jarrad Davis, and Jalen Tabor, and they will shut down Vanderbilt's atrocious offense. In the process, they will take a low-scoring lead into halftime, maybe 7-0.
And in the second half, the Gators will still play poorly on offense but do enough to win. In our college football predictions, we have Florida escaping with a hideous road victory.
Florida: 17 Vanderbilt: 6
Alcorn State Braves at No. 23 Arkansas Razorbacks
Saturday at Noon, War Memorial Stadium, Little Rock, Ark.
Well this is a boring one for our college football predictions. Bret Bielema's Arkansas Razorbacks are coming off a shell-shocking loss to the Texas A&M Aggies and looking to rebound. They have the perfect game to take their frustration out.
Alcorn State is a 1-2 team in a lower level. They have struggled all year as well and over the last two weeks showed to have an awful defense.
But defense is not appearing to be Arkansas's strong-suit either considering what they allowed against the Aggies last week. Still, their offense does have quite a few weapons in Austin Allen's efficiency and Raleigh Williams III's running.
The balanced attack is what Bielema has been trying to build for a while in Arkansas. It looks like he finally has got that, even if his team had a bad loss over the weekend.
What Will Happen?
Do we seriously need to debate this one? Arkansas could come out completely flat after last week, and it wouldn't matter.
The Razorbacks will run over, through, and around the Braves and torch them in every way. This will be another stats-padding game. Allen will throw for 300 yards and three touchdowns while Williams puts up another 150 yards and a touchdown.
And Arkansas wins this game running away.
Arkansas: 55 Alcorn State: 10
Louisiana Monroe Warhawks at Auburn Tigers
Saturday at 3:30 p.m., Jordan-Hare Stadium, Auburn, Ala.
Line: Auburn -32.5
And just like that, Gus Malzahn's job is safe while his Auburn Tigers ride a wave of momentum. They haven't played a road game yet, but they are 2-2 after one of the most difficult schedules to start the season.
The Tigers have given up trying to be an offensive team under Sean White, who is not Cam Newton or Nick Marshall. However, they have some significant defensive talent. Malzahn has tailored his coaching to that.
And now, finally, they get a break. Heck, we finally get a break in gauging them for our college football predictions.
Auburn faces a 1-2 Louisiana Monroe team still reeling from a close loss to Georgia Southern two weeks ago. This team does have some balance on offense, but they are horrible on defense. However, they are coming off of a bye.
What Will Happen?
The Tigers will continue the momentum they picked up last week. Louisiana Monroe is not good enough to catch them napping, and Auburn will dominate this game.
You can go to sleep on this one. Malzahn will experiment with some other offensive schemes to see what he can do to get it going in SEC play, and Auburn will pitch a nearly perfect game on defense while having its first field day on offense.
The Tigers come away with a pretty convincing victory. You might want to consider even betting on them to cover the spread.
Auburn: 41 Louisiana Monroe: 7
No. 8 Wisconsin Badgers at No. 4 Michigan Wolverines
Saturday at 3:30 p.m., Michigan Stadium, Ann Arbor, Mich.
Line: Michigan -10.5
What's up with the lack of love for the Wisconsin Badgers? They are 4-0 and already have two quality wins under their belt. After this weekend, they will have played the toughest schedule in college football by far.
Paul Chryst has got the program right where he wants it to be in his second year. They are back to playing Wisconsin football with a dominant offensive line and a rushing attack that averages nearly 200 yards a game behind Corey Clement and Dare Ogunbowale. Quarterback play has been an issue with Bart Houston and Alex Hornibrook, but it's been good enough.
Meanwhile, the defense has become very opportunistic. That showed against the Michigan State Spartans and the LSU Tigers. They make plays exactly when they need to and know how to take control.
The Wolverines, meanwhile, have arrived under Jim Harbaugh. Already one of the clear-cut best coaches in college football, he has his team playing his style now. The offense has scored at least 45 points in all four games to start the year with Wilton Speight at quarterback and a dominant rushing attack with De'Veon Smith, Chris Evans, Ty Isaac, and Karan Higdon.
The defense has been dominant too for the most part, but it did struggle some against the Colorado Buffaloes.
This is a very tough game to call for our college football predictions because it could go any way. While the Badgers have two quality wins, they also showed their inconsistency by struggling against Georgia State. Meanwhile, the Wolverines haven't played a team of Wisconsin's caliber yet to validate how good they've looked.
What Will Happen?
Wisconsin's best asset is making you play their style of football. If they can slow it down and get their running game going, they can knock Michigan off-balance.
Jim Harbaugh's team has gotten used to coasting through games so far while the Badgers have multiple hard-fought victories. They'll make sure to turn this into an ugly outing up in Ann Arbor and force lots of Wolverines mistakes.
However, the home crowd will carry the Wolverines. They'll get their running game going in the second half, and they will score just enough. Then they'll expose Wisconsin's lack of quarterback play in the fourth to pull out a hard-fought victory. Harbaugh continues to shine in our college football predictions.
Michigan: 21 Wisconsin: 17
No. 9 Texas A&M Aggies at South Carolina Gamecocks
Saturday at 4 p.m., Williams-Brice Stadium, Columbia, S.C.
Line: Texas A&M -18
The Texas A&M Aggies are back at it. For the third straight year, they have had a strong start to the season, and they're in the Top 10 keeping their fan base cautiously optimistic.
However, many believe this year might be different for a few reasons. For starters, they blew out the Arkansas Razorbacks this year as opposed to needing overtime to beat them. Also, they have a mobile quarterback in Trevor Knight to run Kevin Sumlin's system. And finally, the defense has bought into John Chavis his second year on the job. So as they travel to an unranked 2-2 SEC East team, the prospect of getting to 5-0 is very good.
Meanwhile, Will Muschamp is back at it again with the South Carolina Gamecocks as well. Just like his Florida days, he is all defense and no offense.
Whether it's Brandon McIlwain or Perry Orth at quarterback, South Carolina is garbage on offense. They do have a great defense, which is part of Muschamp's mantra, but the offense is so bad it can't even score against teams like Kentucky.
What Will Happen?
In this game, you're going to see an elite offense in the Aggies take the field against a good defense. Texas A&M will get the advantage there in Columbia, even if Will Muschamp manages to slow them down some.
Meanwhile, on the other side of the ball, you'll see a good defense in the Aggies against an atrocious offense. So once again, Texas A&M has the advantage.
Even on the road, this team will come away with a fairly easy victory to get to 5-0 as they get set for a huge showdown next week against the Vols. We have more love to give this team in our college football predictions.
Texas A&M: 31 South Carolina: 10
Kentucky Wildcats at No. 1 Alabama Crimson Tide
Saturday at 7 p.m., Bryant-Denny Stadium, Tuscaloosa, Ala.
Line: Alabama -35
After impressing everybody with a season-opening blowout over the USC Trojans and then finally getting over the hump against the Ole Miss Rebels, Nick Saban's Alabama Crimson Tide are coasting with their No. 1 ranking.
Of course, that could be dangerous. But as they continue to play easy teams at this point, that's not so much the case.
Alabama gets another chance for Jalen Hurts to pad his stats against an absolutely atrocious Kentucky Wildcats defense, as does the rest of the offense under Lane Kiffin.
Kentucky, meanwhile, has found a bit of a rhythm with Stephen Johnson at quarterback, so perhaps they could be a more dangerous team than we though. And maybe the wheels won't come off the Mark Stoops train.
However, this is not the game to play if you're in the process of putting the pieces back together.
What Will Happen?
Yeah, turn this one off early. It's a dull one for our college football predictions. Kiffin is going to let his offense run up the score on the Wildcats all day, with Hurts putting up four first-half touchdowns.
Alabama will be unstoppable. Their defense may allow one touchdown before Saban pulls his starters, but it doesn't matter. The offense will be what validates the Tide here.
At No. 1, Alabama moves to 5-0 just as they get set to begin their real SEC schedule. Expect a blowout win of epic proportions from this team.
Alabama: 52 Kentucky: 13
Memphis Tigers at No. 16 Ole Miss Rebels
Saturday at 7 p.m., Vaught-Hemingway Stadium, Oxford, Miss.
Line: Ole Miss -14.5
This is a late-night game that will be very intriguing to those in the South. And it's a lot tougher than you might think for our college football predictions. The Ole Miss Rebels will be looking to exact revenge on a Memphis Tigers team that beat them last year. With these two schools only an hour apart, this is a semi-rivalry in the Delta.
Hugh Freeze's Rebels got back on track last weekend against the Georgia Bulldogs with a dominant performance from Chad Kelly, who still looks like the best quarterback in the SEC, even in his losses. Meanwhile, the defense got back on track. However, the caveat is they were playing a pretty basic offense.
The Memphis Tigers, meanwhile, have not lost a step with Mike Norvel's arrival as head coach. Riley Ferguson was once an SEC quarterback for Butch Jones, and he looks every bit the part playing in the AAC. The offense is thriving under him, and the defense is pretty darn good too.
This is their first real test. But considering that Norvell took a lot of transfers and has a high-powered offense, this may be a more evenly matched game than you might think.
What Will Happen?
Expect a shootout.
Ole Miss's defense struggles against teams who open up the offense, and Memphis simply doesn't have the horses to stop Ole Miss's offense. As a result, this is going to be a thrilling Saturday night game from start to finish.
Lots of Tigers fans will make the hour-long trip to Oxford to see this game. This would be one where we would definitively say bet against Ole Miss in the spread, but because it will be a shootout, late touchdowns could change that.
Still, you won't want to take your eyes off this game until at least midway through the fourth quarter. Expect a Pac-12 style shootout in a major duel between Ferguson and Kelly. Ole Miss pulls away in the end but breathes a huge sigh of relief.
Ole Miss: 52 Memphis: 45
Missouri Tigers at LSU Tigers
Saturday at 7:30 p.m., Tiger Stadium, Baton Rouge, La.
Line: LSU -13
Well this is an interesting match-up for our college football predictions.
The LSU Tigers are the talk of the week after firing Les Miles four games into the season with a 2-2 record. They now have Ed Orgeron as their interim head coach, the same guy who succeeded Lane Kiffin as the interim head coach of the USC Trojans in 2013.
The good news is that Orgeron does have tons of talent, and his call to fire Cam Cameron may free up the offense. Quarterback play is still an issue with Danny Etling and Brandon Harris, and Leonard Fournette's health is still a major concern.
However, their defense is the real story and will be key to stopping a Missouri Tigers offense that knows how to rack up stats.
First-year head coach Barry Odom has watched his team in Missouri put up huge numbers against two easy teams and look decent against the Georgia Bulldogs with Drew Lock at quarterback. Lock's key to this game has to be not turning the ball over, which has been a problem for the Tigers all year.
What Will Happen?
Ed Orgeron has proven that he knows how to keep a team together after a controversial midseason firing, and he'll have the same responsibility to do that this year with the LSU Tigers.
This game will turn into a defensive struggle for two reasons. LSU won't be able to generate any offense because of all the drama surrounding that side of the ball.
However, they have a great defense that knows how to force turnovers, and Missouri's only issue on offense is turning the ball over too much. So the team from Louisiana will play safe and conservative and wait for Mizzou to make critical mistakes.
That combined with the home crowd will be the difference in an LSU win at Tiger Stadium.
LSU: 20 Missouri: 10
No. 3 Louisville Cardinals at No. 5 Clemson Tigers
Saturday at 8 p.m., Memorial Stadium (Clemson), Clemson, S.C.
Line: Louisville -2
It's the match-up we've been waiting to call for our college football predictions. Two Top 5 ACC teams with two elite offensive-minded head coaches and probably the two best quarterbacks in all of college football.
Dabo Swinney vs Bobby Petrino. Deshaun Watson vs Lamar Jackson. Clemson vs Louisville for ACC Atlantic supremacy.
The Clemson Tigers had a rough start to the season but appear to have found their rhythm over the past two games. Their defense has been solid throughout except for one game, and the offense is slowly coming together.
They were probably waiting for big games like this.
Meanwhile, Louisville has arrived under Petrino and might have the most high-powered offense in all of college football. While Watson entered this year as the star, Jackson has been the Heisman front-runner through four games this year.
So who gets the edge at quarterback? Well, you can bet the Florida State Seminoles will be watching this game hoping that the Tigers pull out a win. That puts them right back in the ACC race, despite how awful they looked against Louisville.
What Will Happen?
Louisville is the favorite in this game, and they have made sure to avoid any bad habits throughout the start of the season. However, Clemson has gotten away with a string of bad habits due to their weaker schedule.
Still, the Tigers do have two solid wins on the road against the Georgia Tech Yellow Jackets and the Auburn Tigers, so they have proven themselves already. Louisville is getting a huge boost because Florida State quit against them.
Clemson has more talent overall, though. Both offenses will look great on the field, but this game will come down to Louisville's defense. Clemson has the talent on defense, but the Cards have the experience.
And they have just enough experience to pull out a huge victory on the road and take full control of the Atlantic. But this is the biggest toss-up in our college football predictions.
Louisville: 38 Clemson: 35
No. 11 Tennessee Volunteers at No. 25 Georgia Bulldogs
Saturday at 3:30 p.m., Sanford Stadium, Athens, Ga.
Line: Tennessee -3.5
These are two programs with similar talent who are in completely opposite places right now.
The Georgia Bulldogs are coming off of an embarrassing loss to the Ole Miss Rebels after flirting with embarrassment earlier for two weeks. They are in a rebuilding process under Kirby Smart and have low morale as well with their key player Nick Chubb unable to get completely healthy.
Meanwhile, the Vols come into this game riding higher than they have been in over a decade after a huge program-defining victory over the Florida Gators last week to get the frustrating losing streak off their backs. At 4-0, a win on Saturday would put them in complete control of the SEC East.
However, the opposite ends of the spectrum for the programs make things very concerning….for Tennessee. The Vols are set to face a team on the road that is on their level of talent and desperate to rebound from an embarrassing loss. How does Tennessee get up for this game?
Smart as Georgia's coach is great for them going against the Vols, as he has consistently had Tennessee's number. His 3-4 schemes have confused Tennessee's offensive line in the past. He'll want to do that again while also developing the running game, regardless of whom is starting.
Tennessee, meanwhile, wants to get whatever it can on offense with Joshua Dobbs while turning its defensive line loose. The Vols are loaded up front while the Dawgs have struggled at the tackle spots.
Although the match-ups appear to favor the Volunteers, it could go either way.
This could be the classic case of two programs in opposite places just switching sides. And that makes it very tricky as we do our college football predictions.
What Will Happen?
The Vols will get off to a slow start once again, and Georgia will score a couple of early touchdowns thanks to a solid running game.
However, Tennessee's offense will get going soon enough, and by halftime they will have the lead.
In the second half, Jacob Eason will be forced to throw the ball, and he won't have any time. Derek Barnett and Corey Vereen will give him trouble all day and cause tons of problems. The Dawgs won't score a point in the second half as long as the game remains close.
And while Tennessee's offense will struggle with consistency, they'll do what it takes to win. Take the Vols in this game to cover the spread. We are betting on them to continue their momentum in our college football predictions.
Tennessee: 34 Georgia: 21
This article originally appeared on