All for Tennessee Official Week 11 SEC Power Rankings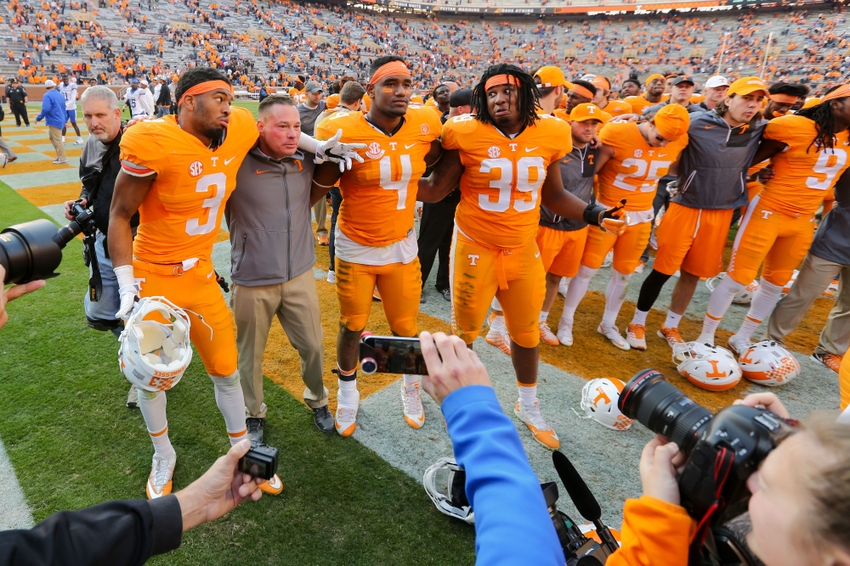 Numerous upsets turned the All for Tennessee SEC Power Rankings upside down. Find out where everybody stands after Week 11 of the college football season.
How fast college football changes! It took just one weekend to throw the entire national picture on its head after the No. 2, No. 3, and No. 4 ranked teams lost. Other upsets reached the Southeastern Conference and had a huge effect on our SEC Power Rankings.
Yes, the SEC is in a completely different situation than it was in just about two weeks ago. Outside of the bottom of the conference, circular logic is almost completely dead.
There is no way to rely on it anymore, so we almost solely have to rely on how teams are playing at that particular time.
After all, two Top 10 teams in the SEC lost to two unranked teams in the conference this past weekend.
Another involved two Top 25 teams ranked only one spot apart…and that game ended up being a blowout.
What can we trust anymore? Well, we can trust that football is not a complete science. With two weeks left in the regular season, the SEC West is now pretty much decided, while only two teams can win the SEC East. And that could be decided this Saturday at noon.
So while there's a lot of football to play, and while we have to reshuffle all the teams in the conference, the top has almost been decided.
Let's see where they all stand. Here are the All for Tennessee official SEC Power Rankings following Week 11 of the college football season.
14
Vanderbilt
Commodores
4-6 (1-5)
Last week:
Lost to the Missouri Tigers 26-17
Last rank:
13th
Well, the Vanderbilt Commodores weren't for real. We thought after beating the Georgia Bulldogs and playing the Auburn Tigers and Florida Gators close, they would have a legitimate chance to get to six wins and reach a bowl game in Derek Mason's third year.
Instead, they lost to who we thought was the worst team in the conference in the Missouri Tigers, and as such, they have now fallen to last place in our SEC Power Rankings.
This was supposed to be a defensive team, but it gave up over 400 total yards to a Missouri offense that has struggled all year. Meanwhile, Kyle Shurmur can move the ball but can't close the deal, and the Commodores don't seem to know that sticking with the running game is how they win.
So poor coaching is also a problem with this team. As a result, at 4-6, we don't foresee them having any chance of making it to a bowl game.
Their final two games are against the Ole Miss Rebels and the Tennessee Vols. There is no possible way they win both games, and it's more than likely that they lose both. So this team is done.
Mason's career likely is as well.
13
Missouri
Tigers
3-7 (1-5)
Last week:
Defeated the Vanderbilt Commodores 26-17
Last rank:
14th
Well, they're not bowl eligible, and this season is still a bust, but at least the Missouri Tigers can say they aren't the worst team in the SEC.
Okay, so that's not much to brag about. But neither is a win against the terribly coached Vanderbilt Commodores. We're not giving them a cookie for that. As a result, we moved them up only one spot in our SEC Power Rankings, above the team they beat.
But Barry Odom's still has a lot to be unhappy about in his first year. His defense allowed a terrible Vanderbilt offense to move the ball on him and only held them to 17 points due to turnovers.
The offense does deserve some credit, as Drew Lock came alive with 294 passing yards and two touchdowns to no interceptions while they also dominated on the ground. But Vanderbilt isn't very deep, so this is more likely fool's gold.
None of this means they'll be able to salvage their season. The Tigers have to travel to Knoxville to face the Vols this week, and next week they have the Arkansas Razorbacks. So they're still likely going to finish 3-9 on the year.
And no win over Vanderbilt can make that feel better.
12
South Carolina
Gamecocks
5-5 (3-5)
Last week:
Lost to the Florida Gators 20-7
Last rank:
7th
No the South Carolina Gamecocks are not good. No, they did not find themselves under Jake Bentley. And no, Will Muschamp still hasn't proven anything.
We found out this past Saturday that the previous two games were complete flukes. One of them was against one of the worst teams in the SEC. The other was against a Tennessee football team that embarrassingly forgot to show up to play.
After Saturday's loss to the Florida Gators, we've dropped this team right back down to the bottom of the conference. The offense woke up and began to look like a Muschamp offense once again.
Meanwhile, the defense, while getting stops and turnovers, was not able to keep a backup quarterback from moving the ball down the field. So this is still a bad team in the SEC East that belongs near the bottom of our SEC Power Rankings.
However, despite all of that, this team is still likely going to make it to a bowl game. That fluke win over the Vols saved them with the Western Carolina Catamounts up next on their schedule. Then, they have a real chance to put a cherry on top of Muschamp's first season and build momentum against the Clemson Tigers.
11
Mississippi State
Bulldogs
4-6 (2-4)
Last week:
Lost to the Alabama Crimson Tide 51-3
Last rank:
6th
So maybe the Mississippi State Bulldogs didn't deserve the jump we gave them last week. After all, the Texas A&M Aggies ended up losing the very next week.
And the Alabama Crimson Tide blew them out by an even larger margin than they usually blow out teams.
At 4-6, Dan Mullen's rebuilding team is still has a lot of work to do, but the calls for his firing are beyond idiotic. He's taken this program to heights it has never reached. The defense is young and does need shoring up.
And Nick Fitzgerald could use some work at quarterback. But he's only a sophomore with a great chance of developing. He has already shown a ton of promise and will only get better over the next few years.
So while they are near the bottom of our SEC Power Rankings right now, the Bulldogs still have a chance to rebound in the future.
Unfortunately, this year is likely a loss. Mississippi State's final two teams are against the Arkansas Razorbacks and Ole Miss Rebels. It's going to be extremely difficult for them to win both games, maybe even one game. Finishing with a losing record is their likely outcome.
10
Kentucky
Wildcats
5-5 (4-4)
Last week:
Lost to the Tennessee Volunteers 49-36
Last rank:
12th
Well, they did lose to the Vols, but the Kentucky Wildcats actually earned the right to move up in the process. For starters, they never quit in their loss.
Mark Stoops's team gained over 600 yards of total offense and over 400 yards on the ground alone. Meanwhile, they took an early lead on the Vols and kept it close through the third quarter. It was just the period between the midway point of the third and the midway point of the fourth where they fell apart.
Stephen Johnson is still an elite and mobile quarterback to run this offense, and the unit has a slew of running backs. That makes for a high-powered scoring machine.
Unfortunately, the defense needs work. But let's still not discount how Stoops revitalized this team midway through the year.
At 5-5, they are in the best position they have been in since he took over to finally reach a bowl game. That's because this week, they get to face Austin Peay at home. That'll get the bowl eligible monkey off their back.
Then they close out the regular season with a chance for a huge win against the Louisville Cardinals. Sure, it's a long shot. But these Wildcats have a different mentality. That mentality moved them up in our SEC Power Rankings.
9
Tennessee
Volunteers
7-3 (3-3)
Last week:
Defeated the Kentucky Wildcats 49-36
Last rank:
9th
So they could be getting better, but the Tennessee Vols still haven't done enough to overcome their loss to the South Carolina Gamecocks simply by blowing out Tennessee Tech and getting just a solid victory over the Kentucky Wildcats.
Okay, they did dominate the Wildcats way more than the score showed. And they do have a ton of playmakers on offense. Joshua Dobbs is continuing to put up huge numbers, Alvin Kamara was a welcome return, the offensive line is coming together, and John Kelly, Josh Malone, Jauan Jennings, and Ethan Wolf are all huge playmakers.
But the defense, even while getting healthy and making tons of plays up front, continues to be a huge problem. The Vols gave up over 600 yards to the Wildcats on Saturday and far too many big plays, something they've had a problem with all season.
Fortunately, the Vols are still in SEC East contention. But they have to win their final two games, against the Missouri Tigers and Vanderbilt Commodores. That's still entirely plausible.
With all of this, you could say Tennessee deserved to move up in our SEC Power Rankings after winning. However, there was another team that won. That team moved back ahead of the Vols and knocked the team they beat below the Vols.
It's also the team that they need to lose again in order to win the East, and we go to them next.
8
Florida
Gators
7-2 (5-2)
Last week:
Defeated the Florida Gators 20-7
Last rank:
10th
No, the Florida Gators are not done yet. After a devastating loss to the Arkansas Razorbacks two Saturdays ago followed by the news that their starting quarterback was injured, they were in trouble last weekend getting ready to face a resurgent South Carolina Gamecocks team.
The momentum from that resurgence, however, was stopped immediately.
Florida got consistent and mostly efficient quarterback play from Austin Appleby with the exception of a couple of bad mistakes, and they also got dominant play from their defense. The defense completely stopped the momentum of Jake Bentley, who had sparked new life into the Gamecocks.
Now, at 7-2 and 5-2 in the SEC, Appleby has a chance to clinch the SEC East for the Gators this weekend.
It all comes down to a road game against the LSU Tigers. They've consistently held on the past few weeks, and this tough game is their final test. If they win, they're in. If they lose, they're likely out.
Can their defense come through again? Will the offense make just enough plays. It all comes down to that.
And regardless, they then have one final game to play against the Florida State Seminoles. So this team has no easy road the next two weeks at least.
7
Arkansas
Razorbacks
6-4 (2-4)
Last week:
Lost to the LSU Tigers 38-10
Last rank:
5th
Which Arkansas Razorbacks team shows up to play each week? Is it the one that lost 56-3 to the Auburn Tigers and 38-10 to the LSU Tigers? Or is it the one that dominated the Florida Gators? Or is there just that much of a difference between the SEC West and SEC East?
This is the most inconsistent team in the SEC, and as a result, they had to drop two spots in our SEC Power Rankings, even if their loss was to a tougher opponent.
The good news is that the solid parts of the team are no flukes. Austin Allen remains a playmaker at quarterback who can move the ball. The offensive line is massive. Raleigh Williams III truly is a good running back and showed on Saturday that he is also great at pass-catching and making plays in open space.
And the defense for the most part is physical and solid, even if it has breakdowns in stopping the run every other week.
With all of that, Bret Bielema still has the Razorbacks in much better shape than he has had them in the past few years.
But due to how loaded the SEC West is, he could still have time improving on last year. The good thing is that he should, even if it's not a given. After all, their final two games are against the Mississippi State Bulldogs and the Missouri Tigers.
The problem is that both are on the road, so without being careful, this team could slip up.
6
Georgia
Bulldogs
6-4 (4-4)
Last week:
Defeated the Auburn Tigers 13-7
Last rank:
11th
Just when you thought the Georgia Bulldogs were done and Kirby Smart was a waste of a hire, they got their signature win on the year. Actually, it was their second signature win if you consider what they did to the North Carolina Tar Heels to open the season.
Add in the fact that they almost beat the Tennessee Vols, and this team is showing a great future. The win was enough to give them a huge jump in our SEC Power Rankings, and taking their entire body of work into account, they deserved it.
We can even look past their loss to the Vanderbilt Commodores now. That's something to expect from a young team with a first-year head coach. But they are now coming together.
Jacob Eason continues to be consistent enough while Nick Chubb and Sony Michel make huge plays in the backfield, and while Isaiah McKenzie is great, Riley Ridley is coming along. That's a great group of playmakers.
Meanwhile, the defense is really stepping its game up. They held an elite offense with a genius coach under 170 yards on the day last week. Smart's schemes are finally starting to take shape.
Georgia won a huge one for the SEC East, and it has completely reshaped their season. They finish the SEC 4-4, and with Louisiana Lafayette this week they're likely to get to seven wins. Then they have the Georgia Tech Yellow Jackets to close the season.
Getting to 8-4 is great for this program in its first year considering the recruiting and its future. Right now, with everything coming together, they look like an elite team.
5
Texas A&M
Aggies
7-3 (4-3)
Last week:
Lost to the Ole Miss Rebels 29-28
Last rank:
4th
Once again, the Texas A&M Aggies lose to the Alabama Crimson Tide, and everything comes crashing down for the football program. This time, they suffered back to back heartbreaking losses to those schools from Mississippi, and given their personnel, there's no telling how much trouble they're in.
With Trevor Knight done for the regular season, it's hard to know how good they can be going forward. Jake Hubenak has been decent, but he's no Trevor Knight. Not by a long shot.
Meanwhile, Trayveon Williams has lost his step in the running game without Knight bringing that extra threat. So the team has troubles on offense altogether.
On defense, John Chavis's unit is starting to get exposed. They have looked bad in each of their last three SEC games, this time against a quarterback seeing his first bit of action ever in college football.
The Aggies are still a very good team and don't deserve to drop too much in our SEC Power Rankings just yet, mainly because of what we're about to say on the team that beat them. They also get a break this week with Texas San Antonio at home, and then they close out the season with the LSU Tigers.
So there are still chances to make this a great finish.
4
Auburn
Tigers
7-3 (5-2)
Last week:
Lost to the Georgia Bulldogs 13-7
Last rank:
2nd
Yes, the Auburn Tigers woke up to reality. It was the classic case of 'everybody says.' They were on such a role that analysts began to hype up another Iron Bowl Showdown along with their chances of reaching the College Football Playoff.
And in the process, they lost to their other arch-rival, a team that was a heck of a lot better than it had looked throughout the previous weeks.
Ever since Gus Malzahn revamped his offense and focused on efficient play from Sean White, dominant rushing, and dominant defense, his group looked incredible. But the Vanderbilt Commodores' 3-4 defense spotted cracks in it last week.
Georgia shattered them.
Auburn looked useless on offense this past week, even if the defense remained dominant. The reason they didn't drop too much, though, in our SEC Power Rankings, is because they actually lost on the road to a good team. And it was only due to a pick-six.
This team can't play for anything now, but it can still have a strong finish. Alabama A&M this week should guarantee they go at least 8-4. And don't count out what they could do in the Iron Bowl. Anything happens in that game.
3
Ole Miss
Rebels
5-5 (2-4)
Last week:
Defeated the Texas A&M Aggies 29-28
Last rank:
8th
Is this an overreaction for a 5-5 team that is 2-4 in the SEC? Perhaps. But we only moved the Ole Miss Rebels up five spots in our SEC Power Rankings. They were No. 8 with a losing record last week.
And given their tough schedule and who they just beat, they have earned the right to make that jump. Remember, power rankings are based on how you're playing at the time.
The Rebels have a new quarterback in Shea Patterson. A true freshman who was supposed to redshirt this year before Chad Kelly got hurt, Patterson stepped in and immediately lived up to his huge recruiting hype from earlier in the year.
He threw for 338 yards and two touchdowns and led the Rebels to a huge upset win over the Texas A&M Aggies, one of the best teams in the conference.
Because Patterson is their guy, we are saying that he has them playing like the third best team in the SEC. And that's why we have him here. Now, a bowl game seems much easier to get to.
Hugh Freeze's team closes out the year against the Vanderbilt Commodores and Mississippi State Bulldogs. That makes 7-5 a very strong possibility, and given the schedule and heartbreak they've faced, that sets the stage for some huge years ahead with Patterson. What a start to his college career!
2
LSU
Tigers
6-3 (4-2)
Last week:
Defeated the Arkansas Razorbacks 38-10
Last rank:
3rd
The LSU Tigers did not deserve to fall too much just because of a 10-0 loss to the Alabama Crimson Tide last week. So we didn't.
And now, after the Auburn Tigers lost, they have earned the right to move up to the No. 2 spot in our SEC Power Rankings. With a 6-3 record, which is 4-2 in the SEC, the Tigers have been looking great ever since Ed Orgeron took over as head coach of the program.
Danny Etling is still a competent quarterback, even if he can't manage dominant defenses, and Leonard Fournette is still dominant in the rushing game. Meanwhile, you can't ask for much more from the defense.
Besides Fournette, though, Derrius Guice is also a star with the Tigers now, as he broke out for over 250 yards on the ground last week.
All of this has led to a very good LSU team that is finding itself with Les Miles gone, and Orgeron still has a great chance to take the reigns full-time as head coach of the program.
They have two final chances to prove themselves under the new regime with huge games. It starts this week as they host a Florida Gators team trying to win the SEC, and next week they have to travel to College Station to face the Texas A&M Aggies to close out the season.
If they win both, Orgeron has made a lasting impression, and that's a great finish to the season.
1
Alabama
Crimson Tide
10-0 (7-0)
Last week:
Defeated the Mississippi State Bulldogs 51-3
Last rank:
1st
Yeah, the SEC this year has gotten kind of boring thanks to this team. After a round robin earlier in the year that involved the Texas A&M Aggies and Tennessee Vols, the Alabama Crimson Tide established themselves as clearly the most dominant team in the conference.
Now, as the only Power Five undefeated team left, they are far and away the best team in the country. And as a result, Nick Saban's team is rightfully far and away No. 1 in our SEC Power Rankings once again.
This is a ranking they've held since the start of the season, and their grip on the conference has only tightened.
At 10-0 and No. 1 in the country, Alabama has a dominant quarterback in Jalen Hurts, who as a freshman is looking better than anybody in the conference running Lane Kiffin's offense. They still have a dominant rushing attack, a dominant offensive line, and a suffocating defense that didn't miss a beat with Kirby Smart's departure.
The only slight bit of struggle they've had this year was one bad quarter against the Ole Miss Rebels and a tough defensive game against the LSU Tigers.
But they've dominated everybody else, and now they've already clinched the SEC West with everybody else beating up on each other.
Now the Tide get to relax and host Chattanooga this weekend, and assuming the extremely obvious that they win, they could even rest their starters against the Auburn Tigers since they're guaranteed every level of postseason play no matter what. Obviously, they won't do that. But they certainly could.
Simply put, as exciting as the college football season was, it looks so anti-climactic now with Alabama rolling over everybody. They remain far and away the best team in the country, and as such they belong at No. 1 in our SEC Power Rankings.
More from All for Tennessee
This article originally appeared on