All for Tennessee Official Week 10 SEC Power Rankings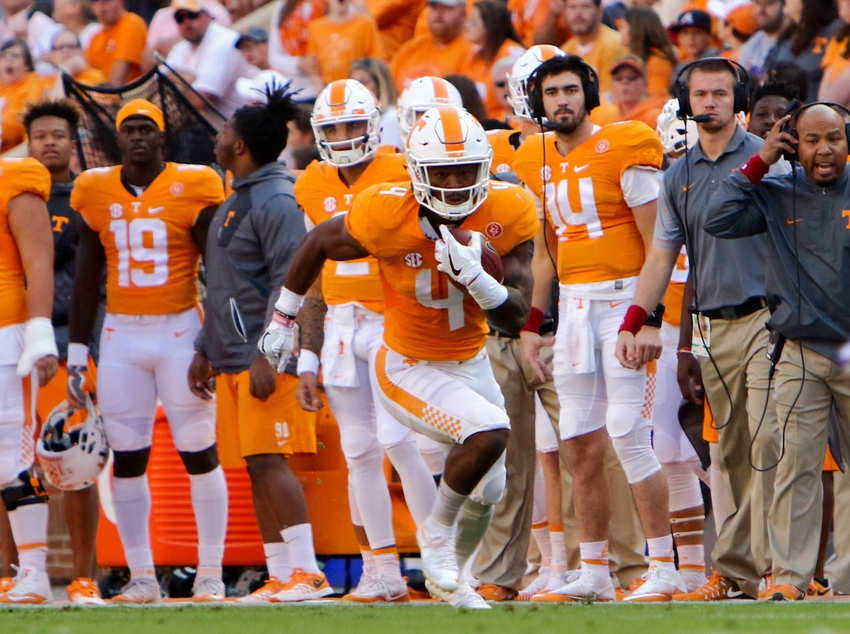 See where the Vols are in the official All for Tennessee SEC Power Rankings following Week 10 of the 2016 college football season.
Talk about another crazy week of football. The Florida Gators losing reopened the entire race for the conference title, and the Texas A&M Aggies threw another wrench in the process with a bad loss. It all had a huge impact in our SEC Power Rankings.
With three weeks left to go in the 2016 college football regular season, there is still a ton of SEC play to focus on. Right now, neither team has locked up its respective division, and anything could happen between now and December.
Could there be a shocker in who plays for the SEC Championship? Don't count that out just yet.
As we get back to bringing you our SEC Power Rankings, it's getting to the point to where we don't have to dramatically change them on a week to week basis.
There's enough of a body of work for many of these teams to avoid that. However, power rankings are still based on how you are playing at that moment.
So we will still weigh the more recent weeks more heavily.
And we focus more on who teams face than how they look, but both are important. With the November stretch of football in full swing, it's time to take a look at where everybody int he conference stands.
Here are the All for Tennessee SEC Power Rankings following Week 10 of the college football season.
14
Missouri
Tigers
2-7 (0-5)
Last week:
Lost to the South Carolina Gamecocks 31-21
Last rank:
14th
This is a program in complete disarray. We thought that Drew Lock's arrival as a quarterback combined with Barry Odom continuing the elite defense that Gary Danielson had installed would be enough for the Missouri Tigers to field a decent team this year.
But the dumpster fire of a football program has become a complete explosion, and they are in serious trouble. The Tigers were knocked out of bowl eligibility with their loss to the South Carolina Gamecocks this past Saturday, and now they are just playing for pride.
This team has been bad in every way. They've lost games due to terrible defense, they have lost due to terrible offense, and they have lost because of too many mistakes. They've lost to good teams, mediocre teams, and terrible teams.
And they have earned their spot at the bottom of our SEC Power Rankings.
In reality, the luck is just running out on this program. In their 2014 SEC East championships, they squeaked out four one-score wins in which the other team consistently made mistakes. The last two years, that's come back to bite them.
Odom still deserves a chance to turn things around, but this season is a loss.
13
Vanderbilt
Commodores
4-5 (1-4)
Last week:
Lost to the Auburn Tigers 23-16
Last rank:
11th
The Vanderbilt Commodores could be a bowl team if they had a coaching staff that spent any time focusing on offense. Derek Mason's team looked very solid after two straight wins, and they fought their guts out against the Auburn Tigers.
But despite that nice run, they still dropped to No. 13 in our SEC Power Rankings with the loss. That's because their offense is flat-out terrible and has not gotten any better. The defense did enough for them to win the game on Saturday.
The offense remains pathetic, though. Ralph Webb is solid, but Kyle Shurmur is completely useless. And Mason provides no spark or creativity.
So with one lucky conference win, they have not done enough to be anywhere above second to worst in our SEC Power Rankings. Sure, a game against the Missouri Tigers could put this team one win away from bowl eligibility.
And then they have a chance to pull off one upset with two home games against the Ole Miss Rebels and Missouri Tigers. But until they make that push, we're doing nothing to keep them out of this second to worst spot in the conference. As a result, they remain one of the bottom teams on this list.
12
Kentucky
Wildcats
5-4 (3-4)
Last week:
Lost to the Georgia Bulldogs 27-24
Last rank:
10th
Even with the drop in this week's SEC Power Rankings, Kentucky Wildcats fans are likely not too unhappy. Mark Stoops's team has been on a roll and has a lot to be proud of after taking the Georgia Bulldogs down to the wire over the weekend.
Sure, they were ahead of Georgia last week in those rankings. But we weren't sure how legitimate that was. Being able to go toe-to-toe with them shows that this team truly has improved.
The newfound momentum with Stephen Johnson at quarterback has continued, as they are now 5-2 ever since he has taken the reigns as a starting quarterback. The defense has shown much more improvement, and the offense has put up numbers on everybody…except the Alabama Crimson Tide.
But there's no shame in that.
Now, with three games left, the Wildcats have one final conference game to go this week against the Tennessee Vols. Make no mistake, this is a winnable game. And if they magically pull it off, they actually have a chance to win the East. Regardless, the next week they play host to Austin Peay, which should guarantee them bowl eligibility.
And doing that, they'll be riding high with house money and a chance to upset the Louisville Cardinals the final game of the year.
11
Georgia
Bulldogs
5-4 (3-4)
Last week:
Defeated the Kentucky Wildcats 27-24
Last rank:
12th
The Georgia Bulldogs were able to get back on track with a nice road win against the Kentucky Wildcats. But that's not enough to move them that far up our SEC Power Rankings.
They just did enough to move ahead of the team they beat since it was a road win.
Still, this team is wildly inconsistent. Jacob Eason may be a freshman phenom, but he has a ton of work to do to get more consistent. Torching a suspect Kentucky defense is not much to boast about. The good news, however, is that Sony Michel and Nick Chubb are both looking good as by-committee running backs.
At the same time, the defense looks solid. It did its part on Saturday to win the game. The turnovers are still an issue, though. Kirby Smart has not completely brought Nick Saban's discipline to Athens.
Fortunately, this team has a great chance for a strong finish in a rebuilding year. They host their arch-rival Auburn Tigers this weekend, then they close the season out against Louisiana Lafayette and Georgia Tech. Getting to 7-5 is likely for this team, but 6-6 or 8-4 are both real possibilities.
How they finish the season will set the tone for the future of the program.
10
Florida
Gators
6-2 (4-2)
Last week:
Lost to the Arkansas Razorbacks 31-10
Last rank:
5th
At 6-2, people might have some serious questions as to why we have the Florida Gators all the way down at No. 10 in our SEC Power Rankings. After all, they're first in the East aren't they?
Well, yes they are, but they have had the weakest schedule of anybody to date. Florida has played two decent teams this year, the Tennessee Vols and Arkansas Razorbacks this past Saturday. And both teams trounced them.
All four of their conference wins are against the teams ranked below them in these power rankings. Their other two wins are against the 4-5 North Texas Mean Green and the 2-8 UMASS Minutemen. Jim McElwain is coaching far and away the worst 6-2 team in college football right now.
The Gators' offense got exposed this past weekend once again when they got blown out against the Arkansas Razorbacks, as Luke Del Rio only got them past midfield once. The defense also collapsed. They've done that against he only two decent teams they've faced.
Now, Austin Appleby is back in for an injured Del Rio. And the Gators have to face a resurgent South Carolina Gamecocks program along with the LSU Tigers. Oh, and the Florida State Seminoles are still on the slate.
So this team has a heck of a lot to prove.
9
Tennessee
Volunteers
6-3 (2-3)
Last week:
Defeated the Tennessee Tech Golden Eagles 55-0
Last rank:
9th
Sorry Tennessee football fans. You don't get to move up in SEC Power Rankings just because you blew out an FCS school that had no business sharing the field with you in the first place.
At the end of the day, Butch Jones's team is still nursing a three-game losing streak against FBS teams, and all of them were SEC games. That loss to the South Carolina Gamecocks two weeks ago still resonates.
Getting Jalen Hurd out of the locker room may be a big help for the football program, and the return to health for guys like Alvin Kamara and Cameron Sutton spell good news down the stretch for the Vols. Joshua Dobbs is still great leader as well.
And Florida's loss last Saturday keeps this team in competition for the SEC East. But they still need a ton of things to happen for them.
And given the way they have played, this weekend's game against the Kentucky Wildcats is no guarantee. Neither is the final game of the year on the road against the Vanderbilt Commodores.
At least they have the Missouri Tigers at home in between those two games. But while the Vols have new life after Florida's loss last weekend, they still need another Gators loss and have to win out.
Neither are guarantees. So don't bet on this team just yet.
8
Ole Miss
Rebels
4-5 (1-4)
Last week:
Defeated the Georgia Southern Eagles 37-27
Last rank:
8th
Throughout the year, we have given the Ole Miss Rebels a ton of credit for playing such a brutal schedule. As a result, we consistently kept them high up in our SEC Power Rankings. That was until last week.
After falling to 3-5, we determined that the Rebels actually have to win some of these tough games to garner any consideration as a decent team. They didn't. Now, after a 37-27 win over Georgia Southern, they have done absolutely nothing to prove to us that they deserve to move up.
Sure, their 4-5 record is more impressive than the six wins of the Tennessee Vols or Florida Gators. But it's not more impressive than other teams in the SEC West. Hugh Freeze's team has struggled significantly on defense this year.
And with Chad Kelly's college career over, this team could take a major step back on offense as well now.
Unfortunately, getting to six wins is not guarantee for them. They still have to face the Texas A&M Aggies and Vanderbilt Commodores on the road. One is a likely loss, and the other is an extremely possible loss.
Then they have to host a resurgent Mississippi State Bulldogs team to close out the year. The wheels are very close to coming off of this program.
7
South Carolina
Gamecocks
5-4 (3-4)
Last week:
Defeated the Missouri Tigers 31-21
Last rank:
7th
Talk about a resurgent football team! The South Carolina Gamecocks and Will Muschamp were dead in the water just three weeks ago. But with Jake Bentley inserted into the starting lineup, they were able to make a huge jump in the SEC Power Rankings after shocking the Tennessee Vols.
This past weekend, they got an ugly win against the Missouri Tigers. But it still moved them to 5-4, one win away from bowl eligibility.
So they did nothing to drop in our SEC Power Rankings. Bentley looks like the real deal as a quarterback for them, while the defense continues to look like a Muschamp defense. If this team can just avoid offensive mistakes, they can easily go on a run to close out the year.
And fortunately for them, a game against the Western Carolina Catamounts in two weeks should guarantee a 6-6 record at a minimum for this team. But they have two other games to define the season.
Muschamp has a chance at revenge against his former team, the Florida Gators, on Saturday. And then they close out the year against the hated Clemson Tigers on the road in three weeks.
With that slate, a 6-6 record is all but assured, a 7-5 record is very possible, and an 8-4 season in a rebuilding year is still out there. But speaking of resurgences…
6
Mississippi State
Bulldogs
4-5 (2-3)
Last week:
Defeated the Texas A&M Aggies 35-28
Last rank:
13th
Maybe this was too much of a jump for Dan Mullen's team. After all, the Mississippi State Bulldogs were next to last in our SEC Power Rankings last week, and we are overhyping one win against a team that lost its quarterback.
However, the Bulldogs were dominating the Texas A&M Aggies before Trevor Knight went down with an injury. And that which we sensed to be possible about this football team finally came to fruition.
We've said all year that the Bulldogs were rebuilding and just needed time to figure things out. Now, with a huge win over the Aggies, they are 4-5. Nick Fitzgerald channeled Dak Prescott to run Mullen's offense, and he is getting better by the week.
So is the defense.
Unfortunately, while the are playing like the sixth best team in the conference right now, it might be too little to late. The Bulldogs still have to face the Arkansas Razorbacks and Ole Miss Rebels. And this week, they have the Alabama Crimson Tide.
Somehow, they have to win two of those three to get to 6-6. That seems almost impossible. But hey, if they look like they did last week, maybe it isn't. Speaking of one of those opponents…
5
Arkansas
Razorbacks
6-3 (2-3)
Last week:
Defeated the Florida Gators 31-10
Last rank:
6th
Talk about using the bye week effectively! Bret Bielema's Arkansas Razorbacks looked like they had woken up to reality after getting blown out by the Auburn Tigers 56-3 two weeks ago. Then they went right to the week off.
And coming out of the gate, they trounced a Florida Gators team under the delusion that it could compete to get into the College Football Playoff.
Bielema's defense did a complete 180 and looked dominant all day. They allowed the Gators past midfield twice and had a pick-six early to set the tone. If the unit can play like that the rest of the year, they won't lose another game.
Meanwhile, Austin Allen continues to keep the offense balanced, as he is capable of getting near that 250 mark in passing yards if teams force him to. But Raleigh Williams III and Devwah Whaley running behind that massive offensive line is the bread and butter for the team.
They executed that masterfully on Saturday. Now, we will see it put to the test against more SEC West opponents.
The Hogs still have to face the LSU Tigers, Mississippi State Bulldogs, and Missouri Tigers. All three games are winnable. But with Mississippi State and Mizzou on the road, they could drop the ball on all of them too.
4
Texas A&M
Aggies
7-2 (4-2)
Last week:
Lost to the Mississippi State Bulldogs 35-28
Last rank:
2nd
The Texas A&M Aggies just got caught napping last week against the Mississippi State Bulldogs. If they had more time, we are convinced that they would have come back to win that game.
However, they still lost the game, and that was enough for us to drop them from No. 2 to No. 4 in our SEC Power Rankings. We still believe that they are among the top tier teams of the SEC, which is why we kept them at No. 4.
However, with Trevor Knight now done for the season, there is a very strong chance that they could drop far below this before it's all said and done. Trayveon Williams is going to have to remain the superstar in Kevin Sumlin's offense now.
Meanwhile, the defense has found itself under John Chavis, and they'll have to step it up even more so the rest of the way. They came up drastically short over the weekend against the Bulldogs.
That unit has to fix its issues as quickly as possible.
Coming up next, the Aggies have to face the Ole Miss Rebels. Sure, it's at home, but it's a possible loss that could ruin the year. Texas San Antonio the next week should at least get the team to eight wins.
And they should guarantee themselves nine with a win this Saturday. Provided they can do those things, they then close out the year with a huge game against the next team on this list.
3
LSU
Tigers
5-3 (3-2)
Last week:
Lost to the Alabama Crimson Tide 10-0
Last rank:
4th
Honestly, the LSU Tigers may have prove more in their 10-0 loss to the Alabama Crimson Tide than they have on any win they've enjoyed since Ed Orgeron took over as head coach.
Orgeron showed that the defense is still elite, and it kept Lane Kiffin's high-powered offense in check in Baton Rouge. Sure, they failed to score a point. But what could you expect with Danny Etling as your quarterback going up against Alabama's high-powered defense?
LSU has had no offense all year. Etling has just done what he could. This isn't Orgeron's fault. They have nothing installed right now and are just trying to get through the year.
Even if you have Leonard Fournette, that is hard to overcome. The defense is still elite, and we should use these final three games as the real test on Orgeron before making a decision.
The Arkansas Razorbacks, Florida Gators, and Texas A&M Aggies are all winnable games. They are also all potential losses for this team. So 8-3 or 5-6 are all within the realm of possibility right now.
Until they lose one, though, we have no reason to knock them down in our SEC Power Rankings because of a loss to Alabama. And a Texas A&M loss to Mississippi State is worse, so that's why we were actually able to bump this team up one spot.
2
Auburn
Tigers
7-2 (5-1)
Last week:
Defeated the Vanderbilt Commodores 23-16
Last rank:
3rd
Gus Malzhan went from being on the hot seat to having maybe the hottest team in college football. The Auburn Tigers' only two losses right now are to the Clemson Tigers and the Texas A&M Aggies. No shame there.
And with the Aggies losing this past weekend, the Tigers are in complete control of their own destiny to win the SEC East. Who could have seen that coming just a mere three weeks ago?
We can tell Auburn is back to being Auburn because they were very unhappy with their performance on Saturday in a 23-16 win over the Vanderbilt Commodores. Struggling to beat a team at the bottom of the conference looks bad.
But Vanderbilt can be dangerous because of its defense, and given the way this team has played the rest of the year, we can't hold that one close game against them.
Malzahn's transition to rely on his elite defense to make plays and then turn to a high-powered rushing attack has paid off. Sean White remains incredibly efficient, and the two-headed monster of Karmryn Pettway and Kerryon Johnson is a major force to reckon with.
Unfortunately, Pettway is banged up, so things could get really interesting down the stretch for the Tigers. We are setting ourselves up for another epic Iron Bowl showdown between the Tigers and the Alabama Crimson Tide. They just have to get past the Georgia Bulldogs on the road this weekend.
Alabama A&M next weekend is a sure win. So Georgia will define whether or not we have another epic Iron Bowl.
1
Alabama
Crimson Tide
9-0 (6-0)
Last week:
Defeated the LSU Tigers 10-0
Last rank:
1st
Yep, we're keeping this here. Nick Saban's Alabama Crimson Tide are consistently the team where other teams see their dream season die.
That happened to the USC Trojans to open the season. Then they stopped the excitement that the Arkansas Razorbacks, Tennessee Vols, and Texas A&M Aggies were all feeling about their programs.
This past weekend, they ended the dream run of the LSU Tigers under Ed Orgeron. So they remain the top team in our SEC Power Rankings, and with everybody else suffering at least two losses, it's not even close.
Jalen Hurts is still an elite quarterback running Lane Kiffin's elite offense. But when you make him look like a freshman, as the LSU Tigers did this past weekend, he still finds the way to make THE play for the Tide.
Meanwhile, the Alabama defense is so loaded that it has no trouble shutting anybody down. This is the most boringly dominant team in all of college football right now.
But the brutal schedule has not ended yet. The Tide still have to face the Mississippi State Bulldogs and Auburn Tigers. The Chattanooga Mocs in between those two are just a breather.
However, all three games are at home, so the brutality of their schedule is behind them. As a result, it's hard to see them falling from the top spot of our SEC Power Rankings.
More from All for Tennessee
This article originally appeared on