All for Tennessee Official SEC Power Rankings Following Week 12 of the College Football Season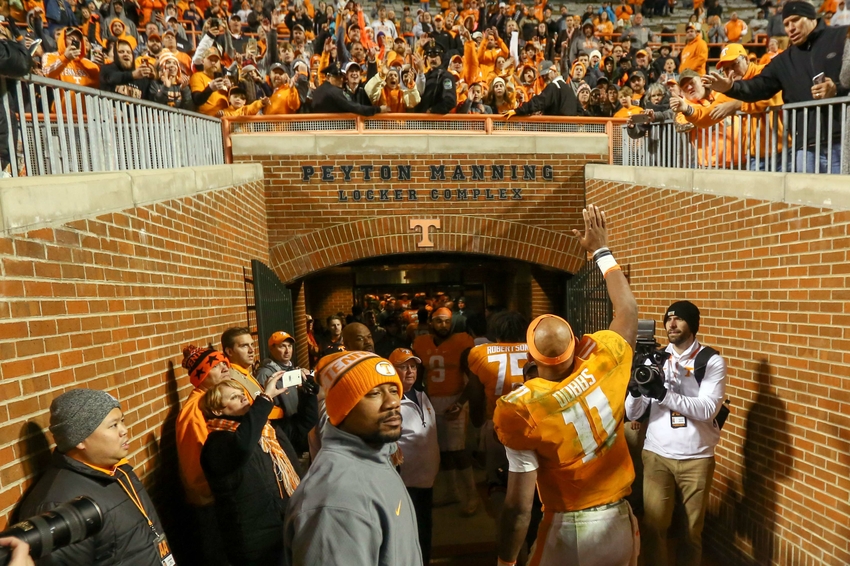 Tennessee football rose, and the LSU Tigers dropped in the All for Tennessee official SEC Power Rankings following Week 12 of the college football season.
Even in a week filled with Southeastern Conference teams playing weak opponents, there were two upsets that to still massively shake up the SEC Power Rankings.
It's like one of those happens every week now.
This time, the upset determined which two teams would play for the SEC Championship. Yes, that is already determined with a week of college football left to play.
As we get set to bring you our SEC Power Rankings following Week 12 of the college football season, it's safe to say Vols fans are feeling sick about the whole thing.
But if it's any consolation, they did take a jump in our rankings. It's just that the team they were rooting against also took a jump.
They also realized that the team they're about to play may be a lot better than they thought.
Once again, power rankings are based on how teams are playing at that particular time. They also factor in record, head-to-head, and other scenarios. But how a team played in a specific week is how we put together our power rankings.
And right now, there are two teams in the clear-cut top two of the conference with that metric. Those two teams are also in College Football Playoff contention.
Meanwhile, there are 10 teams overall already bowl eligible in the conference with two more teams hoping to get there after this weekend.
Here are the official All for Tennessee SEC Power Rankings following Week 12 of the college football season.
It was just a week after the Missouri Tigers thought they had gained some momentum with an impressive win over the Vanderbilt Commodores move out of the bottom of our SEC Power Rankings.
But giving up 63 points to the Tennessee Vols put them right back here.
Barry Odom's team carried the fight to a Tennessee football program for two and a half quarters and the Vols struggled to gather themselves after the news that they wouldn't win the SEC East.
However, even with that distraction, Missouri could never take control. And eventually, Tennessee just broke it open, exposing Missouri for how weak its interior defense is.
Sure, the offense can be proud with Drew Lock throwing for 320 yards and putting up over 700 yards overall. But they were playing a banged up Tennessee football team that was just trying to run out the clock in the end under Bob Shoop.
So it's not much to be proud of.
Now, at 3-8, Missouri has one final chance in a pride game against the Arkansas Razorbacks. We expected this program to be rebuilding this year, but they could at least salvage what has become a bad season.
For right now, though, they are clearly the worst team in the conference.
The Mississippi State Bulldogs are coming together on offense behind Nick Fitzgerald and putting up tons of points, and Dan Mullen's team has a bright future as a result.
However, this year, they are simply not good enough to move out of the bottom part of our SEC Power Rankings. The defense is still flat-out atrocious, as it has been all year, and the team is simply too inconsistent.
Mississippi State joins the Missouri Tigers as the only two SEC teams who head into this weekend with no chance of reaching a bowl game.
Both teams were also going through a rebuilding season this year, so this was to be expected. We have to overlook that win the Bulldogs had against the Texas A&M Aggies now since the Aggies are reeling and don't have a quarterback.
Their only other SEC win was against the South Carolina Gamecocks. That's not too impressive.
With nothing to play for, Mississippi State's entire season is going to come down to the Egg Bowl this week. They can't reach a bowl game, but they now have a chance to play spoiler against their hated rival.
So there is clearly no reason to give up on the season just yet.
That rival is next on our list.
Talk about an over-reaction on our end! We thought the Ole Miss Rebels had found something in Shae Patterson at quarterback after beating the Texas A&M Aggies, and as a result, we moved them up to No. 3 in our SEC Power Rankings.
After this past weekend, we have realized that the win was a total fluke, a combination of the Aggies reeling and the Rebels playing out of their minds.
The next week, they gave up 38 points to one of the worst offenses in SEC history in the Vanderbilt Commodores, further proving that Hugh Freeze's team may be quitting on him.
After all, Ole Miss was mostly in every game it lost this year. But they didn't even put up a fight against a team we considered to clearly be the worst in the SEC. What's that about?
Now, at 5-6, the Rebels are in trouble. They are clearly reeling on their own, and they have to get past their arch-rival, the Mississippi State Bulldogs, to reach bowl eligibility.
With nothing left to play for, don't think that Mississippi State won't go all-out and try to play spoiler against the Rebels.
While this season is disappointing for Ole Miss, they do not want to fall to 5-7. A little bit of pride could help this weekend, as it certainly didn't show last weekend.
Hooray! The South Carolina Gamecocks are bowl eligible in Will Muschamp's first year! Of course, it's all thanks to a weak SEC East schedule and a lucky win over the Tennessee Vols.
But 6-5 is 6-5.
South Carolina probably shouldn't have moved up this week in our SEC Power Rankings with the win, however, since they looked hideous trying to put away an FCS team in the Western Carolina Catamounts.
Other teams losing forced us to move them up, though.
And there were some good things to take from the game. Jake Bentley is clearly developing as a quarterback, as went 14-of-23 for 154 yards and committed no turnovers. Meanwhile, the running game is taking it up a notch behind Rico Dowdle, who had 226 yards and two touchdowns on the ground.
A kick return for a touchdown by Deebo Samuel perfectly describes the formula Muschamp wants to have to win games consistently in Columbia: efficient quarterback play, great running, amazing special teams, and a shut down defense.
Everything but the defense was there Saturday. Now, they do a 180 and go from an FCS team to the Clemson Tigers. By just making this a game, South Carolina can prove that it's bowl-worthy. But that'll be tough.
How do you read this Vanderbilt Commodores team? They have terrible losses to the South Carolina Gamecocks, Kentucky Wildcats, and Missouri Tigers, but they also have amazing wins against the Georgia Bulldogs and now the Ole Miss Rebels.
And on Saturday against the Rebels, they didn't just win. They dominated.
Knowing that a loss would eliminate them from a bowl game, Derek Mason's team rallied behind that suffocating defense he's developed to hold the Rebels to 17 points. Then they used Ralph Webb in a 100-yard performance along with three touchdowns.
And finally, Kyle Shurmur finally looked efficient, going 17-of-30 for 273 yards, two touchdowns, and no interceptions. So while the defense was still the defense, the offense turned a massive corner.
Is this a new Vanderbilt team? They are now 5-6 and one game away from a bowl game. And the future looks bright if they play like this.
Mason might have bought himself some more job security, even if they lose this weekend.
But against the Tennessee Vols at home in what will likely be a cold-weather game with the Vols now having no SEC East title to play for, don't count the Commodores out just yet.
Getting to 6-6 is now a very real possibility.
For a half, the Kentucky Wildcats fans probably felt that their program could not get more cursed under Mark Stoops. They had won all the games they needed to win to finally be able to reach bowl eligibility, and all they needed to do was beat an Austin Peay Governors team that had been winless since 2014 to get there.
But early on, they somehow fell behind to Austin Peay 13-0. And the world was ready to laugh at them again.
This team was different, though.
Okay, we're not going to give them too much credit for blowing out the Austin Peay Governors, but getting to six wins and assuring themselves bowl eligibility is still something for the fans to celebrate.
Considering where they were at the beginning of the year, the future is bright for this Kentucky team. Stephen Johnson at quarterback was clearly a hidden gem and the spark they needed, and this team now has a winning mentality.
It's why they've slowly moved out of the bottom of the barrel of our SEC Power Rankings. Now, they have a chance to shoot up with a major win this weekend. Could they really upset the Louisville Cardinals this week? Probably not, but this is more interesting than we initially thought.
Once again, the Texas A&M Aggies continue to look worse and worse after losing to the Alabama Crimson Tide. It's the third straight season that a strong start was derailed after their first loss.
Even though that strong start lasts longer each year, Kevin Sumlin can't seem to rally his team when they lose that first game. Losing to the Ole Miss Rebels and Mississippi State Bulldogs looks worse now since neither team is as good as they looked against the Aggies.
That's been proven.
Then, struggling to beat the Texas San Antonio Roadrunners makes things look even worse.
As a result, we had to drop the Aggies to No. 8 in our SEC Power Rankings. They just haven't been impressive in weeks.
Trevor Knight's injury was clearly a killer for this program, and John Chavis's defense is not as dominant as it was at the beginning of the year.
Still, despite all of this, the Aggies have a chance for a strong finish to the season. At 8-3, if they could somehow beat the LSU Tigers at home this week, they would likely be the team to go to the Sugar Bowl unless the Auburn Tigers shock the Alabama Crimson Tide.
And a Sugar Bowl berth would be a step in the right direction for the program. But they have to beat the Tigers this weekend.
So after a beautiful but ugly 13-7 win over the Auburn Tigers to derail their season last week, the Georgia Bulldogs scared their fan base once again by struggling with the Louisiana Lafayette Ragin' Cajuns.
What is it with them and bad teams? They struggled to put away Nicholls State, the Missouri Tigers, the Kentucky Wildcats, and Louisiana Lafayette. Then they lost to the Vanderbilt Commodores.
However, they played the Tennessee Vols to the wire and beat the North Carolina Tar Heels along with Auburn.
Looks like this is the type of inconsistency you get under a first-year head coach with a freshman quarterback. Kirby Smart is still trying to install his system, and while Nick Chubb is reliable at running back, he still can't rely on Jacob Eason, the freshman at quarterback.
At the same time, his complex 3-4 schemes are causing trouble every now and then. It did on Saturday, and that's why we had to drop the Dawgs a spot in our SEC Power Rankings.
Still, they came away with the win, and at 7-4, a chance at an 8-4 finish and strong bowl game is still in the works. All they have to do is beat their hated rival, the Georgia Tech Yellow Jackets. This is certainly a game they should win, but you never know.
It's especially up in the air considering how Georgia has played all year. At least they're in the top half of the SEC for now, though.
We said last week that Mississippi State-Arkansas would be a shootout, and Bret Bielema's Razorbacks did not let us down.
While the defense struggled to contain a dominant rushing attack for the third time in four games with Nick Fitzgerald as a dual-threat quarterback, the offense made up for it with its own dominant rushing attack.
Raleigh Williams III and Devwah Whaley had 205 and 112 yards respectively along with four touchdowns and one touchdown respectively. Bielema's system of dominant running and getting physical is really starting to take shape.
But it helps with a quarterback to bring a balanced attack in Austin Allen. Allen was 18 of 25 for 303 yards and two touchdowns on Saturday.
And all of a sudden, the Razorbacks are 7-4.
In the process, they have clearly earned the right to be in the top half of our SEC Power Rankings, and they have a chance at their best finish since Bobby Petrino left. This weekend, they get to play the Missouri Tigers, who might be the worst team in the SEC.
The chance to go 8-4 and play for nine wins in a bowl game shows that this team is really coming along under Bielema's leadership.
Thanks to a series of idiotic miscues, Ed Orgeron may have just cost himself the full-time head coaching job with the LSU Tigers.
Against a Florida Gators team yet to have a quality win all year, Orgeron's team moved inside the five yard line five times on Saturday in Death Valley. They came away with 10 points only on those five trips.
Yes, there was one touchdown, one field goal, a turnover, a botched field goal attempt, and a fourth down stop on the one foot line at the end of the game.
It was all on the play-calling as well. With Leonard Fournette hurt, Danny Etling did a tremendous job playing highly efficient with great passes to check receivers.
Meanwhile, Derrius Guice managed to run very well. But as Florida sold out to stop the run every play, Orgeron's staff could not find it in them to mix things up when they got inside the red zone.
As a result, with the addition of one defensive lapse, this team lost to an inferior unit 16-10, ruining its chances at the Sugar Bowl and exposing just how poor its coaching is. That knocked them down to No. 5 in our SEC Power Rankings as well.
Now, their only chance to salvage the season is by beating the Texas A&M Aggies, but it certainly won't mean much.
The Tennessee Vols are completely banged up on the defensive side of the ball, and with all those injuries on Saturday they had to add in the distraction of realizing they wouldn't win the SEC East after the Florida Gators beat the LSU Tigers in Baton Rouge.
So they had plenty of reasons to roll over on Senior Day against the Missouri Tigers at Neyland Stadium. But they didn't.
Instead, the Vols put on a historic effort. Joshua Dobbs led the way once again, as he has done so many times for Tennessee football, by putting up five total touchdowns with 190 rushing yards and over 200 passing yards. He had a bang on Senior Day.
The offense altogether played great, and a severely injured defense did what it could, including scoring a defensive touchdown. The result was the most points scored by the Vols since they played the Arkansas Razorbacks in 2000 with a 63-37 victory.
Now, although the SEC East is out of play, they are one of the five teams that still has a legitimate shot at a New Year's Six Bowl. If Auburn loses to Alabama, Florida loses to Florida State and Alabama, and LSU beats Texas A&M, they will be the team to go to New Orleans.
They just have to beat a dangerous Vanderbilt Commodores team on the road this Saturday to do that.
And for Butch Jones and Co., that game is going to be far from easy. So they can't relax on the season just yet.
So they did lose a heartbreaker on the road to the Georgia Bulldogs two weeks ago, 13-7. And dominating the Alabama A&M Bulldogs shouldn't mean anything in terms of where they stand in our SEC Power Rankings.
But the Auburn Tigers are still just a three-loss team in the SEC West who didn't do anything to fall. Right now, since they are second place in that division, they don't deserve to be anywhere below No. 3 in our SEC Power Rankings.
Gus Malzahn's team still has an elite defense, and he has still been able to tailor his offense to a dominant rushing attack. With Sean White injured, he spent the game against Alabama A&M getting Jeremy Johnson prepared for the Iron Bowl.
And the Iron Bowl is where we go next.
Although the Tigers do not have an SEC Championship to play for, they still have a chance at a strong finish. If they win the Iron Bowl, they will almost certainly be the team going to the Sugar Bowl at the end of the year.
And winning that to finish the season 10-3 is a great launching pad into next year. It also shows that Malzahn is not done yet. He's still an offensive genius with a great team stuck in a deep division.
But Auburn still can accomplish a lot in that division with one regular season game left.
Who would have thought this about Jim McElwain's team? Going into Saturday's game against the LSU Tigers, the book on the Florida Gators was that they had played two good teams all year…and they lost to both teams.
But we ignored the fact that the Georgia Bulldogs might be better than expected, and the Gators shut them down. Also, they did beat the South Carolina Gamecocks, who beat one of those good teams that beat Florida.
So perhaps they weren't getting the respect they deserved.
And in a game that should have been played in Gainesville, a game they were accused of ducking, a game they played with a backup quarterback, and a game everybody thought they would lose, handing over the SEC East in the process, Florida shocked the world.
The Gators' defense showed just how mentally tough it is by holding the LSU Tigers scoreless on three drives inside the five-yard line and never quitting. They got one big play from Austin Appleby, a 98-yard touchdown pass.
And they never made the critical mistake. With a great coaching performance by McElwain, Florida let the Tigers implode.
Now, at 8-2, the Gators are going to Atlanta to play for the SEC Title, and they're not done. With the Florida State Seminoles and Alabama Crimson Tide up the next two weeks, Florida controls its own destiny to reach the College Football Playoff.
They'll leave a lasting impression if they win those to games and finish 10-2 as SEC Champions. With a dominant pass defense and an offense that can move the ball, don't count them out of that. It's now more than possible.
And they clearly deserve this No. 2 spot in our SEC Power Rankings.
Emergency! Emergency! The Alabama Crimson Tide only beat the Chattanooga Mocs by a score of 31-3!
True to what they've done all year, Alabama coasted by in the worst way in an easy non-conference game. It's like Nick Saban wants to avoid humiliating them, a courtesy he does not show against other SEC teams.
Chattanooga even scored the first points in the game and led 3-0 going into the second quarter.
Okay, so this is really nothing. Jalen Hurts is still an incredibly efficient quarterback and showed it again by completing over 70 percent of his passes for 136 yards and three touchdowns along with no interceptions while also rushing for 68 yards.
Damian Harris is still a stud at running back, Calvin Ridley is still a stud at receiver, and the defense is still as dominant as ever.
You could tell that Saban and the coaching staff just tried to limit the time of the game as much as possible and get out of there with a win while not hurting anybody.
Now, with the SEC West already locked up, the 11-0 Crimson Tide get set for their Iron Bowl showdown against the Auburn Tigers.
Funny enough, they are so far ahead of everybody else, losing to Auburn would mean nothing for Alabama. If they beat the Florida Gators in the SEC Championship, they would still reach the College Football Playoff.
Maybe Saban should rest his starters for the Auburn game.
Of course, he won't do it, but that shows you just how far above everybody else the Tide are. And they are that far ahead of everybody in our SEC Power Rankings too.
For the Tide, the real season now begins. Their next four games will be to win the Iron Bowl, to win the SEC Championship to get to the national championship, and then to win the national championship.
This is what they play for, and they've coasted to this point. Let's see how they handle the impact now.
Clearly, there's no reason to bet against them.
This article originally appeared on