All for Tennessee Official SEC, New Year's Six, and College Football Playoff Bowl Projections Following Week 13 of the Season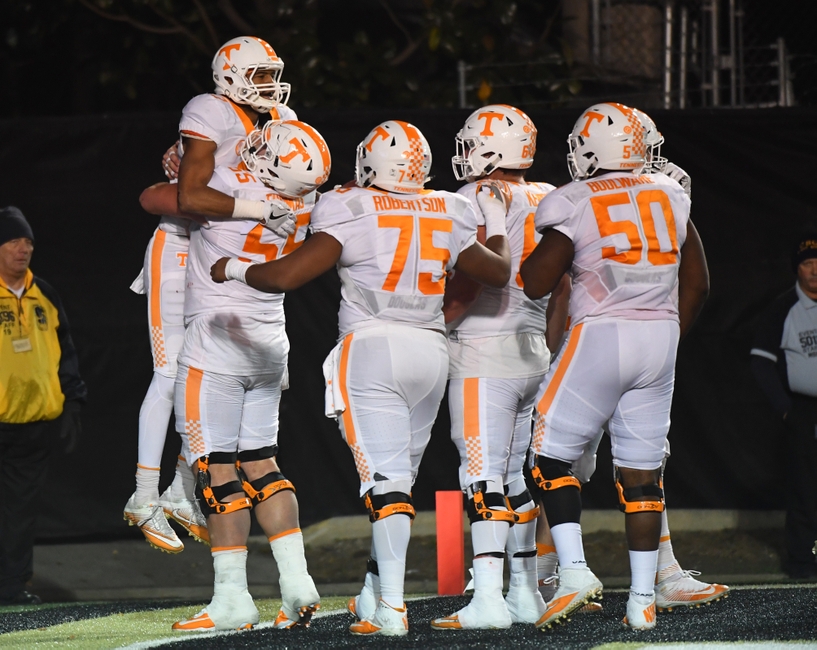 Here are the All for Tennessee official Southeastern Conference, New Year's Six, and College Football Playoff bowl projections following Week 13.
Talk about a cluster. The SEC has thrown all of our bowl projections for a loop with no team having fewer than three losses outside of the Alabama Crimson Tide.
And after this weekend, it's highly unlikely that any team will have fewer than four losses.
That simply screws up our SEC bowl projections.
The Louisville Cardinals losing to the Kentucky Wildcats and a few other upsets have screwed up our New Year's Six projections.
And our College Football Playoff projections have really been thrown for a loop when you consider the fact that the best team outside of Alabama may not even be the champion of its own conference.
Then there's the Tennessee Vols. Calls to fire Butch Jones are louder than ever after he likely screwed up his team's chances of reaching the Sugar Bowl. And now, we have no idea where they are going.
So as we get set to bring you our final round of bowl projections, it's safe to say we still don't have a strong idea. But we do have a much better idea than we have had in previous weeks.
Once again, these projections are based on where we have teams ranked and how they will be ranked based on their schedule at the end of the year.
So the conference championship games will affect our projections. These are not power rankings, and they certainly aren't our current regular rankings. They are simply where we project teams to be at the end of the season based on our rankings.
And the end of the season is one week away. So here are our final bowl projections before that happens.
Pre-New Year's Day Bowl Projections Part I
Independence Bowl: Monday, Dec. 26 at 5 p.m.; Independence Stadium; Shreveport, La.
South Carolina Gamecocks vs N.C. State Wolfpack
After a crazy series of upsets this weekend, we have the South Carolina Gamecocks remaining at the bottom tier of SEC teams going to bowl games. They are second to last, to be exact. And since they're second to last, they'll go to the second worst bowl game for the SEC in our bowl projections, one where they still play a Power Five team.
The Georgia Tech Yellow Jackets moved above this spot after beating the Georgia Bulldogs over the weekend, and that moves the N.C. State Wolfpack to here. Both teams are 6-6, and this will be exciting Carolina War in Louisiana.
Texas Bowl: Wednesday, Dec. 28 at 9 p.m.; NRG Stadium; Houston, Texas
Kentucky Wildcats vs TCU Horned Frogs
Well look at that! All of a sudden, the Kentucky Wildcats are playing better than maybe anybody in the SEC outside of Alabama, and as such, they've moved ahead of the bottom tier of the SEC. Right now, the Wildcats would be a better fit for the Liberty Bowl in this regard, but because of an automatic ranking in the Big 12 bid, they will probably go to Texas to avoid a rematch between the Arkansas Razorbacks and TCU Horned Frogs.
TCU looks like it will be the team to get the automatic bid here after blowing out the Texas Longhorns and moving convincingly ahead of the Baylor Bears in the Big 12 standings. And given the win Mark Stoops's team got over the Louisville Cardinals, they have earned the right to face the tougher opponent in our bowl projections.
Birmingham Bowl: Thursday, Dec. 29 at 2 p.m.; Legion Field; Birmingham, Ala.
Vanderbilt Commodores vs Temple Owls
Well, we had the Ole Miss Rebels here. But all of a sudden, the Vanderbilt Commodores are going bowling! Derek Mason's team scored a huge upset over the Tennessee Vols this past weekend, followed by their huge upset over the Ole Miss Rebels. And with an offense that can play, this might be the most dangerous team in all of college football.
Still, our bowl projections have them as the worst SEC team in at 6-6, and as a result, they will join the South Carolina Gamecocks in a bottom-tier bowl. Vanderbilt will go to Birmingham and face the Temple Owls, the same team that blew out Mason's team in his first game ever as Vanderbilt's head coach. Temple moved here after Memphis's upset over Houston dramatically shook up the AAC rankings last week. Vanderbilt-Temple would be fun to watch, and maybe this time the Commodores won't have seven turnovers.
Pre-New Year's Day Bowl Projections Part II
Belk Bowl: Thursday, Dec. 29 at 5:30 p.m.; Bank of America Stadium; Charlotte, N.C.
Georgia Bulldogs vs Miami Hurricanes
Even after falling to 7-5 with a loss to the Georgia Tech Yellow Jackets, the Georgia Bulldogs are not moving from this spot. They are still a middle tier SEC team and the only one from the East, which puts them in the Belk Bowl. Kirby Smart's loss to Georgia Tech was a killer for his optics, but a bowl win could salvage that. However, that might come at the expense of Georgia's former coach.
We still have Mark Richt facing his former team in our bowl projections here. The veteran head coach has had a tremendous year in his first season with the Miami Hurricanes, showing signs of a great future there. However, they are just outside of that top tier in the ACC, so what better way for Richt to cap off his first season than by leading the 'Canes to a dominating victory over his former team!
Liberty Bowl: Friday, Dec. 30 at Noon; Liberty Bowl; Memphis, Tenn.
Arkansas Razorbacks vs Baylor Bears
We consider the Texas Bowl about a step above the Liberty Bowl, and the Kentucky Wildcats have earned the better bowl at this point. As a result, we now have the Arkansas Razorbacks traveling across the Mississippi River to get to Memphis for the Liberty Bowl. This will also help them avoid a rematch with the TCU Horned Frogs. Due to their loss, they have to face a far less exciting team.
Our bowl projections have them going up against the Baylor Bears, who have completely fallen apart down the stretch. With Texas's loss, Baylor will likely be the worst Big 12 team to make a bowl game, barely getting in. In the process, they'll get to face a former Southwest Conference foe. And Bret Bielema's team gets to finish off a mediocre season once again.
Music City Bowl: Friday, Dec. 30 at 3:30 p.m.; Nissan Stadium; Nashville, Tenn.
Tennessee Volunteers vs Minnesota Golden Gophers
Talk about falling behind. The Tennessee Vols had everything laid out in front of them to reach the Sugar Bowl. And at the very worst, they'd be going to the Citrus Bowl. But a loss to the Vanderbilt Commodores moved them from a guaranteed second or third place finish in the SEC to now a sixth place finish in the conference. That sixth place finish drops them to a Pre-New Year's Day bowl game of a low tier, which is in their home state up the road in Nashville.
In the Music City Bowl, the placements of the Big Ten put the Minnesota Golden Gophers here. This is a game that Vols fans will not be excited to play, but it's all we can forecast in our bowl projections. Fortunately, Butch Jones's team has a chance to make a strong finish here, and if they do that, they can finish 9-4 and in the Top 25 once again, even if the season ends on a disappointing note.
New Year's Day Bowl Projections
TaxSlayer Bowl: Saturday, Dec. 31 at 11 a.m.; EverBank Field; Jacksonville, Fla.
Texas A&M Aggies vs Virginia Tech Hokies
Now we're down to the teams that are the best four-loss SEC teams, starting with the Texas A&M Aggies. Kevin Sumlin's team has collapsed at the end of the year without Trevor Knight at quarterback, and it's fallen to fifth in the SEC as a result. That will be enough to get this team to the TaxSlayer Bowl. And they will have an exciting match-up in the process, especially if Knight is able to return.
Since the Virginia Tech Hokies are going to be a better team than any Big Ten team eligible here, they'll get the nod, which is why the Big Ten team will be heading to the Music City Bowl. That will make this game a match-up of offensive wits between Sumlin and Justin Fuente. And if Knight is healthy, its a battle between two great quarterbacks in him and Jerod Evans. So this would definitely be exciting.
Citrus Bowl: Saturday, Dec. 31 at 11 a.m.; Camping World Stadium; Orlando, Fla.
Florida Gators vs Penn State Nittany Lions
Well, the Florida Gators have moved up in our bowl projections thanks to the Tennessee Vols losing. At 8-3, they still have a chance at a New Year's Six game. But once the Alabama Crimson Tide blow them out of the waters this weekend, they'll fall back into the rest of the SEC pack. And they will not have the resume to get the automatic Sugar Bowl bid that other four-loss SEC teams will have, so they're out.
As a result, Gators will go to the Citrus Bowl and face a team currently in the College Football Playoff hunt. The Penn State Nittany Lions have a strong case to make if they win this weekend, but we project that they won't. That will send James Franklin's team to 10-3 on the year and knock them out of a New Year's Six game. And it will give them a chance to blow out this Florida team in Orlando.
Outback Bowl: Monday, Jan. 2 at 1 p.m.; Raymond James Stadium; Tampa, Fla.
LSU Tigers vs Nebraska Cornhuskers
While Florida will be the top team out of the New Year's Six, the LSU Tigers come in at a close No. 2. Their losses to the Auburn Tigers and the Gators obviously keep them behind those two. So new full-time head coach Ed Orgeron will lead his team to the Outback Bowl, where they'll have a chance to give Orgeron a good starting point in his official head coaching career at LSU.
In our bowl projections, we have this defensive-oriented running team facing the offensive-minded Nebraska Cornhuskers under Mike Riley. It's a buffoon against a genius. But the buffoon, Orgeron, has much more talent. So that makes this an exciting game to witness. Also, both programs' fan bases fell they are on the rise now. This game could give one of the former powerhouses a leg up.
New Year's Six Bowl Projections Part I
Orange Bowl: Friday, Dec. 30 at 8 p.m.; Hard Rock Stadium; Miami Gardens, Fla.
Louisville Cardinals vs Michigan Wolverines
We still have not changed on the Louisville Cardinals. Although they don't really deserve to go, the ACC has an automatic bid to the Orange Bowl, and the ACC Champion is heading to the College Football Playoff. As a result, the Cards are still the team who should go. They finished 9-3 and ahead of the Florida State Seminoles, whom they beat 63-20. The playoff committee cannot overlook that while doing these rankings.
On the other side, the Michigan Wolverines and Jim Harbaugh's team got screwed out of a chance at the College Football Playoff with terrible officiating against the Ohio State Buckeyes. As a result, we have them going to the Orange Bowl in our bowl projections. After all, the other automatic Orange Bowl bid is for the SEC, Big Ten, or Notre Dame. Only the Big Ten can fill that slot.
Cotton Bowl: Monday, Jan. 2 at 1 p.m.; AT&T Stadium; Arlington, Texas
West Virginia Mountaineers vs Western Michigan Broncos
The West Virginia Mountaineers are still about to finish 10-2 on the year and have done more than enough to garner consideration for a New Year's Six bowl game. Sure, a fourth Big Ten team could go. But it's more fair to put a second Big 12 team in there. Also, West Virginia would be a great and entertaining match-up against the Group of Five team getting in, which would be their opponent.
That at-large team is now going to be the Western Michigan Broncos. The Houston Cougars losing and Western Michigan's blowout over the Toledo Rockets last week earned them the right to go to the Cotton Bowl. They don't really deserve it, but after the Boise State Broncos' loss last week, no Group of Five team does. So this team gets the best chance.
New Year's Six Bowl Projections Part II
Rose Bowl: Monday, Jan. 2 at 5 p.m.; Rose Bowl; Pasadena, Calif.
Wisconsin Badgers vs Colorado Buffaloes
Now this is where the real scandal begins. Our projected Big Ten champion is not going to reach the College Football Playoff in our bowl projections because they won't be the Penn State Nittany Lions. Paul Chryst's Wisconsin Badgers are projected to win in our model. That will catapult a non-Big Ten champion into the College Football Playoff and keep the Badgers out since they, unlike Penn State, did not beat that non-Big Ten champion. As a result, they'll get the automatic bid to the Rose Bowl.
Meanwhile, the Colorado Buffaloes remain our No. 2 team in the Pac-12. We still project Mike MacIntyre's team to finish 10-3, and that will make them the second best team in the conference. Even with a projected loss this weekend, they need to go ahead of the USC Trojans, since their loss will have come in the Pac-12 Championship game and should not count against them as much.
Sugar Bowl: Monday, Jan. 2 at 8 p.m.; Mercedez-Benz Superdome; New Orleans, La.
Auburn Tigers vs Oklahoma Sooners
Clearly, no SEC team wants this spot in the Sugar Bowl. First the LSU Tigers blew it. Then the Texas A&M Aggies blew it. Then the Auburn Tigers blew it, but the Tennessee Vols blew it a little bit later. Once the Florida Gators blow it with a loss this weekend, the Auburn Tigers will be the team that the SEC has to put up in the Sugar Bowl. At 8-4, they will deserve to go over other SEC teams. But it will force people to re-think these automatic bowl tie-ins.
The Oklahoma Sooners remain our projected Big 12 champion, although they will have to face a tough test against the Oklahoma State Cowboys this weekend. The winner of that game will be going to the Sugar Bowl since no Big 12 champion can get into the College Football Playoff. So Auburn-Oklahoma, Gus Malzahn vs Bob Stoops, is the likely scenario here in our bowl projections.
College Football Playoff Semifinal Part I
Chick-Fil-A Peach Bowl: Saturday, Dec. 31 at 3 or 7 p.m.; Georgia Dome; Atlanta, Ga.
College Football Playoff Semifinal
Alabama Crimson Tide vs Ohio State Buckeyes
Well there is a big change here. By beating the Michigan Wolverines, the Ohio State Buckeyes have thrown the Big Ten part of the College Football Playoff for a complete loop since they'll finish 11-1 while the conference champion will finish 11-2.
If the Penn State Nittany Lions win that championship, they have a strong case for the nod over the Buckeyes since they beat the team fro Columbus. However, if they lose, the Buckeyes will likely get the wildcard nod over the Wisconsin Badgers.
And we have the Badgers winning, giving the Buckeyes the nod.
This will anger fans all over the country, and as a result of what else will happen, we have this team getting the No. 4 seed in the playoff. So they'll be traveling to Atlanta to play the No. 1 seed since that No. 1 seed earns the game closest to its home location.
And the Alabama Crimson Tide are obviously the No. 1 seed. So in a rematch of the 2015 Sugar Bowl, the Tide will host the Buckeyes in what could be a home game for them.
It's Nick Saban vs Urban Meyer again! Who doesn't want to see that?
Defense and a pro-style against a high-powered spread offense. Also, this time, the Buckeyes don't have Tom Herman.
So even if this game in our bowl projections makes you mad since Ohio State didn't win its conference, you have got to be excited about the idea of the Buckeyes facing the Tide once again.
And in some parallel irony between the Saban-Meyer rivalry, let's also consider the fact that Saban already has a national championship without winning his conference. Meyer could do the same thing this year.
College Football Playoff Semifinal Part II
Fiesta Bowl: Saturday, Dec. 31 at 3 or 7 p.m.; University of Phoenix Stadium; Glendale, Ariz.
College Football Playoff Semifinal
Clemson Tigers vs Washington Huskies
The Clemson Tigers have remained in the Top Four all season long, and they still belong there. As a result, they'll still be going to the College Football Playoff as the No. 2 seed.
Dabo Swinney's Tigers still have to get past a dangerous Virginia Tech Hokies team, which we have them doing, and that will send them here in our bowl projections.
Unfortunately, they won't get the chance to face Jim Harbaugh's Michigan Wolverines since that team was jobbed against the Ohio State Buckeyes.
As a result, the Washington Huskies, whom we project will beat the Colorado Buffaloes to finish 12-1, will move up to the No. 3 spot. And in that scenario, they'll face the Tigers.
This is an exciting game in its own right.
It's two genius coaches who run brilliant systems going at each other, one on the South Atlantic coast and another on the North Pacific coast. It also features two underdog teams that are not supposed to be regular powerhouse programs.
They'll be facing each other all the way out in Arizona in the process. Can either team challenge the genius that will be Nick Saban and Urban Meyer on the other side? We project that they can, but it'll be difficult.
And they will have to get past each other first.
Here's what we project will happen after these two college football semifinal games are played.
National Title Game Projection
College Football Playoff National Championship
Monday, Jan. 9; Raymond James Stadium; Tampa, Fla.
Alabama Crimson Tide vs Clemson Tigers
And with the changes to what happened last week with our projections, we have a new team set to face the Alabama Crimson Tide in our national championship game now.
Yep, we're calling for a rematch of what happened last year. And Dabo Swinney will try to get revenge on Nick Saban, while Saban goes for his sixth career national title and tries to get the best of Swinney once again.
Beyond our bowl projections, our simple reasonable predictions call for Alabama to blow out the Florida Gators in the most embarrassing way.
Meanwhile, we have the Clemson Tigers projected to beat the Virginia Tech Hokies, but that's not as much of a guarantee.
Still, this will make for an epic rematch in Tampa. What's going to happen?
Winner: Alabama Crimson Tide
In 1998, Michael Jordan won his sixth championship while leading his team in a rematch against the Utah Jazz in the NBA Finals.
The metrics in our bowl projections right now have Saban winning his sixth national championship in a rematch as well.
There is no possible way any reasonable metric could put anybody ahead of the Tide right now, even if your eye test and gut feelings do. They have a Top 10 strength of schedule and have not allowed a touchdown this month.
That's incredible!
Until they're overthrown, their dominance continues in our projections.
And since this is our final round of bowl projections before they actually set the teams, the next time we get to this game will be an official prediction.
But for now, our love goes to Alabama.
This article originally appeared on