All for Tennessee Official Conference Championship and Top 25 College Football Predictions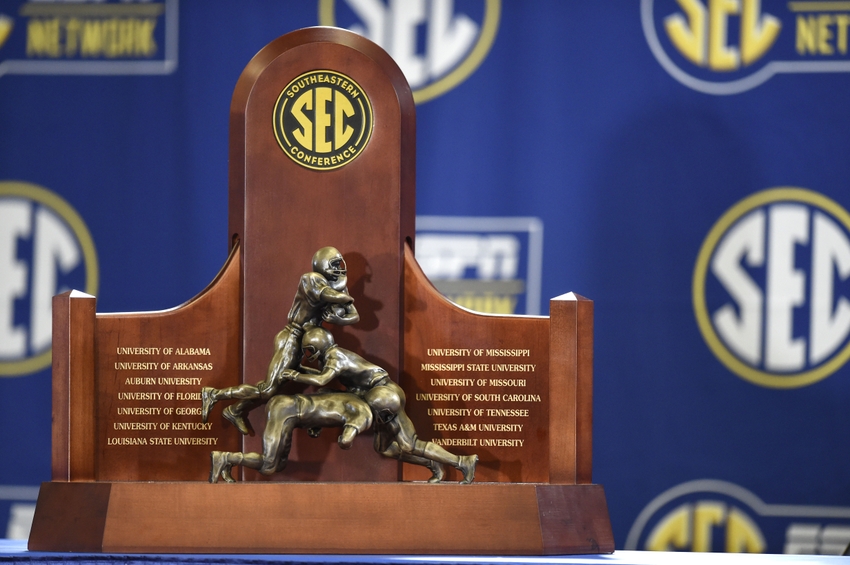 Here are the official All for Tennessee college football predictions for conference championship week, including title games and Top 25 match-ups.
At the beginning of the year, most people in Knoxville thought they'd be preparing for another Vols game this week. But a disappointing end to the season ruined that chance. Now, as we do our college football predictions for conference championship games and Big 12 Top 25 match-ups, we are doing them with Tennessee football nowhere in sight.
However, there are still a lot of exciting games to cover.
And in an anti-climactic way, they will help shape which disappointing bowl game the Vols will go to.
For the weekend, we have nine games to bring you. Four of them conference championship games from the Power Five. Another four are from the Group of Five. Then there's one that features two Top 25 teams and serves as the de facto conference championship game.
So there are plenty of exciting games to cover.
And while Tennessee might not be in it, conference championship week is always an exciting time of year. We get to enjoy the start of the holiday season and finally see how the postseason games play out.
At least the Vols will be involved on Sunday when the bowl selections happen. But for many people, that's no consolation.
So let's just get to the bittersweet week of conference championship coverage.
Without the Vols, let's begin the official All for Tennessee college football predictions for Week 14, including the conference championships and Top 25 games.
Mid-American Conference (MAC) Championship
No. 17 Western Michigan Broncos vs Ohio Bobcats
Friday at 7 p.m.; Ford Field; Detroit, Mich.
Line: Western Michigan -18.5; Over/Under: 59.5
This is a game that could have a huge impact on the landscape of college football. Western Michigan is undefeated right now under P.J. Fleck and blowing out everybody.
However, the playoff committee is giving them no love for their atrocious strength of schedule. So they'd love to get to a New Year's Six bowl and blow out a Power Five team to prove their worth.
To do that, however, they have to get past an Ohio Bobcats team that Vols fans know all too well. Frank Solich's group has suffered three losses by one score or less this year, and their only other loss was a 28-19 one to Tennessee.
They don't go away quietly.
However, they need to force mistakes to win this game, and Zach Terrell clearly makes very few of those with 30 touchdowns to only 1 interception this year.
What Will Happen?
In one of the few Group of Five games we've called for our college football predictions, this is an easy one.
Ohio doesn't really have a chance. They are banged up, and they have kept things close by forcing mistakes on other teams.
Western Michigan will have no problem avoiding those. With Navy breathing down their neck, there's no way they will take this game lightly, and they'll role to victory.
The Broncos finish 13-0 and get that New Year's Six game they wanted. This will be the first game that Ohio does not look competitive in all year.
Western Michigan: 41 Ohio: 24
Pac-12 Championship
No. 8 Colorado Buffaloes vs No. 4 Washington Huskies
Friday at 9 p.m.; Levi's Stadium; Santa Clara, Calif.
Line: Washington -7.5; Over/Under: 56.5
Now this is the game that everybody needs to pay attention to. The College Football Playoff committee is rooting hard for the Colorado Buffaloes because it's the one way for them to avoid controversy.
To avoid any controversy, they need to be able to put in two Big Ten teams. To do that, either the Washington Huskies or the Clemson Tigers need to lose this weekend.
But there's more. If both those things happen, Colorado might have a serious case to make for getting into the playoff as well. That's not likely, though, since they lost to Michigan 45-28. So they are only focused on trying to cap off an amazing season in Mike MacIntyre's fourth year to prove they are back.
Meanwhile, Washington and Chris Petersen want to erase all doubt and earn their spot in the playoff. Although our metrics give Washington the advantage, the history of college football and slip-ups in the final week make this a very questionable game for our college football predictions.
What Will Happen?
Expect the best quarterback play you will see all weekend. Sefo Liufau and Jake Browning will battle in one of the greatest shootouts in college football history.
Stay up for this one on the west coast. It involves two great coaches, two great quarterbacks, and some exciting high-scoring football.
But the difference will be the physicality of Washington's defense. The Huskies will force a couple of big plays down the stretch to secure themselves a victory and a spot in the playoff.
And as exciting as game as it will be, the selection committee will get very nervous after that.
Washington: 45 Colorado: 38
American Athletic Conference (AAC) Championship
Temple Owls at No. 19 Navy Midshipmen
Saturday at Noon; Navy-Marine Corps Memorial Stadium; Annapolis, Md.
Line: Navy -3; Over/Under: 61.5
Now this is a game that could throw everything for a loop when it comes to the Group of Five team getting into the New Year's Six. Although the Navy Midshipmen have two losses, they have played a much tougher schedule than the Western Michigan Broncos.
As a result, they are only two spots behind in the College Football Playoff rankings.
And this week, they get a chance to win the AAC Championship, a much more prestigious conference than the MAC. If they do, they'll create another nightmare scenario for the committee since it will have to wait another week, for the Army-Navy game, before deciding which Group of Five team goes to the New Year's Six.
That could create real chaos, which makes this a really fun game to be a part of our college football predictions.
But to get to that point, the Midshipmen have to beat the Owls on Saturday. Despite being unranked, Temple is a dangerous team at 9-3. After a fluke loss to Army to open the year, the Owls took the Penn State Nittany Lions to the wire. Their only other loss is by a touchdown on the road against the Memphis Tigers.
So this team could definitely give Navy trouble. They average nearly 500 yards of offense a game, and it's very balanced.
Navy will have to slow that down with its triple-option.
What Will Happen?
The Midshipmen are playing at home and know they have a chance to completely screw up the playoff committee's bowl selection process.
What better motivation for a Group of Five team to come out and play hard?
Will Worth is going to overwhelm Temple's defense, and Navy will pull away with a comfortable victory in front of its home crowd in Annapolis.
They will also control the clock, which will dramatically slow down Temple's offense.
Navy: 31 Temple: 17
Conference USA (C-USA) Championship Game
Louisiana Tech Bulldogs vs Western Kentucky Hilltoppers
Saturday at Noon; L.T. Smith Stadium; Bowling Green, Ky.
Line: Western Kentucky -9.5; Over/Under: 80.5
Everybody go to sleep. This is the most boring game we've had to do for our college football predictions. Who in the world cares about the Conference USA Championship game?
Well, if you like basketball scores on the football field, you should. That's exactly what you're going to get here.
Louisiana Tech-Western Kentucky features two teams who have played in the conference championship game in either of the past two years. The Hilltoppers are looking to repeat. The Bulldogs are looking for their first conference title since they moved into the C-USA.
This would be a great way to right the ship for Skip Holtz as he resurrects his career in his fourth year with the program, and he's got a heck of an offense to do it. Ryan Higgins is passing for over 300 yards a game and has 34 touchdowns on the year, while Jarred Craft leads a running game doing its part with over 160 yards a game. Overall, this offense averages over 500 yards a game.
Meanwhile, Western Kentucky is the same way. Mike White also averages over 300 yards a game and has 31 touchdowns on the year, while Anthony Wales leads a running game averaging over 175 yards a game. They too average over 500 yards per game on offense. This would be another great game to showcase Jeff Brohm's offensive genius and propel his coaching career.
When the two schools played earlier this year, it was a 55-52 game. So get ready for another barn-burner.
What Will Happen?
Western Kentucky blew it in the previous shootout the two schools had on the road. They'll get the better of Louisiana Tech in the rematch .
Expect another shootout where both quarterbacks hit the 400-yard mark and both teams go for over 600 yards on the day. Expect one of the most thrilling back and forth games as well…until the fourth quarter.
Western Kentucky was on the road last time. They've got their own home crowd this time in Bowling Green. And that'll propel them to fourth-quarter dominance. The Hilltoppers pull away in a major shootout.
Western Kentucky: 69 Louisiana Tech: 52
No. 10 Oklahoma State Cowboys at No. 9 Oklahoma Sooners
Saturday at 12:30 p.m.; Gaylord Family Oklahoma Memorial Stadium; Norman, Okla.
Line: Oklahoma -11.5; Over/Under: 77
It's a de-facto conference championship game, making this the only regular season game for us to do in our college football predictions this week. The winner of Oklahoma and Oklahoma State becoming the Big 12 champion only adds to the excitement that is this great rivalry.
Mike Gundy's Cowboys should actually have a chance to be thinking about a spot in the College Football Playoff right now. After all, they were robbed by Central Michigan, and had they won that game, they'd have only one loss right now.
But either way, they have a chance to win the Big 12 against their in-state rival.
This is going to come down to a game of quarterbacks.
Oklahoma's Baker Mayfield and Oklahoma State's Mason Rudolph are two clear winners who lead their teams. They will turn this game into another barn-burner through the air.
And the match of wits between Gundy and Lincoln Riley will be exciting to see. This will certainly make the afternoon slate of games worth watching.
What Will Happen?
Oklahoma has been winning in higher scoring affairs ever so slightly this year than Oklahoma State has.
They have more talent, but the Cowboys have a better motivator in Gundy. As a result they will have the advantage.
But the Sooners will feed off of their home crowd, and Mayfield's winning leadership will end up being the difference.
Oklahoma pulls out a close, thrilling victory to win the Big 12 and head to the Sugar Bowl.
Oklahoma: 39 Oklahoma State: 38
Southeastern Conference (SEC) Championship Game
No. 1 Alabama Crimson Tide vs No. 15 Florida Gators
Saturday at 4 p.m.; Georgia Dome; Atlanta, Ga.
Line: Alabama -24; Over/Under: 40.5
This is the one we've all been waiting for…or is it? The Alabama Crimson Tide seem invincible, and we've begun to reflect as much in our college football predictions this year.
Nick Saban's team is so far head and shoulders above everybody else at this point that, well, they just might be due for a slip-up.
Remember Oklahoma in 2003? They were invincible too, until they got blown out in the Big 12 championship game. Could the same thing happen here?
It's the last SEC on CBS game for Verne Lundquist to call, which is very emotional for many people. Also, this is the last SEC Championship game to be played in the Georgia Dome.
And the question is if Florida can do anything to make it exciting for either celebration.
Alabama has a dominant defense, as always, and is loaded on the offensive line, as always. But they also have a ton of skill players on offense and Jalen Hurts at quarterback, who is no longer a freshman, with an offensive genius in Lane Kiffin running the show.
Meanwhile, Florida's defense has looked great all year except for when it's gone up against decent offenses. And it's offense has looked terrible against any decent defense. So if they are to win with Austin Appleby at quarterback, they need a miracle.
What Will Happen?
Nothing in the world says we should take the Gators here, and we are not going to be that reckless in our college football predictions.
The classic everybody says syndrome could apply here, but this Alabama team appears to be so good that they should be able to overcome it easily.
So we are taking Alabama. We are taking them to cover the spread and shut out the Gators. This game will be ugly from start to finish. Nick Saban is angry this week and making sure his players focus.
That's bad news for Florida.
Alabama: 42 Florida: 0
Mountain West Conference (MWC) Championship Game
San Diego State Aztecs at Wyoming Cowboys
Saturday at 7:45 p.m.; War Memorial Stadium; Laramie, Wyo.
Line: San Diego State -6.5; Over/Under: 62
Okay, so on paper the Conference USA Championship should be the most boring game for our college football predictions. After all, it features two unranked teams that have no chance at anything.
But there will be a ton of offense in that game.
This game is our real problem. With the Boise State Broncos losing to the Air Force Falcons, there is no Mountain West team even close to the Top 25 now. And it enabled the 8-4 Wyoming Cowboys to take on the Aztecs for the Mountain West Championship.
To be fair, if you are out in the west, this is actually an exciting game.
These two teams literally just met three weeks ago, with Wyoming squeaking out a 34-33 victory. That insane thriller is now set for an encore back in Wyoming.
Yet, the Aztecs are a six and a half point favorite after just losing there.
This is an upstart program that has made huge gains under Craig Bohl, and it's only going to get better in the future. The Cowboys run a balanced attack behind Brian Hill at running back and Josh Allen at quarterback along with his top target in Tanner Gentry. Altogether, they average over 400 yards of offense and use their altitude to their advantage. That will help with this game.
Meanwhile, San Diego State relies on Donnel Pumphrey and Rashaad Penny to carry them on the ground while Christian Chapman makes efficient throws at quarterback. Altogether, this ground-based attack averages 275 yards rushing and over 400 yards of offense while playing tough, physical defense.
What Will Happen?
Even though they just lost in Wyoming, and even though the Cowboys have to be motivated by being an underdog after that, the San Diego State Aztecs will pull this one out.
All due respect to Bohl's team, San Diego State is just better. They made too many mistakes the first time, and that won't happen here.
The Aztecs will use their dominant defense to their advantage in this altitude, and they'll especially use their ground game. In the process, they'll control the clock. And they'll pull out a victory to win the Mountain West on the road.
San Diego State: 27 Wyoming: 17
Atlantic Coast Conference (ACC) Championship Game
No. 3 Clemson Tigers vs No. 23 Virginia Tech Hokies
Saturday at 8 p.m.; Camping World Stadium; Orlando, Fla.
Line: Clemson -10; Over/Under: 58
This is the other game that the College Football Playoff committee is paying attention to, especially if the Washington Huskies win. They need either Washington or the Clemson Tigers to lose so they can avoid controversy and put two Big Ten teams into the College Football Playoff.
Ironically, the best way to avoid controversy would be for both to lose and allow them to put three Big Ten teams in the playoff: the champion, the Michigan Wolverines, and the Ohio State Buckeyes.
But anyway, onto this game. Don't count the Virginia Tech Hokies and Justin Fuente out just yet in an upset bid.
Clemson has Deshaun Watson at quarterback and a genius at coach in Dabo Swinney, and their defense, honestly, is a bit overrated.
Meanwhile, Virginia Tech has maybe a future Deshaun Watson in Jerod Evans, who has been a major splash under first-year head coach Justin Fuente, another offensive genius.
Together, the two could spark a huge upset if things go right.
What Will Happen?
This is going to be another shootout.
Clemson and Deshaun Watson will make just enough mistakes to allow Virginia Tech to fight with them until the end. And the Tigers will NOT cover this spread, as the Hokies are a dangerous team.
Meanwhile, Evans will have a breakout game and be the talk of the ACC going into the offseason because of this performance.
But it won't be enough.
Fuente's roster is still mistake-prone in learning his new system and susceptible to upsets. That will happen here down the stretch, and it will be enough for the Tigers to squeak out a victory.
We aren't being too bold this week in our college football predictions, but it's hard to do that here.
Clemson wins a close one.
Clemson: 35 Virginia Tech: 31
Big Ten Championship Game
No. 6 Wisconsin Badgers vs No. 7 Penn State Nittany Lions
Saturday at 8 p.m.; Lucas Oil Stadium; Indianapolis, Ind. 
Line: Wisconsin -3; Over/Under: 47
Now we come to the controversial one. How fitting is it that the best conference this year with the most controversial standings in the playoff format come last on our list of conference championship games in our college football predictions?
Well, to be fair, this game will happen at the same time as the ACC Championship, but you get the gist.
The Wisconsin Badgers and Penn State Nittany Lions are fighting for the right to possibly get into the playoff and put pressure on the committee to leave the Ohio State Buckeyes out.
Here's the catch. Both of these teams lost to the Michigan Wolverines. And all three teams have two losses, while Ohio State, who didn't go, has just one loss.
So everybody's screaming. Iowa and Penn State ruined everything by beating Michigan and Ohio State respectively.
Anyway, as we get to this game on the field, it could get just as crazy. Penn State is clearly better this year without Christian Hackenberg, the most overrated quarterback ever. And Vols fans can attest that losing Bob Shoop may have helped them as well.
But while they have a balanced offense and a tough defense, Wisconsin has a tendency to overwhelm anybody with its running game and tough defense.
What Will Happen?
Playing inside a dome should help Penn State with Trace McSorley and Saquon Barkley. With Wisconsin trying to be physical, the game will come down to McSorley being able to make plays.
But the Badgers are very good up front and in the secondary.
And on the other side, it doesn't matter if Alex Hornibrook or Bart Houston plays. This team knows how to make any game close, as it did with Ohio State and Michigan in back to back weeks. We should not that they are this team's only two losses, and both were by a touchdown.
Against Penn State, keeping it close will favor them. Corey Clement will do just enough behind that massive offensive line, and the Badgers will force two key turnovers late in the game to pull out an ugly victory and give Paul Chryst his first Big Ten Championship as a head coach.
Wisconsin: 24 Penn State: 20
This article originally appeared on