CFB AM: Alabama team doctors help LSU police officer struck by car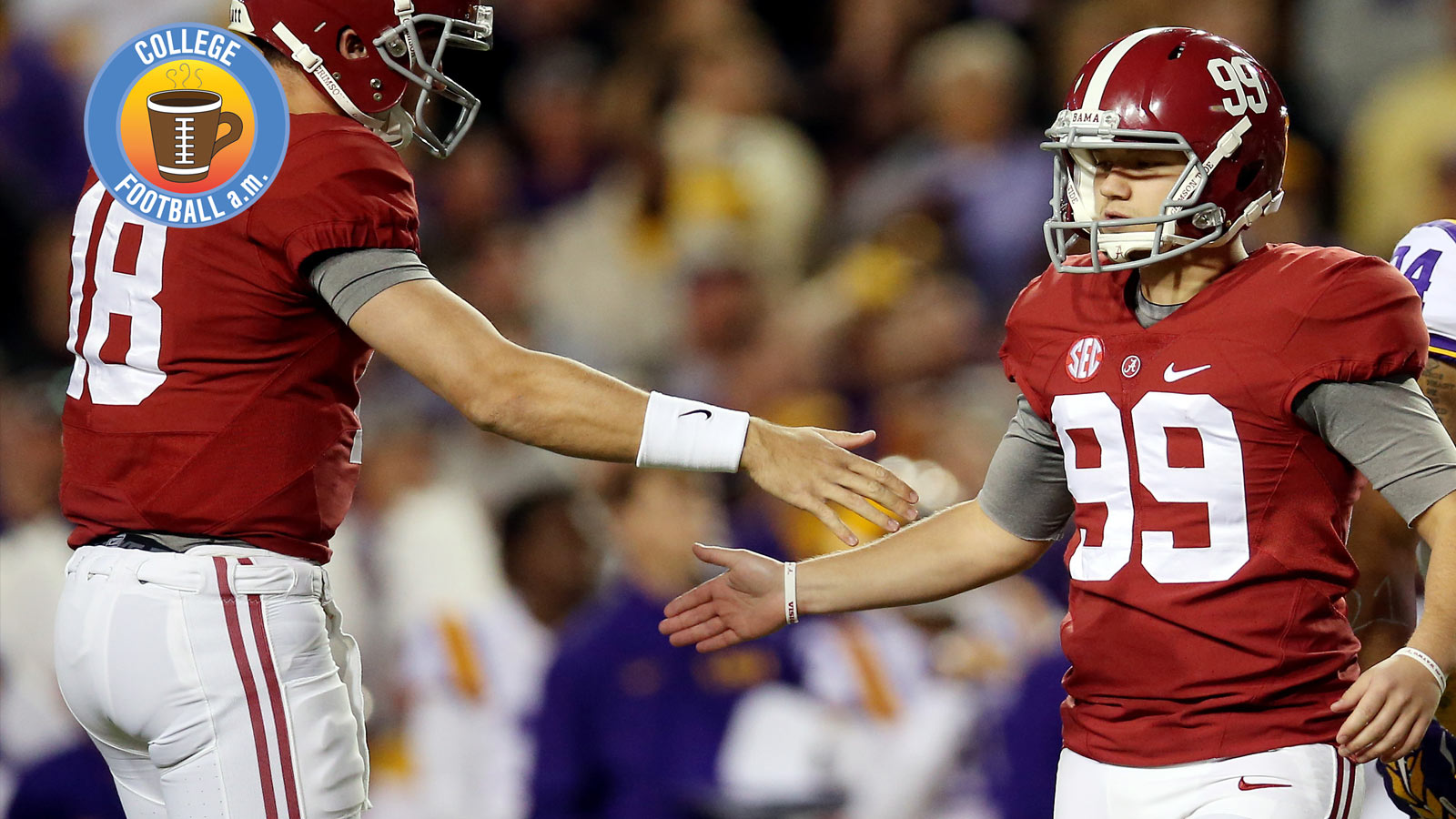 Crazy story from the Alabama-LSU game last Saturday: After the game, the Crimson Tide team doctors were being led by a police motorcade when they noticed an injured Louisiana police officer lying on the road.
He had been struck by a car and was unresponsive.
Immediately, Dr. Lyle Cain, Dr. Norman Waldrop and Dr. Benton Emblom stopped the motorcade and sprang into action. Cain, Alabama's head team doctor, directed as the three began to work on the officer, who they determined had a broken leg, broken arm and fractured ribs.
"Fortunately for him there were three physicians who had taken care of trauma before," Dr. Waldrop told yellowhammernews.com. "As an orthopedic surgeon you've seen lots of trauma. It's not a part of my everyday practice now but I remember thinking it was coming back to me pretty quickly about what to do."
The doctors didn't have their equipment, which was traveling on the Alabama team plane, but helped stabilize the officer for two hours until he could get to a hospital and into surgery.
"I think he probably would've been ok but you would like to think that we had a small part in stabilizing him," Dr. Waldrop said. "I do remember thinking that between Dr. Cain, myself and Dr. Emblom, that the communication was very good, we all knew what we were doing and it certainly helped smooth things out and helped keep everyone around it calm."
The doctors, who work for the Andrews Sports Medicine and Orthopedic Center in Birmingham, handled it exactly like they would an injury on the field – which they dealt with hours earlier during the game – by going through the same checklist they would with an injured athlete. Thankfully they were able to help the officer, who reportedly is recovering in stable condition.
"We were an hour out of a huge win in front of 100,000 people and you immediately forget about that when you're trying to save someone's life," Dr. Waldrop told yellowhammernews.com. "That's a whole lot more important than a football game."
THREE THINGS YOU NEED TO KNOW
1. The new College Football Playoff rankings were released Tuesday evening and had some mild surprises. Oregon jumped Florida State and is the new No. 2, while TCU got the fourth spot in the playoff field over Alabama. Baylor, which beat TCU earlier this year, is three spots behind the Frogs at No. 7. Ohio State comes in at No. 8, while Auburn, after losing to Texas A&M at home this past weekend, drops from No. 3 to No. 9.
Here are three quick takeaways from Stewart Mandel to help you understand what the movement might mean. The fun part of this: There's still so much football to be played. Things could look very different on Dec. 7 when the final playoff field is announced.
2. Some big news for Auburn: WR Duke Williams is "probably unlikely" to play against Georgia this weekend, coach Gus Malzahn said. Williams suffered a knee injury against Texas A&M and has been one of the Tigers' biggest playmakers this season. Of course, with two losses, they need to win out to have any shot at the playoff. In other injury news, Louisville QB Will Gardner is done for the season with a knee injury.
3. #MACtion update: Buffalo crushed Akron on Tuesday night, 55-24, and Northern Illinois beat Toledo 27-24. NIU is quietly 8-2. Tonight, there are two more games if you need something to do, both at 8 p.m. ET: Kent State at Bowling Green (ESPN2) and Ball State at Massachusetts (ESPNU). Cheers to weeknight football.
THREE THINGS YOU SHOULD KNOW
1. A Navy veteran wrote a very kind letter of support to Florida quarterback Jeff Driskel. Among the messages in his note: "Doors close, doors open. When you see your door open, walk through and don't look back." Genuine words we all should live by.
2. The Audible: Who will be Ohio State's QB in 2015, Braxton or Barrett? Plus more from Bruce Feldman and Stewart Mandel on the Week 11 surprises, what to make of the Big 12 race, the Mississippi State-Alabama showdown this weekend and more. Give it a listen while killing time at work.
3. During the LSU-Alabama game last weekend, Tigers fans had a not-so-nice chant for Tide coach Nick Saban, and the LSU AD apologized for it.
THREE THINGS YOU MAY WANT TO KNOW
1. Waffle House is offering free waffles to the winning city of the Auburn-Georgia game. Tried and true lesson: If you want support – of literally anything – in the South, you can find it through free biscuits or waffles. How can any of us resist that?
2. Minnesota will wear epilepsy awareness decals on their helmets this weekend against Ohio State. Gophers head coach Jerry Kill has battled epilepsy and started a foundation to support others like himself.
Gold helmets with a message. #Gophers RT @GopherFBEquip: @GopherFootball @EpilepsyMN decal to be worn on Saturday. pic.twitter.com/RyePps9O2Q

— Minnesota Football (@GopherFootball) November 11, 2014
3. South Alabama picked up a new teammate this week, as 11-year-old Colby Sawyer "signed" with the team. The boy is battling acute lymphoblastic leukemia and was put in touch with South Alabama through an organization that connects sick kids with college sports teams. Kudos to the Jaguars for making this a nice moment, and good luck Colby.
LASTLY
* When Gary Patterson was considering how to reshape TCU's offense, he asked himself, "What do you hate to defend?" And thus the Air Raid came to Forth Worth. Good read by Dennis Dodd.
* Meghan Trainor has a song called "All About That Bass" that's being played all over the radio right now. A Mississippi State fan did a parody of the song for his Bulldogs. It's pretty funny, if artistically-challenged.
Have a great Wednesday, all.
Teddy Mitrosilis is an editor and writer for FOXSports.com. Follow him on Twitter @TMitrosilis and email him at tmitrosilis@gmail.com.