Why Alabama is primed to go undefeated and win another national title
For the first 25 or so minutes of Saturday's Alabama-Ole Miss game, it appeared as though college football's most bizarre trend would get a new yet familiar chapter: Ole Miss would once again beat Alabama.
On the scale of shocking stuff we've seen in this sport over the last few years, watching the Rebels — one of the SEC's most historically inept programs — own the Crimson Tide has been stunning. Heck, besides Jim Harbaugh's fascination with Judge Judy and Jimbo Fisher's magic ability to re-grow his hair every off-season, it might just be the strangest, most unexplainable trend in college football.
Thankfully, though (at least for Alabama fans), after Ole Miss jumped up 24-3, the college football world came back to its senses. Alabama calmed down and took control of the game, dominating virtually all of the final 30 or so minutes of play and improving to 3-0 with a 48-43 victory.
Yet while all the focus is on the win, I couldn't help but think about the big picture: If the Rebels –€" a team that has had success against Alabama — couldn't beat the Crimson Tide under the craziest of conditions, what chance does anyone else have? Furthermore, are we already at a point where its "Alabama and everyone else" in college football?
It sounds crazy after only three weeks of football. Teams improve and regress, injuries occur and in this wild sport, anything could happen between now and December. There are plenty of scenarios where Alabama isn't the overwhelming favorite to win the title. None of them seem likely, though.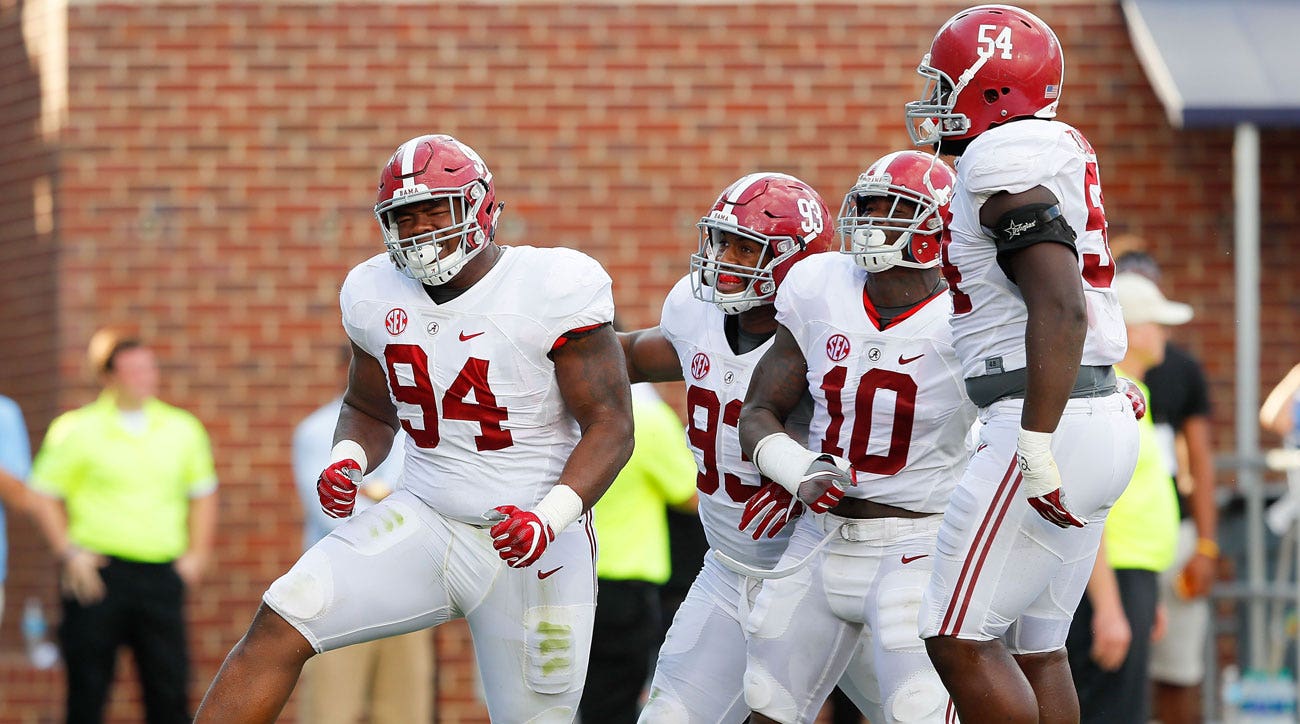 Let's begin with the simple fact that no team has given Alabama fits the last two years quite like Ole Miss did. Sure, part of last year's loss can be chalked up to turnovers (five in total), but Ole Miss still jumped out to an early lead and still capitalized on those mistakes. That's reason No. 1 why Alabama could have gotten tripped here: The Rebels have done it all before.
But Alabama was playing its first true road game of the season, in a place that good teams have struggled lately, with Freeze's club going 6-1 against ranked opponents at Vaught-Hemingway Stadium over the past two years. And they were starting a true freshman at QB, which Saban had never done prior to last week, let alone in such a hostile environment. So it was easy to see how Alabama could struggle here, and maybe even lose.
What's even more amazing is that not only did Alabama have all those variables going against it, but it also seemed like luck was against the Tide. Every break that could go Ole Miss' way seeingly did.
There were coverage breaks that led to early points for the Rebels. Ole Miss was awarded a touchdown on a play that should have been negated by a penalty the refs missed and couldn't overturn. Chad Kelly — for as wild as he is — made some perfect, impossible-to-duplicate throws.
And in the midst of a late rally, the Rebels recovered an onside kick to make things interesting. The sum of that might have broken a weaker team, just not Alabama.
Again: If the Rebels couldn't beat the Crimson Tide Saturday, what chance does anyone else in the SEC have?
LSU might have the defense to slow down Jalen Hurts, but do we really believe it has an offense that can keep up (maybe Saturday's performance against Mississippi State will change that)? Auburn and Texas A&M do some things stylistically similar to Ole Miss, which could give Alabama trouble, but both teams have to go to Tuscaloosa later in the year. Arkansas will once again try to "out-physical" Alabama, which seems like a death trap. And Tennessee just feels too inconsistent to be taken seriously at this point.
Nationally, everyone else except Louisville seems to have major holes to address going forward.
It sets up for a very scary reality for the rest of college football: Right now, it once again looks like Alabama is on a tier of it's own in college football and everyone else seems to be playing for second place.
Aaron Torres covers college football for Fox Sports. Follow him on Twitter @Aaron_Torres, Facebook or ATorres00@gmail.com.