Alabama-Ole Miss: Kiffin has turned Tide into nearly unstoppable force
Ask almost any football fan in America to describe Alabama's offense during the Nick Saban era, and they'll unanimously say it's an offense that punches you in the mouth and smashes you in the head with a power run game, and then hits you over the top with a play-action pass.
It's not just that anymore.
Saban wanted more than just a ground-and-pound style, and one thing is certain: It's no longer "football in a phone booth" in Tuscaloosa.
There's no denying that offensive coordinator Lane Kiffin has revitalized Alabama's offense. While the Crimson Tide have not yet faced any dominant defenses — in fact they haven't faced one ranked higher than 50th in the nation in points allowed or 75th in yards allowed per game — Alabama's offense has averaged 42 points, 500 yards and 35 minutes of possession time per game.
How has Kiffin done it? With a roster full of talent and a scheme that uses as many different formations — with multiple personnel groupings — as you'll see anywhere in college football. Kiffin will put tight ends, running backs and receivers in a multitude of alignments before the snap in order to create a mismatch. The problem for the defense is that it doesn't know who the target may be on any given play.
After watching tape of the offense, I pulled a few plays that will give a general idea of how Alabama's offense under Kiffin has become the most dangerous Saban has ever had in Tuscaloosa and what No. 11 Ole Miss will be faced with this weekend in Oxford.
The personnel is unmatched
What makes Alabama's offense scary is that Kiffin's scheme is the best possible scheme for a team as talented as the Crimson Tide. Remember the USC offense that Kiffin co-coordinated with Steve Sarkisian in 2005? The Trojans set numerous school records while averaging 49 points and over 575 yards per game. The Trojan offense became the first in NCAA history to have a 3,000-yard passer, two 1,000-yard rushers and a 1,000-yard receiver.
Alabama is built to be that type of offense.
* Through four games, QB Blake Sims has completed 73.2 percent of his passes for 1,091 yards.
* Running backs Derrick Henry – who leads the team with 320 yards rushing – and T.J. Yeldon (284) both have a shot to crack 1,000 yards this season. The scary part is that they have a third dynamic back, speedster Kenyan Drake, who could strike from anywhere on the field. Drake has 112 yards and four touchdowns rushing, not to mention his 87-yard touchdown reception against Florida where he made both a Gator linebacker and a defensive back look slow.
* Wide receiver Amari Cooper already has 655 yards receiving through four games. Don't be surprised if we see an Alabama tight end – O.J. Howard? — go for over 150 yards receiving in the near future.
Saban recently told reporters: "I've been begging the offensive coordinators around here to open it up ever since I've been here. [Current Florida State coach] Jimbo Fisher was the best offensive coordinator I ever had that ever did what I wanted to do and everyone wants to run the ball. And we've always had a very good team to run the ball. And we had a very good defense. And it was really smart to play the way we played. And now we have more skill players that are good perimeter players and I think we are doing what we need to do on offense to take advantage of that."
Kiffin is a formation genius
In the first 15 plays of their game against Florida, Alabama used 13 different formations. Do you know how mind-boggling that is for a defense – especially for the middle linebacker who has to set all the defenses properly before the snap?
There are simply not enough days in a week to prepare for all the formations the Crimson Tide have shown on offense this season. Why is that a problem? A successful defensive play starts before the offense even snaps the ball when the middle linebacker makes the "strength" or "closed" call, which tells his defense where to line up. When defenses aren't set properly, big plays are usually the result.
Kiffin also knows how to force defenses to set their calls to where he wants them, and he knows how to align his players in a way that will show his quarterback whether the defense is playing zone or man before the snap.
Sims has taken advantage of the confusion and mismatches that Kiffin's scheme causes. After throwing for 445 yards in the win over Florida, Sims said, "It was just the great wide receivers getting open. It's just like playing catch in the backyard."
Take a look at this play: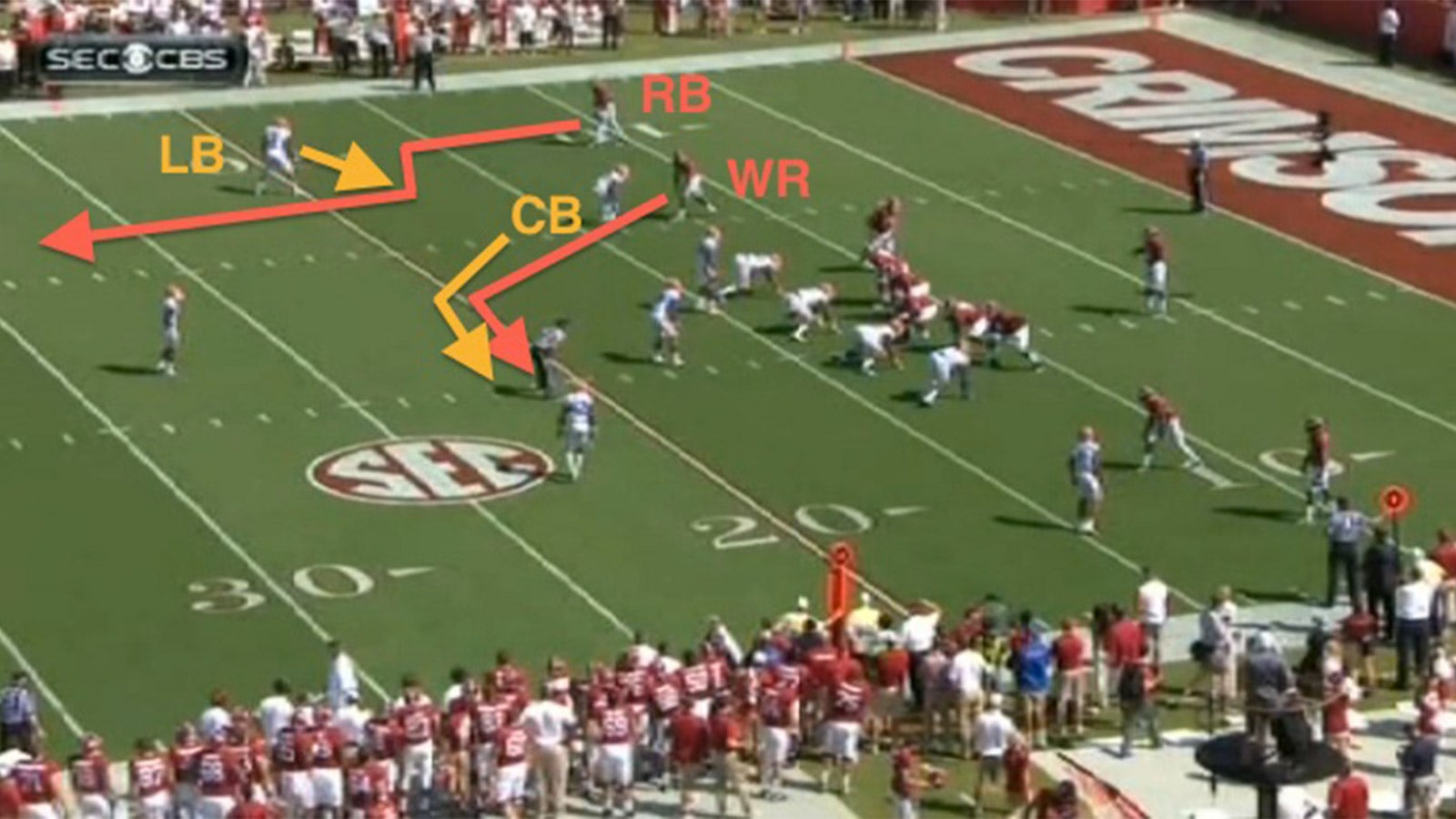 Alabama aligned in an empty formation with no backs in the backfield. Not the 'Bama we're used to seeing, right? At the top of the screen is Drake (red RB) — who was Georgia's 100-meter sprint champion coming out of high school — matched up in man-to-man coverage against a linebacker who has no business trying to cover that type of speed.
Sims was taught that if a cornerback walks out on Drake, he's looking at zone coverage and should throw the ball to Amari Cooper – the slot receiver next to Drake – who would be working against a linebacker.
But if a linebacker walks out on Drake, which happened here, then Sims is looking at man-to-man coverage and should throw the ball to him on the double move. He did, and the result was an 87-yard touchdown.
In another example of how Kiffin uses formations to create mismatches and space for his most dynamic playmakers, Alabama was using the most basic personnel grouping — 21 personnel — which consists of a tailback, a fullback, one tight end and two wide receivers.
But look what Kiffin does with that personnel: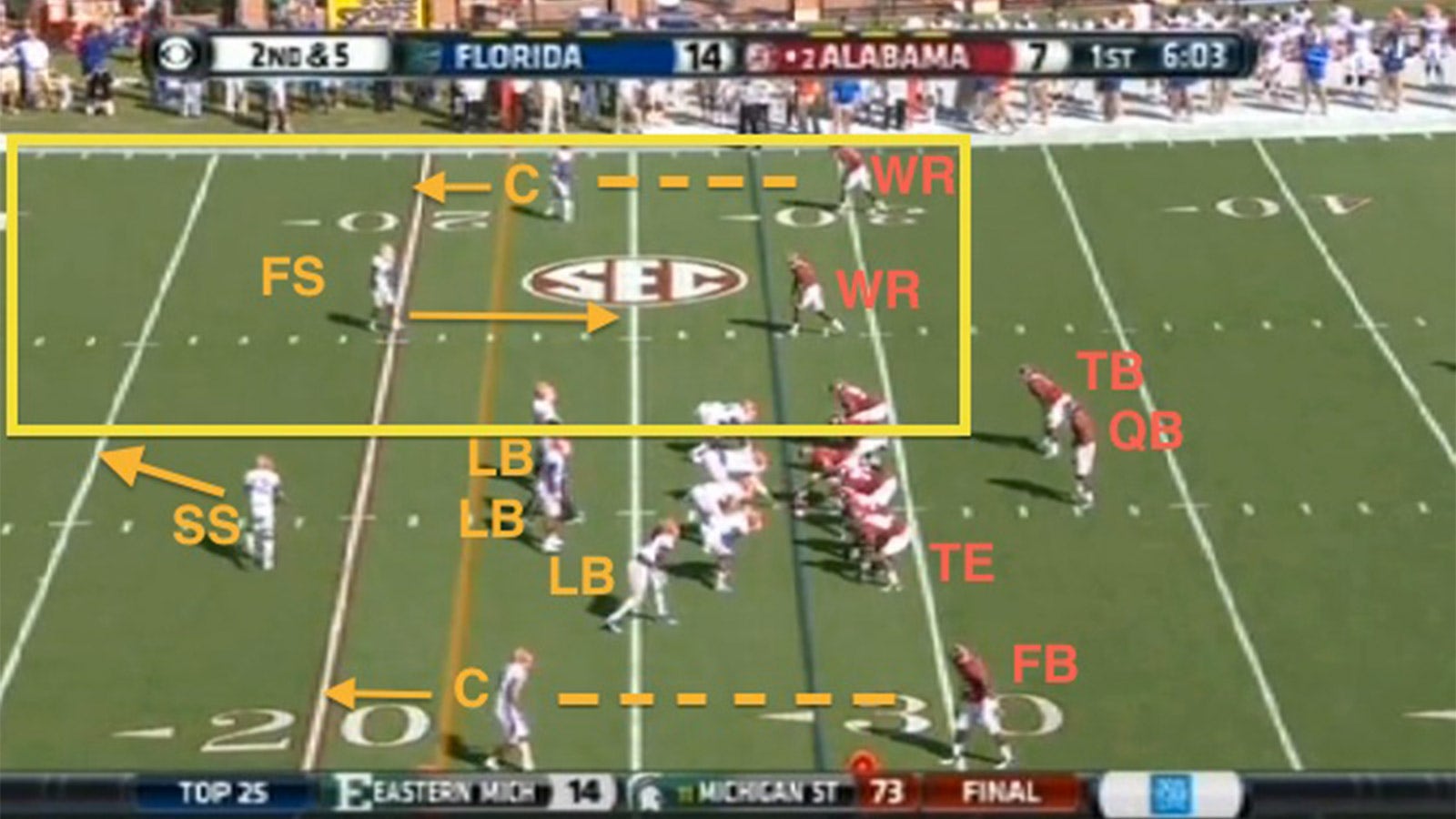 Kiffin's formation removes the fullback from the backfield and places him out wide where a wide receiver would normally align (red FB at bottom). Florida – which is playing a three-deep zone with the free safety rolling down to the weak side – shifts their linebackers to the running strength of the formation (to the bottom of the screen) while they're forced to waste their best cornerback on a fullback at the bottom of the screen.
Two of Alabama's best athletes – one of whom is Amari Cooper – are now at the top of the screen with almost half of the football field to operate. Sims knew immediately that Florida was playing a form of zone and that he would be throwing the ball to his right – toward the top of the screen. With two explosive receivers in front of only two defenders, this was an easy read for Sims, who sent the ball immediately to where his playmakers would have a chance to make a play.
Now let's look at the newest wrinkle to Kiffin's offense: the Pistol formation.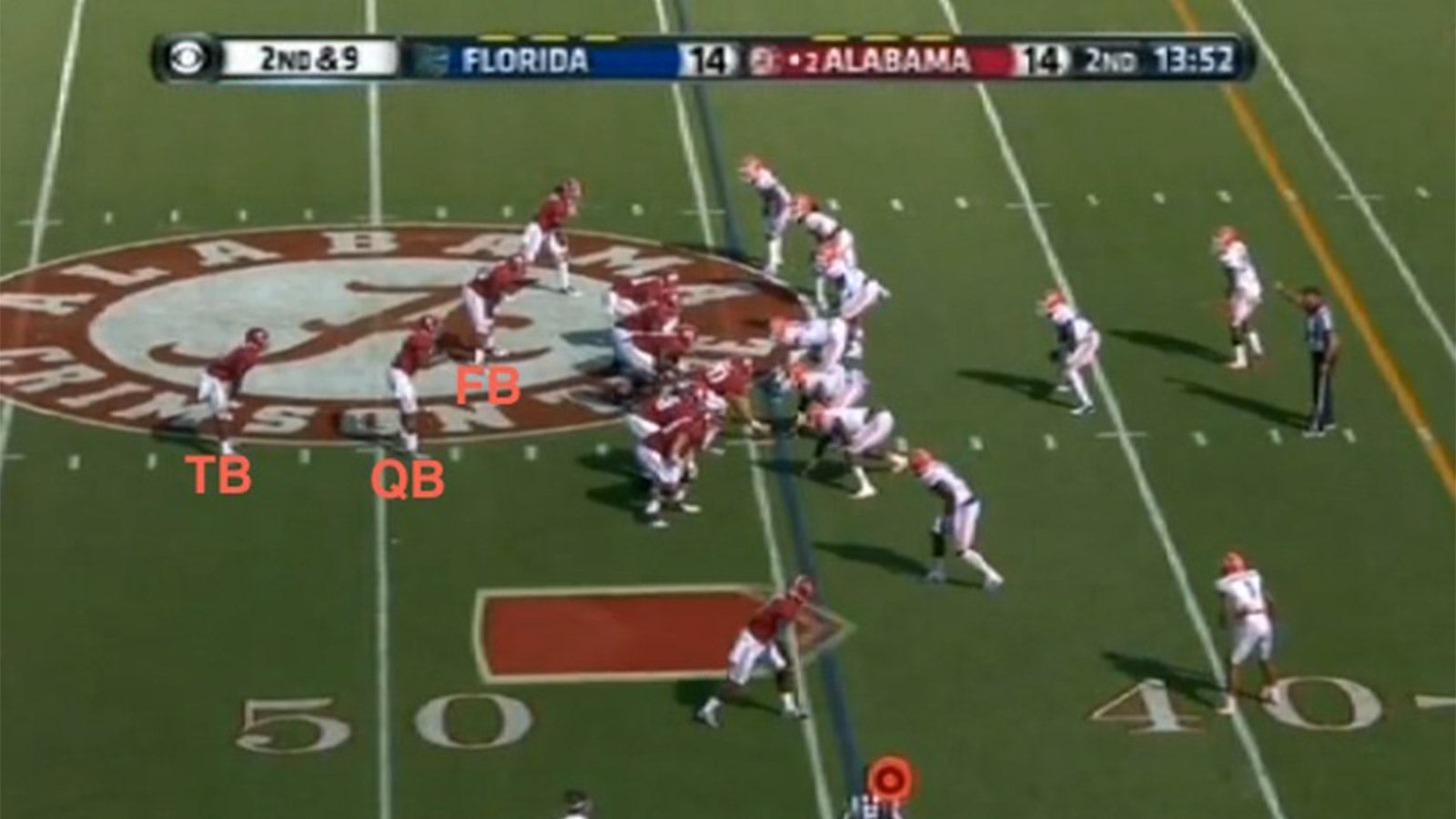 Whereas defenses in the past would only have to prepare for a traditional one-back or two-back run game when facing Alabama, the Pistol will now make defenses prepare for a quarterback run game too. This is new to Kiffin's arsenal, because he has utilized only traditional pro-style pocket-passer schemes in the past.
Unlike a traditional shotgun formation where the quarterback lines up at five yards behind the center to receive the snap, the pistol puts the quarterback at only four yards behind the center.
The real dilemma for the defense here is that Pistol formation allows the running back to line up directly behind the quarterback like he would if the QB were under center. With a traditional shotgun, defenders can count on an offset back, which limits the number of run plays that could happen since they can go to only one side of the formation.
Out of the pistol though – being directly behind the quarterback – a single back, or a tailback and a fullback in a two-back set, can run anywhere to either side of the formation with traditional, pro-style I-formation run plays – like Lead Strong or Lead Weak, Power-O, Counter, and Bob. There's also all the potential play-action passes off of the Pistol, and the defense must account for the quarterback as a run threat out of his zone-read.
Bottom line: With all of their talent and their new scheme, the Crimson Tide's offense is hell on turf for defenses.
Ole Miss will test Bama – sort of
These are just a few concepts with which Kiffin has attacked defenses with success this season. With a talent-laden roster that could execute his entire playbook, Kiffin will continue to put defenses at a disadvantage, because they won't know in what form his attacks will come. From game-to-game or quarter-to-quarter, his offense could change. He may first attack with a two-back Power in the run game, and then here comes the quick slant routes out of a five-receiver look, and then back to a two-tight end set with a one-back run, and then back to the air with rub routes or timing routes out of three-step, five-step or seven-step drops, and then you might get hit with the screen game.
But the scary part is that at Alabama — even with all of Kiffin's different formations and looks — they still have the personnel to flat out hit you in the mouth on every single play.
Kiffin has always been a good play caller in terms of keeping defenses guessing with a knack for calling the right plays at right time, and now he has one of the most talented rosters in the nation to play with.
Alabama's offense should face its toughest challenge of the season thus far against Ole Miss this weekend. The Rebels returned every one of their starters in their secondary in their 4-2-5 scheme, led by cornerback Senquez Golson and safety Cody Prewitt. While they haven't played a high-powered offense yet, Mississippi's defense ranks third in the nation in points allowed per game and fourth in yards allowed per game.
But against one of the most talented offenses in the nation and the best Nick Saban has ever had at Alabama, none of that will matter.