CFB AM: Tiger Stadium chants 'F— you, Saban' at Alabama coach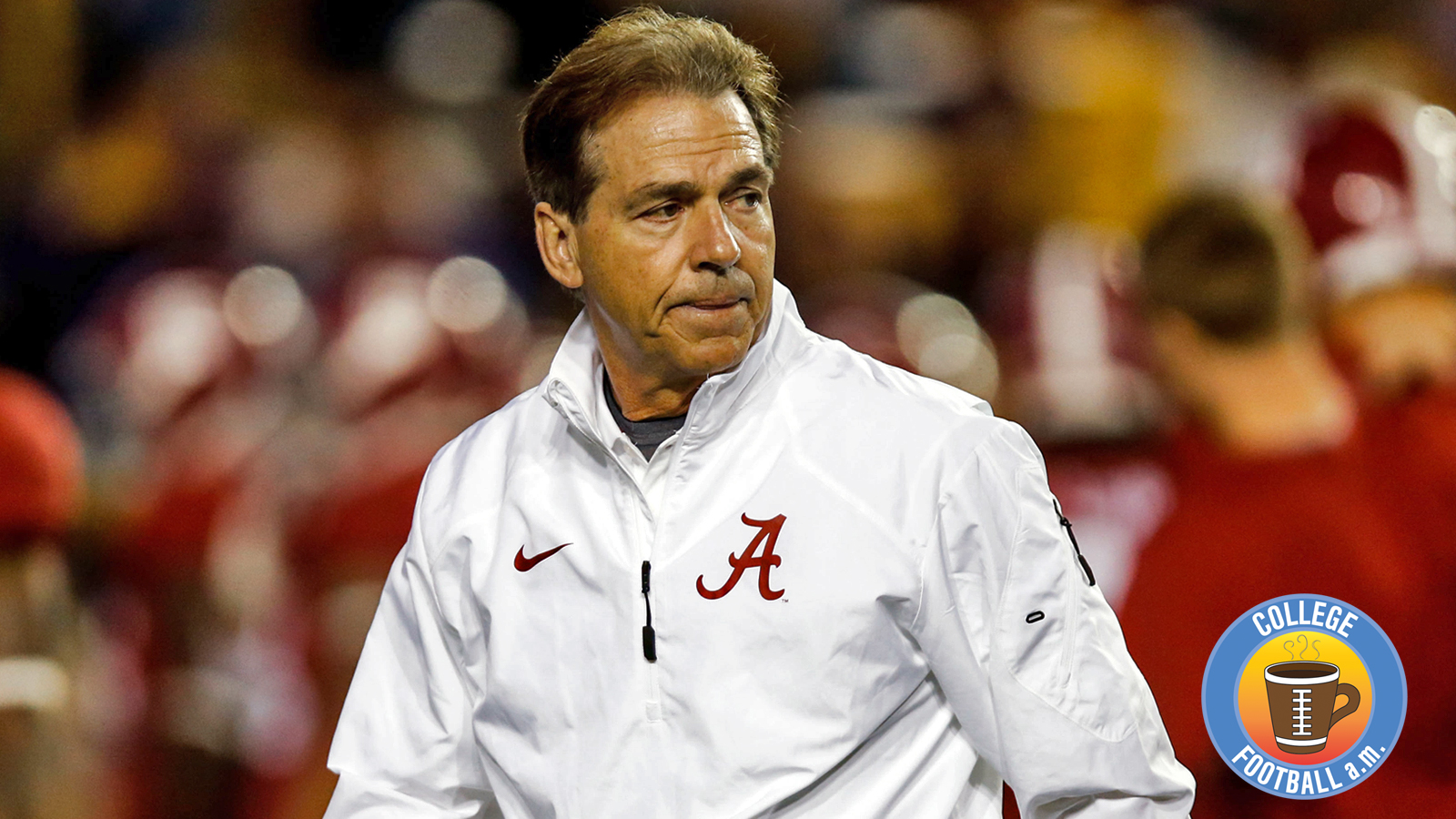 It's always nice to return to a place that was once your home, isn't it?
Take Nick Saban on Saturday, for instance.
The Alabama coach brought his Crimson Tide to Baton Rouge, where he once coached, and beat LSU 20-13 in overtime.
You would think LSU fans would be, if not welcoming to their rival coach, at least respectful given he helped bring them a national championship before taking a job in the NFL, right?
Oh, no, no, no, no.
During overtime on Saturday, while an LSU player was receiving medical attention, a packed Tiger Stadium decided to shower Saban with a kind three-word message. Listen for yourself. (uh, do we really have to give a language advisory here? Fine: NSFW audio)
Nice effort, LSU fans, but I can't imagine Saban took anything but pleasure in that chant. Playing on the road against a bitter rival, and their fans are chanting four-letter words at you?
That's the sound of sweet, sweet victory.
More on this game a few paragraphs below.
THREE THINGS YOU NEED TO KNOW
1. In a week with six games between top-17 teams, of course it was a seventh game that turned the college football world and playoff races upside down. Texas A&M, which has been terrible at times this season, went on the road and beat No. 3 Auburn, 41-38, in a stunner nobody saw coming. First: Congrats to freshman QB Kyle Allen, who went 19-of-29 for 277 yards and four TDs (one pick) to lift the Aggies. That's quite a performance for in Jordan-Hare Stadium for a guy making only his second career start.
Second, what a brutal way for Auburn to likely end its playoff hopes. Down three with less than six minutes to play, Nick Marshall and Cameron Artis-Payne miscommunicate on a handoff and end up fumbling the ball on the 2-yard line, which the Aggies recover.
The defense holds and gets the ball back, but then on the A&M 28-yard-line, as the Tigers are driving to at least have a makeable field goal attempt to go to overtime, center Reese Dismukes confuses the snap count after Marshall checks at the line, leading to this:
And that's how the game and playoff dream would end for Auburn, which now drops to 7-2 (4-2 SEC) with road trips to Georgia and Alabama still ahead. Artis-Payne had 221 yards and two TDs on the ground, but the Tigers' good fortune finally ran out.
Let's jump to Auburn's arch-rival real quick. No. 5 Alabama also found itself on the brink of playoff disaster at No. 16 LSU, but the Tide handled it much better. Down three with 50 seconds left and no timeouts, QB Blake Sims led a perfect nine-play, 55-yard drive that allowed the Tide to kick a field goal to send it to overtime, where Bama would win in the first OT on a DeAndrew White touchdown catch. It was two totally different approaches, with LSU running the ball 56 times, as expected, and Alabama putting it in the air 46 times. Given that many attempts, the Tigers did well for themselves to hold Amari Cooper to only eight catches for 83 yards and a TD. He did have this beautiful score:
Sims took responsibility for the second-half slump, writes Michael Casagrande. He came up huge on the final drive of regulation, so I'm sure no Tide fan is complaining today. Alabama now prepares to host No. 1 Mississippi State next week and will probably move into the playoff committee's top four this week.
2. Who saw No. 14 Ohio State going on the road to East Lansing and knocking off No. 8 Michigan State? Some, but not many predicted the Buckeyes' 49-37 win that now puts them in control of the Big Ten and gives them at least a conversation starter when it comes to the playoff. As Bruce Feldman and Stewart Mandel wrote in their Week 11 takeaways piece, this might not be enough for Ohio State to get into the final four, but we'll see what happens in the final few weeks of the season and how the teams stack up in early December.
QB J.T. Barrett was superb against the Spartans, going 16-for-26 for 300 yards, three TDs and no picks, while also adding 86 yards and two TDs on the ground. RB Ezekiel Elliott was also a beast for the Buckeyes, rushing for 154 yards and two TDs. Other than 11 penalties, the Spartans played pretty well on offense. They had no turnovers and moved the ball. It was their defense, of all things, that couldn't do its part on this night.
"This is one for the ages," Ohio State coach Urban Meyer said after the game.
3. There were much bigger stories than No. 4 Oregon's 51-27 win at No. 17 Utah on Saturday – which was the last real hurdle for the Ducks before the Pac-12 title game and sets them up to finish 12-1 and head to the playoff – but there weren't any bigger moments on social media than Kaelin Clay's gaffe. In the first half, the Utah WR was heading in for a touchdown and did what nobody will ever understand – he dropped the ball before crossing the goal line.
To make it worse, though, Oregon picked up the ball and ran it back 100 yards for a touchdown. It was a 14-point swing that hung over the rest of the game even though the Ducks won by 24 in the end. Clay is the same guy who did the Heisman pose in the Big House earlier this year after returning a punt for a TD, an ode to one of his favorite players and Michigan great Desmond Howard. Clearly, Clay puts thought into what he's going to do after scoring touchdowns. Maybe we're getting ahead of ourselves.
After the game, Clay owned up to his mistake on Twitter. Kudos to him for doing that.
I TAKE FULL RESPONSIBILITY FOR THIS GAME BY MY SELFISH ACTIONS…I'll take this one 😔

— Kaelin Clay (@CALiboy4) November 9, 2014
THREE THINGS YOU SHOULD KNOW
1. If you doubted Arizona State's place in the top 10, doubt no more. The No. 9 Sun Devils dominated No. 10 Notre Dame, 55-31, to give the Irish their second loss of the year and knock them out of the playoff hunt. ASU, meanwhile, can win the Pac-12 South by winning its remaining three conference games – at Oregon State, vs. Washington State and at Arizona. That would put ASU at 11-1 heading into the Pac-12 title game. Beat Oregon to claim the conference crown, and Todd Graham's Devils would be a lock for the playoff. That's getting much too far down the road, but we're within striking range where that scenario is not unrealistic.
QB Taylor Kelly played very well against the Irish, going 17-of-28 for 224 yards, three TDs and one pick. ASU's defense gave a monster effort, causing five Irish turnovers – including four picks from Everett Golson – and the unit's only blemish was a few big plays to receivers Will Fuller and Amir Carlisle. Oh, and then there is this touchdown catch from Jaelen Strong that's so nasty you won't want to miss it.
2. I was really looking forward to No. 7 Kansas State at No. 6 TCU, probably more than any other game on the loaded Week 11 slate, but it turned out to be a dud. The Horned Frogs dominated, 41-20, as they completely stifled Kansas State's run game, holding the Wildcats to 1.8 yards per carry. The Frogs piled up seven yards per rush without leading rusher B.J. Catalon, who missed the game with an unspecified upper-body injury, thanks to Aaron Green's 171 yards and a TD. Trevone Boykin had a monster game for TCU – 23-of-34, 219 yards and one TD (no INT), along with 123 yards and three TDs on the ground. He also had this nice little flip for the score.
With at Kansas, at Texas and home against Iowa State left on its schedule, this gives TCU a good shot of finishing the regular season 11-1 and right in the middle of the playoff conversations. Its lone loss is to Baylor, which could also finish 11-1, but the Bears could get docked by the committee for playing absolutely nobody out of conference. TCU at least has a win over 7-2 Minnesota on its resume.
Elsewhere in the Big 12: Texas beat No. 23 West Virginia, 33-16, which moves the Longhorns to 5-5 and one win away from bowl eligibility. They need to win either at Oklahoma State or beat TCU at home on Thanksgiving to get that sixth win. That would be a nice accomplishment for Charlie Strong, who's spent his first year in Austin mostly booting all of the bad apples out of the program and establishing standards and a culture.
And then there are Kansas fans, who tore down the goal posts after beating 2-7 Iowa State. Before you laugh – OK, maybe while you're laughing – understand two things about this.
One, it was interim head coach Clint Bowen's first win since taking over for Charlie Weis, and the people seem to like him in Lawrence. Two, the 3-6 Jayhawks have TCU, Oklahoma and Kansas State left on the schedule. They could sell their souls for a cargo ship of money and sin, and they're still finishing 3-9. So, what the hell, enjoy the win!
3. Two months ago, we all had Nov. 8 circled as the day that would decide the Big 12 race. We just thought it would be between Baylor or Oklahoma, with anyone else a distant third at best. Well, let's say the game didn't quite live up to those expectations. No. 12 Baylor smoked No. 15 Oklahoma, 48-14, winning in Norman for the first time ever and removing its final road hurdle of the season.
Bryce Petty completed 32-of-42 passes for 387 yards with one TD (no INT), breaking RG3's school record with his 14th 300-yard game. RBs Shock Linwood and Devin Chafin had two TDs apiece, but the offensive star for the Bears was WR Corey Coleman, who set a career high with 15 catches for 224 yards and a TD.
The Sooners? As the time-worn saying goes, an angry Stoops brothers GIF is worth a thousand words.
Quarterback Trevor Knight went 12-of-27 for 146 yards, two TDs and a pick. More disconcerting: He left the game on a stretcher in the second half after an apparent neck injury, although fortunately he was moving and giving a sign to the crowd that he was OK. The loss drops Oklahoma to 6-3 (3-3 Big 12) and completely out of the league race, while Baylor is now 8-1 (5-1) and has a good chance to finish the season 11-1. It's remaining three games are Oklahoma State, Texas Tech and Kansas State, all at home, with the last one obviously being the biggest challenge.
THREE THINGS YOU MAY WANT TO KNOW
1. You don't see stories like this every week: After a Florida player was told he wouldn't be starting – which shouldn't have been surprising since he wasn't a regular starter to begin with – he got on a bus in Nashville and headed back to Gainesville before Florida played Vanderbilt. It's a pretty selfish act, and Will Muschamp should tell the fifth-year senior to not even bother coming to the football facility any more this year, but you have to admit it's pretty funny. The Gators won, 34-10, and are now 5-3 on the year and can become bowl-eligible by beating South Carolina next week.
2. This is the coolest story from Week 11, particularly with Veteran's Day on the horizon: Tom Hruby, a 33-year-old active Navy SEAL, made his college football debut for Northwestern on Saturday in their 10-9 loss to Michigan. He played on the opening kickoff and in other kickoff and punt situations.
Congrats, Tom, and thank you for your service!
As for Michigan: Sure, the Wolverines go the win, and it's great they are now one win away from going to a bowl. But their showing in this game was just as brutal as Northwestern's. Here's a recap:
3. Many people have Florida State fatigue at this point, but just passing this little nugget along: The Seminoles have now won 25 straight games and keep pressing forward as the best bet to remain undefeated and get into the playoff. Say whatever you want about Jimbo Fisher, but it's impressive how his team has been able to focus on the field when it matters given how much negative noise has been around that program in the last year.
LASTLY
* LSU cheerleaders pretended to kiss Tim Tebow in a live TV photobomb.
* Alabama WR Amari Cooper is great at many things, probably, but he's not the best at playing "Joy to the World" on the piano.
* This is an awesome photo of a Great Dane painted to look like an LSU Tiger. Those stripes almost look natural. Beautiful dog.
LSU fans painted their Great Dane named Elmer to look like a tiger. pic.twitter.com/Rp0br2i1Xe

— Laken Litman (@LakenLitman) November 8, 2014
Have a great Sunday, all, and hope you enjoyed Week 11.
Teddy Mitrosilis is an editor and writer for FOXSports.com. Follow him on Twitter @TMitrosilis and email him at tmitrosilis@gmail.com.