Alabama grocer now offering 'Winston crab legs' as joke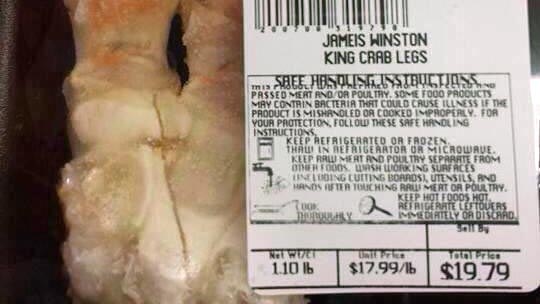 College football fandom is the best kind of fandom.
After Florida State quarterback Jameis Winston was cited for stealing crab legs and subsequently suspended from the baseball team, the Internet decided to have its fun.
Within minutes, fans put their photoshop skills to work, and it was glorious.
Now comes something even better than random fans poking fun at Winston.
An Alabama grocery store is playing to its Crimson Tide crowd with 'Jameis Winston king crab legs.'
Take a look:
at a grocery store by bama. college football is like no other. #rolltide pic.twitter.com/IHAy0FyUdd

— morgan galvin (@mkimbaa) May 1, 2014
The logo on the label says 'Jack's Foodland,' which is located in Eva, Alabama, about two hours away from Tuscaloosa.
It might not be the smartest idea for Alabama fans to go after other high-profile teams so publicly — unless they also want to discuss their program's skeletons — but it's certainly funny.
Thankfully, we're less than four months away from the 2014 season kicking off.
(Update: A store manager told FTW the sticker tags are indeed real but weren't put out for customers, saying, "Anytime something like this happens, it's just funny to us as Alabama fans.")