Alabama Football – What I Learned Watching the Tide Play USC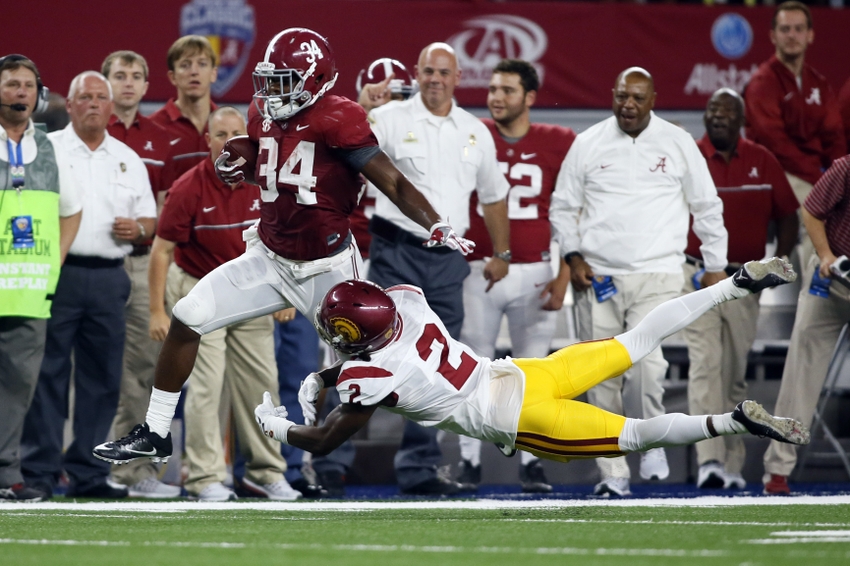 With each passing week, we'll learn more about the 2016 Alabama football squad.  We'll spot trends as they emerge and puzzle at both the positive and negative outliers throughout the Alabama Football season.
In this weekly feature, I'll highlight a handful of the lessons this Alabama football team is teaching me.
Slow Your Roll
The story of this game begins and ends with this USC squad not being a good football team – at least not one well suited for the likes of Alabama. Yes, the Trojans sport top shelf talent on the roster and a marquee name brand but they also feature an immobile quarterback (inexperienced at that), and a thin defensive front. Ask the likes of Wisconsin, Michigan, LSU, or Georgia how that pairing tends to work out.
The flow of the game itself was actually cliched. Stop the run from a base formation early then flip to nickel and dime when the lead is secure. The Trojans played their role well, throwing a pick six – and securing the fate of the game – against one of the first dime alignments fielded by the Tide defense.
Adding insult to injury, the Trojans lacked the mental resolve necessary to maintain the fight, with many reports, including quotes from USC players, suggesting the team threw in the towel when faced with mounting adversity.
In short, don't make the mistake of banking Bama's season on a showing against what is likely a USC squad that fails to make a bowl game.
Tap the Brakes Too
Call me the party pooper but Saban isn't blowing smoke when he says that this team has lots of improvements to make. Saban lives in constant pursuit of perfection which can cause some to ignore his over the top expectations, but in this case, he's never been so right.
The Tide started slow out of the gates, failed to maintain long drives, committed multiple turnovers, and proved unable to establish a dominant running game – despite a pair of stat padding runs by emerging talent, Damien Harris.
Further, the Tide still needs to develop the depth and leadership necessary to sustain itself during a long season.
Rock Solid Foundation
In balance to the above, it is the nature of first games to reveal development opportunities and Alabama can hardly be blamed for USC's lack of spine last Saturday in Dallas.
(In related news, don't be surprised to see Clay Helton take a role on the Alabama staff next season.)
Alabama proved itself both talented and dynamic, perhaps even more so than expected. On offense, at least four players racked up explosive plays and none were named Ridley, Foster, or Scarbrough.
Meanwhile, on defense, the Tide recorded 3 sacks and an interception while holding one of the nation's premier receiving talents to 9 yards on a single reception.
Few teams can field as much talent between the lines as this year's youthful Alabama squad. However, a season's worth of consistency and hard work is required before its full potential is realized. Rather than jump headlong into premature expectations, Alabama fans should buckle up for what promises to be an exciting ride.
Check back as I continue to track these and new items as they emerge from the field.  Also be sure to check out our podcasts as I explore and debate these topics and many more in a more animated format.
This article originally appeared on