Alabama Football: This Sport is Saban's World and We're Just Here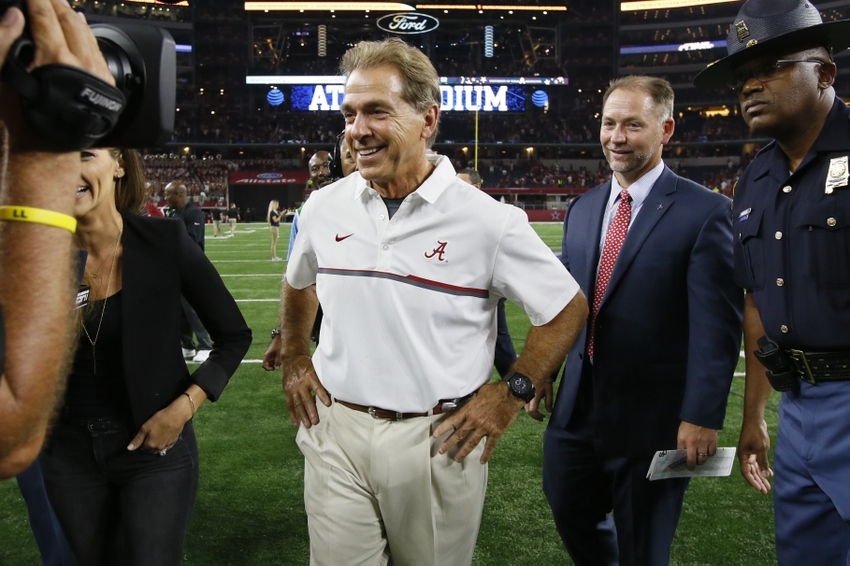 Just when you think the Alabama football train may slow down a bit, you get a smack across the face telling you that it's not.
Look, I enjoy going full Gump as an Alabama football fan. On the other hand, I also have to slip the crimson glasses off once in a while for the purpose of posting my opinion on Bama Hammer.
When compiling all of our picks for our prediction for the College Football Playoff earlier this week, I dropped the Tide down to number three in the playoffs. The reasons? I thought we could drop a game or two because of youth at the quarterback and running back positions. I wasn't saying these guys would be bad, just inexperienced.
The 13-point spread for USC (the last time I checked) seemed okay. After reading up on the Trojans, how many they returned, etc., I decided to pick the Tide to cover the spread but not by much.
When Saban said that we would see Cooper Bateman and Blake Barnett behind center, I thought for sure he would roll with the older quarterback first. Of course, just before kickoff, we all started getting word that Barnett was going to start. Then after the game in a move that would make a poker champion break from his poker face, Saban dropped a nugget.
The head coach had planned all week long to send in Jalen Hurts for the third series of the game. He brought up a good point, too. He said that Bateman and Barnett would play and they did. Saban also said that no one asked if Hurts would play. Sneaky Saban.
After all of that, the Tide obliterated the spread, winning the game 52-6. For the first few minutes of the game, I was afraid the first loss I was looking for would come earlier than I thought. Then, the adjustments were made and the Tide demolished the Trojans.
I've spent a good two weeks laughing at folks that got mad at Coach Saban and his decisions. "X" should start at quarterback because "Y" isn't ready. It's all white noise. I think the man knows what he is doing. We get proof every year, over and over again, not to doubt it. I slipped a little before the season and I should have known better.
This sport, college football, really is his world and we are all lucky to be coexisting in it at the same time on a smaller scale.
And you know the scary thing about Saban's world? He wasn't happy with the outcome.
"If you want to know the truth about it, I wasn't pleased with the way we played," Saban said.
He added, "So you don't take coaching, you don't try to improve, you don't think that there are things that we can improve on, then we've got some really tough games with some really good teams. If we don't get better, we're going to struggle. And we play some of those teams in very tough places to play. So my focus with our team right now is what can we do better?"
He's not happy with the destruction of the USC program on the national stage. That's why he could very well be the best college football coach, not just now, but ever.
I'll still make predictions and will still be wrong at times. Now, there will be what I am going to call the "Saban bump" for me. Whatever I think the team will do each season, add another win and take away an expected loss.
The final score of 52-6 really proved to me that I'm just here to talk about college football in Saban's world. I will gladly sacrifice being wrong a few times just to see all these wins. Keep guiding us through the darkness, Saban.
This article originally appeared on