Alabama Football's Quarterback Problem: Jalen Hurts Is It … For Now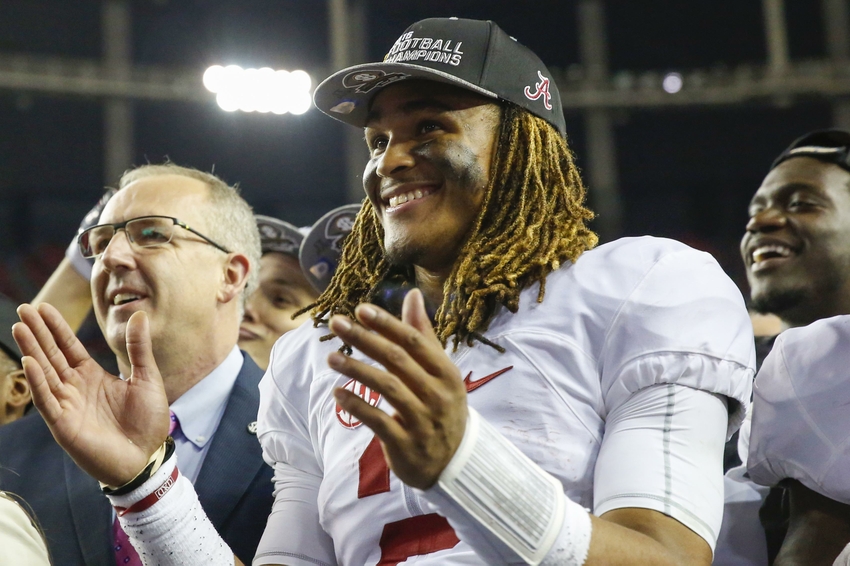 Not only is Jalen Hurts the "it" factor for Alabama football's offense this season, he is, well, "it" as far as quarterbacks with a pulse remaining on the Crimson Tide roster.
One of the hidden downfalls of being perhaps the most dominant college football program in history like Alabama football is that, well, there are only 22 opportunities to see the field as a starter.
That number goes up, of course, at most every position – as the era of substitution and situational play dictates you need several more running backs, tight ends, receivers, defensive linemen, linebackers and defensive backs at your disposal ready to log frequent minutes.
About the only positions that don't see a lot of substitution is offensive line and quarterback.
And for the next month and change, the Crimson-colored bull's-eye is squarely on an 18-year-old kid not even a year removed from his senior prom.
ICYMI: Nick Saban named AFCA Regional Coach of the Year
Not only is Jalen Hurts the "it" factor for Alabama's offense this season, he is, well, "it" as far as quarterbacks with a pulse remaining on the Crimson Tide roster.
Alabama Football's Nick Saban an Eddie Robinson Coach of Year Finalist
So much was made during spring practice about the wealth of experience Alabama had at quarterback – with Blake Barnett, Cooper Bateman and Hurts all vying for the starting spot come September.
Barnett ended up winning the battle, but definitely not the war – being replaced for Hurts after an ineffective first half against Southern Cal in the opener. Not only did Barnett never get a chance at the starting spot again, he pulled up stakes and bolted Tuscaloosa before he was even able to properly break in his sideline visor – abruptly announcing a transfer to any TBA school (which recently was reported as Arizona State).
Barnett's departure made waves for a day or two, but Hurts' maturity and growth in difficult game situations outlasted any potential worry about his backup.
I mean, we have Cooper Bateman still, right? The Holder is all good as the backup plan!
Sure, except for when Bateman decided on the week of the SEC Championship Game that his stellar holding skills will be better utilized elsewhere.
Ugh.
Now who? What is the plan should Hurts suffer anything between a nagging hangnail and a broken neck between now and the final gun on Jan. 9?
If Bateman does indeed leave before the Tide's semifinal matchup against Washington, the team would be down to just two scholarship quarterbacks: Hurts and sophomore David Cornwell, who has never appeared in a game.
Compounding THAT problem was Wednesday's announcement that Cornwell is also going to transfer, looking for greener pastures than the one being one twisted ankle away from quarterbacking the No. 1 team in the country can provide.
Yeah, that is the opposite of good.
So while Nick Saban and Co. would be well served to wrap Hurts in extra-strength bubble wrap between now and New Year's Eve, the Crimson Tide might ought to consider installing some emergency wildcat for ArDarius Stewart.
Because we are a bright side-looking bunch, take solace in that this problem may be dire right now but definitely won't be forever. Five-star quarterback commit Tua Tagovailoa is the nation's No. 33 overall prospect and has been a solid Alabama commitment since May.
Tagovailoa quarterbacked Saint Louis of Honolulu to a 30-14 win over Kahuku in the first Open Division Hawaii state championship two weeks ago, and broke Timmy Chang's 17-year-old record for career passing yards by a Hawaii prep quarterback, which was 8,001.
Tagovailoa finished with 8,158 passing yards and 84 touchdowns along with 1,727 rushing yards and 27 scores to give him 111 career touchdowns. He will play in the U.S. Army All-American Bowl in San Antonio on Jan. 7 and plans to enroll early at Alabama.
Alabama held off schools like USC, UCLA, Oregon and Hawaii to land the commitment from the 6-foot-1, 215-pound Tagovailoa.
This article originally appeared on