Alabama Football's 7 Freshmen 2016 Redshirts
Ronald Evans/FanSided via Bama Hammer

Fansided
Alabama Football recently achieved one of its best ever Signing Day classes. Where do the 7 freshmen who were 2016 redshirts fit in 2017 plans?
Alabama Football coach Nick Saban believes the best players deserve depth chart status irrespective of their age and class standing. There are numerous examples of Saban choosing true freshmen as Crimson Tide starters. Most notable for the 2016 team were freshmen Jalen Hurts and Jonah Williams.
In this Alabama meritocracy, there is an opportunity for all. But the number of starters being finite requires many talented players to "wait their turn" to gain a starting position. For every Jalen Hurts or Jonah Williams, there are many other players, like DaShawn Hand and Rashaan Evans who must wait to become regular starters.
Let's take a look at last year's seven redshirts and project their competition for playing time in 2017.
Ben Davis – LB – 6′ 4″, 234lbs. – Redshirt Freshman
Redshirt freshman Ben Davis will be looking to fill the position vacated by Reuben Foster. Davis will also look to continue his family's Crimson Tide legacy. Ben's father, Wayne Davis played linebacker for the Tide from 1983 through 1987. Wayne is the career tackle leader in Alabama Football history with 327 tackles.
Ben Davis was a surprise redshirt in 2016. He suffered an ankle injury in fall camp that contributed to the need to redshirt.
Coming out of high school in Gordo, AL., Davis was a consensus 5-Star inside linebacker. He was the nation's top-ranked inside linebacker as rated by Rivals, Scout, 247Sports, and ESPN. The four rating groups listed him as the 5th, 11th, 13th and 24th best player in the nation in 2015.
Alabama is deep at linebacker. It can be estimated there are 17 players with a chance to make the 2017 depth chart. Four are true freshmen, Moses, Cowan, Allen and Benton. Only Dylan Moses is an early enrollee. The other three are likely to either play on special teams or be redshirted.
Of the remaining 13 linebackers, five of them have the best chance of earning the Mike and Will linebacker slots. The top two candidates, Shaun Dion Hamilton and Rashaan Evans will be hard to unseat as first teamers. Their main competition will come from Mack Wilson, Keith Holcombe, and Ben Davis. Shawn Jennings, Josh McMillon, and Jamey Mosley will be looking to make their way into the linebacker mix.
Assuming the four true freshmen have to wait their turn, it will be13 guys fighting for four linebacker slots. Three or four of them will compete for the Jack linebacker position. So make it nine guys fighting it out for three linebacker starting positions.
Ben Davis will be in the thick of the fight. Assuming Evans and Hamilton lock down starting roles, the main competition for Ben Davis is probably Mack Wilson. Davis is likely destined to become a Crimson Tide star but in 2017 the Tide is loaded at linebacker.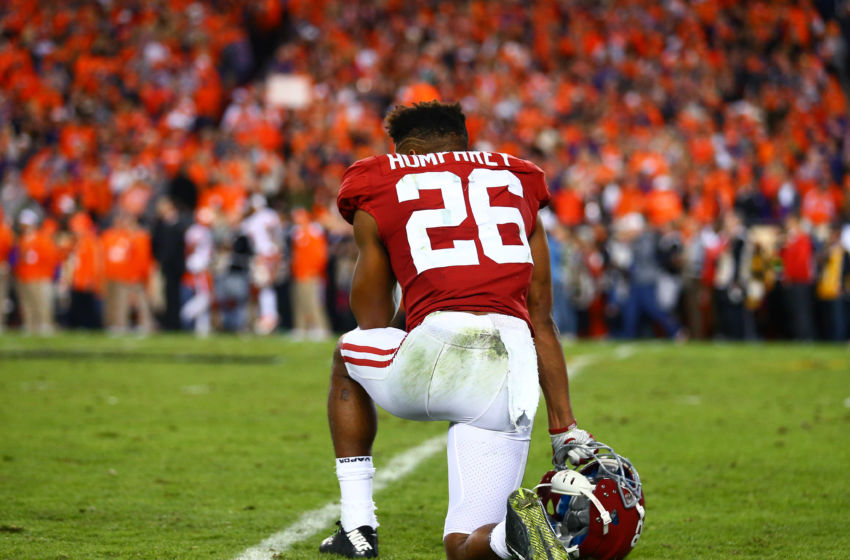 Nigel Knott – CB – 5′ 11″, 175 lbs.
Alabama badly wanted to sign a cornerback in the 2017 Signing Class. The Tide did not meet that need. The 2017 class includes 3 safeties but none are expected to play cornerback.
Nigel Knott was a consensus 4-Star prospect in the 2016 class. Rivals, ESPN and 247 Sports rated him respectively as the #5, #5 and #4 cornerback in the nation.
Take a look at his high school highlights:
Nott was timed at 4.38 sec in the 40 yard at Nike's The Opening showcase. Here is the video:
Tony Brown and Anthony Averitt are the likely corners for 2017. Sophomores Shyheim Carter, Jared Mayden and Aaron Robinson will fight for playing time at corner or star. Senior Levi Wallace will also get an opportunity at corner. Nigel Knott will get a chance to be an important backup player in 2017.
Three Offensive Linemen Looking for Playing Time
Deonte Brown – OG – 6′ 4″, 350 lbs.
Chris Owens – OG – 6′ 3″, 307 lbs.
Scott Lashley – OT – 6′ 7″, 313 lbs.
Alabama Football had an exceptional 2017 Signing Day at offensive line. Two of the signees, Alex Leatherwood and Elliot Baker were early enrollees. Leatherwood and Baker will be hard to beat out for starting positions at tackle and guard.
Brown, Owens, and Lashley will be fighting to get playing time as well. All three were highly sought after prospects in the 2016 Signing Class.
Brown was a consensus 4-Star and top ten in the nation offensive guard. Owens was a 2016 early enrollee and a consensus 4-Star and top twenty guard nationally. Lashley was a consensus 4-Star and top twenty in the nation offensive tackle.
There has been conjecture that Brown or Lashley might be moved to the defensive line. Alabama is loaded with offensive linemen but thin on the defensive line.
Shawn Jennings – LB – 6′ 1″, 220 lbs.
Shawn is the brother of Anfernee Jennings. Shawn was an early enrollee in 2016. Initially, he was expected to compete at safety for the Crimson Tide.
Due to an injury Shawn only played in four games his senior season at Dadeville High School. Jennings played all over the field at Dadeville, splitting time at quarterback, safety, and wide receiver.
Shawn's best opportunity for playing time in 2017 will be on special teams.
Alabama will be a young team in 2017. Roughly two-thirds of the team will be freshmen or sophomores. Somewhere around 10-12 slots will need to be filled in the offensive and defensive two-deep, depth charts. That is a bunch of young men competing for not very much playing time. It will be interesting to watch these battles through spring, summer and fall camp.
This article originally appeared on