Alabama Football Recruiting and Coach Changes
Ronald Evans/FanSided via Bama Hammer

Fansided
Will Alabama football recruiting suffer after exits by Kiffin and Cristobal, and possible departures of Tosh Lupoi and Billy Napier?
Alabama football recruiting is a 365-day, never-ending cycle. This year the sprint to the Feb. 1 finishing line may be more hectic than normal. The Saban machine is again close to a 2017 No. 1 class. Twelve recruits are already taking classes at the Capstone.
Verbal commitments are fluid. Many Bama fans remember the 2011 signing day when Cyrus Kouandijo made a televised announcement he was choosing Auburn. But Cyrus and his family did not sign the paperwork. Three days later he decided to join his brother, Arie at Alabama.
It is not unusual for players to flip schools late in the process. Coaches must juggle open spots among probable signees while pursuing other players delaying their choice until signing day.
Nick Saban may be the strongest closer in college football today. His stature in the game commands attention, but his straightforward recruiting pitch does not persuade everyone. Saban offers an extraordinary opportunity for the most talented players to compete and earn their playing time.
His recruiting style is honest and direct. Alabama needed a major infusion of talent following the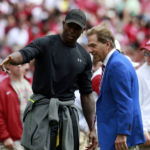 Tide's 2007 season. Julio Jones was a major talent, the kind of player who could immediately upgrade a program. As reported by the Atlanta Journal-Constitution, Saban locked up Julio's commitment when Nick said to him, "we want you here. But we are going to win, with you or without you."
Such blunt honesty is not effective with every player. Rapport and trust built between players and coaches can make the deciding difference.
It is not enough for Saban's staff to be great coaches, they must also be great recruiters. In recent years the best of those coach/recruiters has been Mario Cristobal, Tosh Lupoi, Billy Napier, Lane Kiffin, and Jeremy Pruitt.
Kiffin is recruiting for Florida Atlantic. Cristobal has already accepted a position at Oregon. It is being widely reported that Lupoi is in consideration for a DC position at Cal. Napier might be in the mix for an OC position at Pitt.
How much coach attrition can Alabama overcome in the last days of the recruiting cycle? Saban was well prepared for Kiffin's exit, already having Sarkisian on staff. Most of Cristobal's recruiting tasks was complete with early enrollees. After Cristobal's exit Alabama appears to still be in good shape for Daniel Wright and VanDarius Cowan.
Losing Lupoi or Napier could be a different situation. High on the Tide's list of recruits is Henry Ruggs, WR from Montgomery. Napier is very involved in the pursuit of Ruggs. Napier is the lead recruiter for Jhavonte Dean, CB from Texas. With Marlon Humphrey opting for the NFL, Alabama needs to sign another CB in this class. The Tide is also going after 4 star CB Chris Henderson with Derick Ansley as the lead recruiter.
A near must-get for the Tide is 5 star DT Aubrey Solomon. Lupoi is active in Soloman's recruitment but so are Pruitt and Karl Dunbar. Soloman has recently said Alabama is his leader. Closing the deal with arguably the best DT prospect in the nation most assuredly will come down to Pruitt and Saban.
Like all of the greatest coaches, Nick Saban has a plan. I doubt Saban wants to lose Lupoi or Napier but it appears he has assigned the Tide's staff resources so that their potential departure will not damage 2017 recruiting.
More from Bama Hammer
This article originally appeared on