Alabama Football: Postgame Notes vs. Tennessee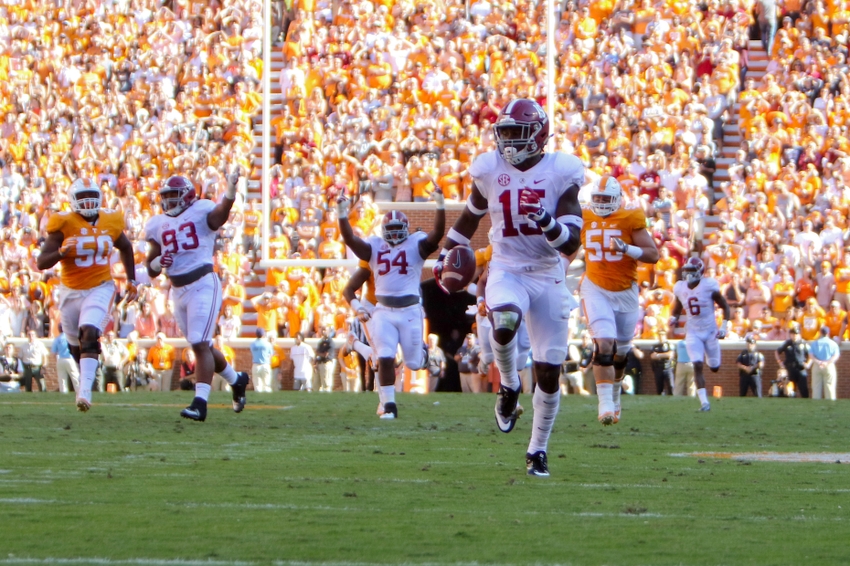 Alabama has defeated 11 consecutive ranked opponents dating back to a loss to Ole Miss in September of 2015.
Saturday's game against Tennessee was Alabama's 1,239th college football game. That figure takes into account games both forfeited and vacated per NCAA rulings. Without accounting for those stipulations, the game was actually Alabama's 1,261st football game. Saturday's game with Tennessee was Alabama's 588th all-time SEC game and the Tide has an official record of 390-167-20 (.693), accounting for forfeiture and vacated games. Alabama's actual, on-field record in SEC games is 401-167-20 (.699). With the victory, the Tide's actual on-field record is 900-317-44 (.731), including a mark of 79-10 (.888) this decade.
Alabama has defeated 11 consecutive ranked opponents dating back to a loss to Ole Miss in September of 2015. Alabama's all-time record against ranked opponents is 149-124-7 (.545). Alabama's all-time record against ranked opponents on at road sites is 50-47-2 (.510). The Crimson Tide has won its last seven games against ranked opponents as the visiting team. Alabama is 120-75-3 (.614) as a ranked team playing a ranked opponent. Saturday's game was the 423rd road game at an opponent's venue in Alabama history and the 85th played in the state of Tennessee (51-32-2; .612). The win improved Alabama to 267-142-14 (.648) in road games.
ICYMI: Behind Enemy Lines in Tennessee
The game was televised by CBS and the Tide is 65-43-1 (.601) all-time in games televised by CBS. The victory improved Alabama's record against Tennessee to 51-38-7 (.568) all-time accounting for a forfeit in 1993 and a vacated victory in 2005, including 10 consecutive victories in the series dating back to a 16-13 loss in 2006. The actual, on-field series record is 54-37-8 (.586). The Tide is 21-20-1 against Tennessee on the road. Alabama is 15-19-3 (.446) against Tennessee when the Volunteers are nationally ranked.
Saban Streaks, First-Time Starters
STREAKING: With the win over Tennessee, Alabama owns the longest winning streak in the Football Bowl Subdivision, having won 19 consecutive games dating back to last season (last loss: Sept. 19, 2015 vs. Ole Miss). The 19-game streak is tied for the fourth-longest in school history (the record is 28 games, accomplished twice: 1991-93 & 1978-80) and matches the longest under the direction of head coach Nick Saban (19 games 2009-10). During the current stretch the Crimson Tide have won eight games at Bryant-Denny Stadium, seven road games and four consecutive neutral-site games while going 12-0 against teams from the Southeastern Conference. During the streak, Alabama has outscored its opponents by 473 points (735-262; 38.7-13.8), an average of 24.9 points per game.
SABAN'S ROAD RECORD: With the win at Tennessee, Alabama head coach Nick Saban owns a 63-29-1 (.683) mark in road games across his four career stops, including a 35-6 (.854) mark at Alabama. Saban has notched five perfect road seasons (2008, 2009, 2011, 2012, and 2015) and has lost more than one game on the road in only two seasons (2007, 2010). Alabama has won 22 of its last 24 road games dating back to the start of the 2011 season and is riding a nine-game road winning streak.
SABAN IN SEC ROAD GAMES: With the win over Tennessee, head coach Nick Saban owns a 45-14 (.763) mark in SEC road games across his time at LSU and Alabama, including a 33-6 (.846) mark with the Crimson Tide. Saban has notched six perfect SEC road seasons (2003, 2008, 2009, 2011, 2012, 2015), including the last five at Alabama.
SABAN VS. SEC OPPONENTS: With the win over Tennessee, head coach Nick Saban owns a 99-26 (.792) career record in 125 games against SEC opponents. While at Alabama, he has compiled a 69-13 (.841) record versus conference foes, and is outscoring opponents by a staggering 3,276-1,283, or 39.9-15.6 points per game. Of his 13 losses against SEC opponents while at Alabama, all but two (Florida, 2008 and South Carolina, 2010) have been by seven points or less. Saban's first matchup with an SEC team came in the 1995 Independence Bowl against LSU, where his Michigan State Spartans fell, 45-26, to the Tigers. He would later go on to coach LSU to 30-12 overall record against conference opponents.
SABAN VS. AP TOP 10: Alabama head coach Nick Saban now owns a 22-6 (.786) career record in Associated Press top-10 matchups. Saban's winning percentage ranks third all-time, trailing only Notre Dame's Frank Leahy (19-2-1, .886) and USC's Pete Carroll (13-3, .813) among coaches with a minimum of 15 top 10 contests.
SABAN VS. AP TOP 25: With the Tide's 49-10 win at No. 9 Tennessee, head coach Nick Saban has passed Bear Bryant for third place in career wins vs. Associated Press Top 25 teams at 67. Former Penn State head coach Joe Paterno leads the list with 86, four victories ahead of Florida State's Bobby Bowden (82). Recently retired Duke, Florida and South Carolina coach Steve Spurrier is fifth at 64.
SABAN MOVING UP SEC WINS LIST: With the win over Tennessee, head coach Nick Saban ranks second in league history in all-time winning percentage at .820 (155-34) and ranks eighth all-time for career wins. Tennessee's Robert Neyland is seventh at 173.
100-6 UNDER SABAN WHEN LEADING AT THE HALF: The Crimson Tide led Tennessee, 21-7, at halftime. As a result of the 49-10 victory, Alabama is now 100-6 (.943) under head coach Nick Saban when leading at the half. Alabama has led at the half in seven of its eight games this season and has held a halftime lead in 18 of its last 23 games dating back to the start of the 2015 season.
ICYMI: The Best of Tennessee Hate Week
GAME CAPTAINS: Alabama Football captains for today's game at Tennessee are Ryan Anderson, O.J. Howard and Dalvin Tomlinson.
FIRST TIME STARTERS: Running back Bo Scarbrough made his first career start for Alabama today vs. Tennessee.
Leading Nation in Offensive Touchdowns
TIDE LEADS THE NATION IN DEFENSIVE TOUCHDOWNS: Ronnie Harrison's 58-yard interception return for a touchdown in the first quarter is Alabama's eighth defensive touchdown this season, which leads the nation. Alabama has now scored a four defensive touchdowns in its last three games. The score is Harrison's second interception return for a touchdown this season. Seven different defensive starts have scored the eight touchdowns.
TIDE RUSHING DEFENSE THE NATION'S BEST: Through six games in 2016, the Alabama defense has limited its opponents to 415 total yards on the ground. The 69.2 yards per game average ranks No. 1 in the FBS. The Crimson Tide has held its opponents to 2.2 yards per carry so far this season.
ICYMI: Tide Better Off Without Lane Kiffin?
ALLEN MOVING UP CAREER SACK LIST: With his first quarter sack of Josh Dobbs was the 23rd of Jonathan Allen's career, moving him from fifth to a tie for third on the Alabama career sack list, joining Jarrett Johnson (1999-2002). The Crimson Tide's all-time leader for career sacks is Derrick Thomas (1985-88) with 52.0. Kindal Moorehead (1998-2002) is second with 25.
Tide Offense Rolls Again
RUSHING: Alabama's 438 yards today is the most for the Tide since rushing for 451 against Tennessee in 1986.
TOTAL OFFENSE: Alabama finished the game with 594 total yards of offense en route to the 49-10 victory at Tennessee. It marks the most yards ever by the Tide against Tennessee and the most yards by Alabama against any opponent since gaining 591 yards vs. San Jose State on Sept. 4, 2010. It also was the 16th-most yards by an Alabama team in a game, and marked the most yards by Alabama has ever gained against Tennessee (old record: 562 yards in 1989).
FIRST HALF POINTS: ArDarius Stewart's 29-yard first quarter touchdown today extended Alabama's first half scoring streak to 125 games, the longest streak in the nation. The last time UA failed to score in the first half was on Sept. 29, 2007, when Alabama and Florida State headed into halftime in a scoreless tie. The Seminoles won that game, 21-14. Entering today's game, Alabama owned a 106-16 record during the current streak.
TOTAL POINTS: Alabama scored 49 points in the win at Tennessee. It was the third-most points ever scored by the Crimson Tide against the Volunteers in the series. Alabama scored 56 points in a 56-28 win during the 1986 campaign and shut out the Volunteers, 51-0, in 1906.
MARGIN OF VICTORY: Alabama's 39-point win over Tennessee was the second-largest victory margin in the series by either team, ranking only behind Alabama's 51-0 victory in 1906. The margin also eclipsed a pair of 35-point victories by Alabama in 1963 (35-0) and 2013 (45-10).
SCORING STREAK CONTINUES: Alabama's school record consecutive games scoring streak was extended to 205 games with ArDarius Stewart's 29-yard touchdown in the first quarter today. Alabama was last held off the scoreboard in a 9-0 loss to Auburn on Nov. 18, 2000.
HURTS RUSHING TDs: Jalen Hurts' three first rushing touchdowns today is a new career high in that category. The freshman previously rushed for two scores at Arkansas on Oct. 8 and vs. USC in his collegiate debut on Sept. 3. Hurts has rushed for eight touchdowns and 428 yards in seven games this season.
ICYMI: 5 Totally Legit Reasons Alabama Beats Tennessee
100-YARD RUSHERS:  Alabama Football finished the game with a pair of 100-yard rushers as quarterback Jalen Hurts (132 yards) and running back Bo Scarbrough (109 yards) eclipsed the century mark. It was the eighth time in school history that Alabama has had at least two rushers eclipse 100 yards rushing in a single game and the first since 2014 (vs. West Virginia).
Special Teams, What's Next
NON-OFFENSIVE TDs IN THE SABAN ERA: Defensive back Ronnie Harrison's 58-yard interception return for a touchdown in the first quarter and Eddie Jackson's 79-yard fourth quarter punt return today are the 56th and 57th non-offensive touchdowns of the Nick Saban era and the 10th and 11th for Alabama Football this season, which leads the nation and is a single-season record in the Saban era. Alabama has scored at least one non-offensive touchdown in each of its last nine games – four interceptions, four fumble returns, three punt returns and a kickoff return – dating back to the CFP semifinal vs. Michigan State on Dec. 31, 2015.
Alabama continues its 2016 season Saturday, Oct. 22, by hosting the Aggies of Texas A&M (6-0 overall; 4-0 in the SEC) with kickoff slated for 2:30 p.m. Central Time. The game will be televised by CBS Sports.
This article originally appeared on