Alabama Football Fans Create Hilarious Tennessee Help-Line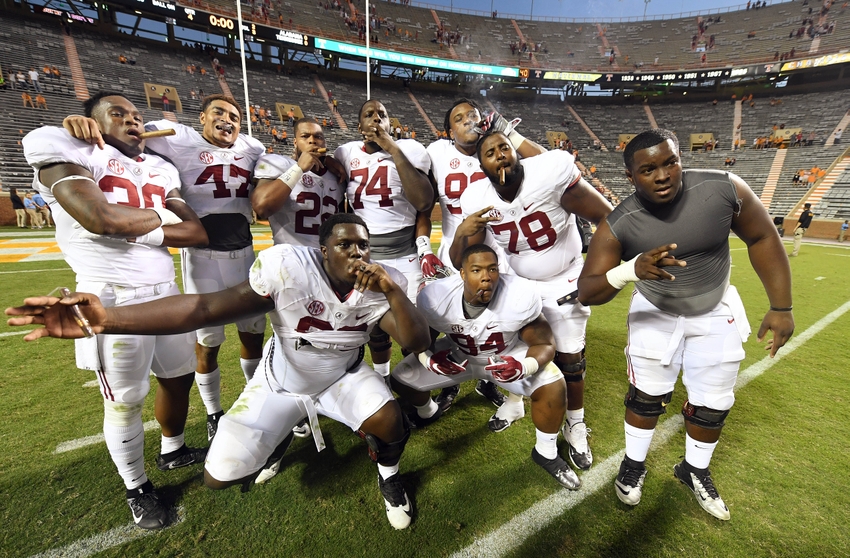 An Alabama football fan (or two) created a hilarious hotline directed at sad Tennessee fans after the loss to the Tide in Knoxville.
Are you a Tennessee Volunteers fan? Are you heartbroken over the Vols' loss to the Alabama football team? Do you feel sad, helpless, or lonely?
(Or are you a Crimson Tider looking for a really great belly-laugh?)
Never fear – the Tennessee Fan Butthurt Counsling Hotline is up and ready to take your call.
When this picture emerged on Twitter following the Crimson Tide's huge win over the Vols Saturday night, most people just giggled and thought it was a joke.
But you can actually call the number and reach this real recording.
"Thank you for calling the Tennessee Volunteer Butthurt Helpline. All of our operators are busy right now, but your call is very important to us.
Sure, Alabama has beaten Tennessee ten years in a row now. In some circles, that's called a decade. But Bama can't take away Dollywood, or your fight song about killing ATF agents.
Of course, your children have never seen Tennessee beat Alabama, but they don't respect you or the things you love anyway.
On Sunday, when you're sitting in church listening to hymns and passing the snakes, this will all seem like a distant memory.
2016 isn't over. Perhaps you'll avoid the revenue man, or your favorite pig will start spinning words out of spider webs outside the barn.
I know you're angry that Lane Kiffin abandoned you. But you're a Tennessee Volunteer fan, so probably everyone you love has abandoned you.
Even if your program is as dead as Smokey's (unintelligible) eye, you'll get 'em next year, right?"
No one has come forward to claim being the brains behind this operation – yet. However, the assumption is that it's an Alabama football fan, and possibly a student at the University. Whoever created this is pretty funny, we'll give them that. We hope everyone has a safe and fun weekend celebrating the TENTH victory in a row over the Vols. Roll Tide!
This article originally appeared on